VW Tiguan Topics Covered in This Article
Are you in the market for a sporty vehicle? Is a compact car in your future? Or maybe you're thinking about something a little larger, a little more rugged, with all-wheel drive and plenty of seating. If you choose the VW Tiguan, you can have it all!
Volkswagen introduced its European customers to the VW Tiguan in 2007. It was their second crossover SUV model and the little brother of the VW Touareg, which successfully hit the market in 2002. Known as the manufacturer's mid-sized, luxury SUV, the Tiguan is a 5 door crossover that is the number one best selling SUV in Europe, and the best selling car overall in the Volkswagen Group's lineup.
If you are considering buying a used car that has under 140,000 miles and is a 2012 model or newer, get a free quote for one of our "extended car warranty solutions".
100% Online, 9 Coverage Options and No Robocalls!
Introduced to the North American car-buying audience for the 2009 model year, it offered a direct-injected turbo charged gas-powered engine. Sales were lackluster, however, because the VW Tiguan was priced higher than other popular rivals in the same class. Annual sales were a meager 175,606 units in the United States during the seven years span of 2008 through 2015.
Volkswagen tried to spur sales along by offering a VW Tiguan Limited version in 2017. It was marketed alongside, and in addition to, the second generation Tiguan. The Tiguan Mark II (Mark is another name used for a car's generation) outsold the Limited model and the Tiguan Limited was discontinued after the 2018 model year.
Once among the smallest compact SUVs, the current model of the Volkswagen Tiguan has grown into one of the biggest in the category. So how did the Tiguan's hit-and-miss history lead to it being the best selling Volkswagen model? CarandDriver.com may have the stumbled across the answer when they reviewed the 2021 VW Tiguan and wrote, "The Volkswagen Tiguan is a European take on an American classic—the SUV. It offers more athletic handling than many of its rivals, and its cabin has a restrained vibe with plenty of trendy technology features."
They went on to say, "While the VW Tiguan hasn't proved to be particularly quick at the test track, the turbocharged four-cylinder engine performs dutifully, sounds refined, and will pass muster with most buyers. Although the Tiguan is sold in global markets, U.S. dealerships only peddle the long-wheelbase model, which means a third row of seats is available for those who need it. That kind of cabin flexibility is something that rivals such as the Honda CR-V, the Mazda CX-5, and the Toyota RAV4 just don't offer."


VW Tiguan Reliability and Common Problems
From the beginning, the VW Tiguan's debut model year was one with numerous and various problems. Perhaps the Tiguan was just was just finding its footing, but most of the issues were part of the car's engine and cooling systems.
A common complaint was with the 2009 VW Tiguan intake manifold problem.
It seems that Volkswagen installed a plastic intake manifold, and this manufacturer's original part often broke. Since this issue occurred so early – and so often – in the VW Tiguan's life, the VW warranty program often covered the cost to repair this issue.
Early Tiguan owners also reported water pump failure.
But the worst issue that the 2009 Tiguan owners had to deal with was a faulty timing chain tensioner. If an owner did not replace this part they often experienced VW Tiguan stalling problems that occurred while they were driving. The issue was so severe that a class-action lawsuit was filed against Volkswagen.
There are trusted research and reporting groups such as Consumer Reports, J.D. Powers and Edmunds, to name a few. Each provides an independent, reliability score that is a prediction of how well a vehicle is expected to perform. The aspects of the car's operating systems which are reviewed to come up with these predictability scores including engine, brakes, transmission, electrical components, along with safety features. All are taken into consideration when assigning the reliability score. Having access to these independent auto-savvy groups makes it much easier to confidently answer the question, "are VW Tiguans reliable?"
But first, you need another Tiguan history lesson.
Let's go back 10 years, the 2011 VW Tiguan was just about as low as it could rate in reliability. The Tiguan's ranking was only slightly above the now-discontinued Nissan Juke. Here's how the competition stacked up back then:
#1 Honda Element: 81
#2 Kia Sportage: 81
#3 Hyundai Tucson: 79
#4 Jeep Compass: 79
#5 Mitsubishi Outlander Sport: 79
#6 Jeep Patriot: 78
#7 Volkswagen Tiguan: 78
#8 Nissan JUKE:76
This lower ranking was a real slap in the face to Volkswagen considering the Juke was a massive failure for its parent coporation, Nissan. We looked further to discover just how bad the Nissan Juke was for comparison purposes and here is what whatcar.com said: "The main issue with the Nissan Juke is with the CVT gearbox fitted to the 1.6 gasoline models; it has a poor reliability record because repairs generally aren't possible and thus the entire gearbox tends to need replacing." (And we now also know why the Nissan Juke was quickly discontinued!)
Other reliability ratings proved similar; Consumer Reports scored the 2011 VW Tiguan a lonely 1 out of a possible 5 points.
Things looked much brighter for the 2012 year. After some engineering overhauls, the Volkswagen Tiguan scored a four out of five in reliability, as reported by J.D. Power. Even with the 2012 VW Tiguan turbo problems and 2012 VW Tiguan transmission problems, the reliability rating was still at a respectable 4 out of 5 points. The 2013 model year scored the same. This score of 4 is considered a well above average score.
The VW Tiguan continued the reliability rating roll with the same 4 out of a possible 5 points for the 2014 and 2015 model years.
The reported 2016 Volkswagen Tiguan problems did not affect the reliability score. The Tiguan succeeded in scoring another 4 out of 5.
The 2017 VW Tiguan reliability report came in at an outstanding 4.5 out of a possible 5 points. Other class leaders for reliability in this same model year included rivals like the Chevrolet Equinox and the Hyundai Tucson.
But Motorbiscuit.com burst Volkswagen's balloon when it said, "While most parts of the Tiguan had decent or good reliability ratings, the power equipment of the Tiguan had the worst reliability rating possible in the 2017 and 2018 model years."
2018 was the year that the Tiguan underwent a redesign. This coincides with the 2018 VW Tiguan reliability reviews dropping to 3.5. But reviews were still singing pretty high praise stating that Tiguan "has a good amount of utility for a compact SUV, and its well-rounded appeal is boosted by strong crash test scores, a slightly above-average predicted reliability rating, and low ownership costs."
The 2019 VW Tiguan reliability rating were back to a 4 out of 5. But in 2020, the reliability rating dropped again to 3.5 out of a possible 5 in the JD.Power reports. It should be noted that the 3.5 is still slightly "above average" for cars in this class when considering reliability,
The 2020 model year continued on the "reliability rollercoaster". JD Powers gave the 2020 Volkswagen Tiguan a reliability score of only 61 out of a possible 100 overall score. A noisy engine and lackluster acceleration were a few of the low points noted. The biggest issue was with mechanical reliability.
Consumer Reports assigned only a 1 out of 5 score to the Tiguan for the 2020 model year. Consumer Reports keeps a finger on the pulse of the automotive industry for purchasers. When they reviewed the 2020 Volkswagen Tiguan they had obvious concerns over the 2020 VW Tiguan reliability.
So for the new vehicle shoppers question, "Is the 2021 Volkswagen Tiguan Reliable? The 2021 Tiguan has a predicted reliability score of 83 out of 100; scoring over 20 points higher than the previous year. In the J.D. Power study, the reporting metrics on predicted reliability gives its Best rating for scores of 91- 100, 81-90 is Great, 70-80 is Average, and 0-69 is Fair and below average.
You might also need to know that even with its "great" rating, autolist.com did not place the 2021 Tiguan in the list of top 10 Reliable SUVs
Link to: https://www.autolist.com/guides/most-reliable-suvs-2021

What Are The VW Tiguan Years To Avoid?
First know that it's the older model Tiguans that seem to be the poorest performing in the reliability arena. Motorbiscuit.com advises used Tiguan shoppers, "Some 2010 Tiguan models developed engine failure. Over the course of several miles, a rough timing chain can cause irreversible damage to the engine. Owners who didn't take part in the class-action lawsuit had to pay an average of nearly $4,000 for repairs."
So on that bleak note, it might surprise you that it wasn't model years 2009 or 2010 that are considered the worst of the VW Tiguans. It was the 2011 VW Tiguan problems that make this model year the one to avoid in terms of reliability.

What is The Best Year for VW Tiguan?
We recommend you be more careful when considering the 2009 – 2011 years without getting them thoroughly checked out. The best years seem to be models 2012 or later.

What Are The Typical Maintenance Costs for a VW Tiguan?
Although subject to change and dependent on local labor, parts and shipping costs, you can expect the average total annual cost for needed repairs and preventative maintenance to be approximately $730 for the VW Tiguan. This compares to an average of $521 for other compact SUVs and $652 for all vehicle models.
VW Tiguan Maintenance Schedule and Estimated costs
Volkswagen recommends a preventative maintenance schedule that is based around 10,000 mile driving intervals. Volkswagen trained and certified technicians provided the following information:
If you have purchased a new VW Tiguan, your first scheduled service will be at 10,000 miles. Below you will find a list of the services and inspections that will need to be done at that time. You will be performing these items, as well as others, each time you reach another 10,000 mile interval level.
The estimated costs for the items included below is $159 – $179.
Oil and oil filter replacement
Tire rotation
Airbag inspection
Fluid check
Wiper blade inspection
Headlight cleaning system inspection
At 20,000 miles advised maintenance includes tire replacement, brake pad replacement, and cabin filter replacement, along with the items from the 10,000 mile service. Estimated cost is $232-$271.
At 30,000 you may need to have brake, engine coolant and transmission fluids replaced in addition to the regular 10,000 mile suggested services. Cost should run between $159—179. You may also need to replace tires or brake pads at this time.
The 40,000 mile service is still considered a "minor" service, but can include a drive belt replacement, transmission service and timing belt replacement. Estimated cost could run between $545-$628. It is not uncommon for vehicles to experience wear and tear on items like the drive belts and hoses, motor mounts and suspension bushings around this mileage interval.
AND REMEMBER: you may be coming to the end of your manufacturer's warranty, so it is important to pay special attention to the way your vehicle is operating. Be sure to address any concerns while your warranty is still valid. Also, if you're servicing at a dealership, ask them to check for any recalls that might pertain to your VW Tiguan.
To find out more about the VW Tiguan service schedule and estimated associated costs, visit https://repairpal.com/estimator/volkswagen/tiguan/maintenance-schedule
It should be noted that there are various repair items that are often reported on the VW Tiguan including: VW Tiguan push button start problems, VW Tiguan misfire problems, VW Tiguan overheating problems, VW Tiguan ignition coil problems, VW Tiguan heater problems, VW Tiguan electrical problems, VW Tiguan fuel pump problems, VW Tiguan oil lea probles, VW Tiguan coiling fan problems, VW Tiguan catalytic converter problems, VW Tiguan bake problems and VW Tiguan Bluetooth problems, VW Tiguan alternator problems, and VW Tiguan dab radio problems. Additioanlly the VW TIguan has experienced ABS problems.
Once your warranty has expired, it may make good sense to use a third party extended warranty company like olive.com®.
VW Tiguan Turbo Issues and VW Tiguan 4motion Problems
In researching these two categories, it was tough to nail down exactly what or why problems occurred. A turbocharger can be expected to run between 100,000 and 125,000 miles. This can be affected adversely by driving conditions, and aftermarket components/low quality parts. There is currently an online petition started by a Tiguan owner with only 74,000 miles on his vehicle, telling a story about his P0299 code (which is a diagnostic code for turbo charger failure). He's asking other VW Tiguan owners who have experienced turbo failure to add their name to the petition in hopes that if enough folks join in complaining, Volkswagen will help pay for repairs. He stated on ipetition.com, "It just doesn't make sense that it is going to cost me more than 25% of the vehicles retail value to get it fixed. I went online and looked at various Volkswagen forums to see if people were experiencing a similar situation. The consensus was that people were having similar issues with the error code P0299 malfunctioning turbo charger. The majority of the people reporting this issue were Tiguans between the years 2010-2013 (and some newer ones as well) with low mileage."
In the Volkswagen owners manual, they truly put their money where their mouth is, right there in black and white. It states that Volkswagen of America may help financially with certain types of issues and encourages customers to report any dissatisfaction with the dealers decision on warranty work. Apparently owner petitions are one way that recalls are considered.
4MOTION a trademarked name for Volkswagen's "permanently engaged" four- wheel drive system . In the VW Tiguan this system provides a distribution of power to all four wheels before the wheels can begin to slide. Multiple owners have also reported VW Tiguan 4×4 problems in recent years.
VW Tiguan Safety
The European New Car Assessment Program (NCAP) put the Volkswagen Tiguan through a series of crash test sessions and awarded the VW Tiguan a perfect score; five out of a possible five stars for its safety features. This is a very good score for any car, but is exceptional for a crossover.
Passenger/occupant protection for adults came in at an 87%. Child occupant protection was 79%. And safety assists like ESP and ABS that are standard offering on the Tiguan earned a 71% rating. Front and curtain airbags are also a standard features, and rear side airbags are available.

Are Volkswagen Tiguans good cars?
Ironically, it is reported that SUV owners and specifically people who buy a Volkswagen Tiguan are less likely to prioritize reliability, quality, safety and maintenance costs when choosing a vehicle. They are more likely to buy a vehicle that stands out in a crowd. So based on those finding, the VW Tiguan is a "fine" car indeed!
TDI problems
At the independent site, fueleconomy.gov, you can find the official U.S. government website for energy economy, efficiency and renewable energy; this site is provided by the EPA (Environmental Protection Agency). If miles per gallon is something you're interested in, this site will allow you to compare makes and models of vehicles, get advice on better gas mileage, calculate and share your actual mpg ratings for real –world driving situations, etc.
The 2020 Volkswagen Tiguan
With a starting price of $24,945, the 2020 Volkswagen Tiguan is a solid choice for a compact SUV. US News ranks this year's model at seventh place in a class that contains front-runners like the Honda CR-V and Mazda CX-5.
The Tiguan sets itself apart with its third-row seating option, which provides enough room for seven passengers. Standard safety features include "Side Assist" and "Rear Traffic Alert" systems to assist drivers with blind spots and pedestrian detection.
Car and Driver ranked the 2020 Volkswagen second place in the crossover SUV class, noting the car is a bit slower than its competitors. A noticeable change for 2020 is that Volkswagen is pushing back the 6-year warranty to now be for 4 years / 50,000 miles, including two years of covered maintenance. Plans are underway for a newly remodeled 2021 Volkswagen Tiguan.
What Consumer Reports thinks about the 2020 Volkswagen Tiguan
Despite the positive reviews the 2020 Volkswagen Tiguan is receiving, Consumers Reports felt differently. The trusted review site gave the 2020 Volkswagen Tiguan a 61 out of 100 overall score.
A noisy engine and lackluster acceleration were a few of the low points noted with this vehicle. The biggest issue was with reliability. Consumer Reports assigned a 1 out of 5 predicted reliability score to the new Tiguan.
The rating reflects the unreliable history of the popular crossover SUV. Substantial issues with engine performance were reported in the 2012 through 2014 model years. Consumers started reporting consistent problems with the transmission in the 2016 model, and subsequent years showed signs of defective power equipment. All of these concerns get factored into the predicted reliability score for the current model year.
Predicted reliability scores.
The Consumer Reports reliability score is a prediction of how well a vehicle will perform in the coming year. The engine, braking system, transmission, safety features, and electrical components are taken into consideration when assigning a reliability score.
Depending on which trim you get, it can have a lot of cool features like a Wi-Fi hotspot, a digital gauge cluster, and Apple CarPlay. The VW Tiguan also comes with some good standard safety features, but some of its crash test scores were a little concerning.
Additionally, if you're interested in a used Tiguan, some model years are known for some very serious repair problems. It has also had consistently low reliability ratings over the years. The Tiguan may be one of Volkswagen's most popular vehicles, but some models are truly a nightmare to own.
Car Complaints lists the Tiguan's debut model year as the one with the most reported issues. Maybe it was just finding its footing, but some of these problems can be a bit of hassle to fix. Most of the things that needed to be repaired were part of the car's engine and cooling systems.
One of the most common complaints was a broken plastic intake manifold. According to many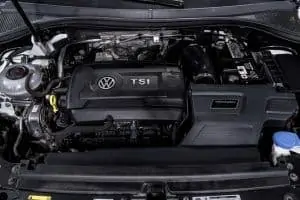 customers, dealers told them that this was a common problem for the Volkswagen Tiguan. Thankfully, since the problem occurs so early in the car's life, some owners were able to get it fixed under warranty.
Even more drivers complained about a water pump failure. One owner even commented that they replaced their Tiguan's water pump three times in under 20,000 miles. It's definitely not a cheap fix either, costing drivers an average of $910 for parts and labor.
The most expensive problem 2009 Tiguan owners had to deal with was a faulty timing chain tensioner. Failure to replace this part caused some owners' cars to stall while they were driving. The problem was so severe that many owners took part in a class-action lawsuit against Volkswagen.
A settlement was eventually reached, but some owners couldn't benefit from the terms. The timing chain tensioner failure usually showed itself at around 93,000 miles. According to the settlement, only 25-45 percent of the repair cost would be covered in this case.
Motor Biscuit Some problems in 2010
This model year had slightly fewer complaints than 2009, but Volkswagen Tiguan owners were still experiencing a lot of problems. The engine continued to malfunction with main oil seal leaks, excessive oil consumption, and a skipping timing chain. Some owners also reported that the engine's turbocharger and ignition coils were also faulty.
Some 2010 Tiguan models also developed engine failure. Over the course of several miles, a rough timing chain can cause irreversible damage to the engine. Owners who didn't take part in the class-action lawsuit had to pay an average of nearly $4,000 for repairs.
What's New for 2022?
Volkswagen has given the Tiguan compact SUV a styling refresh for 2022 to help it look as good as their restyled VW Atlas and new Atlas Cross Sport mid-size SUV. The Tiguan received new LED headlamps, a revised grille and bumpers, and a new wheel design for a more up-to-date appearance. The Tiguan's cabin received a makeover as well. A new steering wheel with touch-sensitive controls, heated seats and a digital gauge display are now standard across the VW Tiguan lineup. All models except the base S got a new touch-sensitive climate control panel, adaptive cruise control, lane-keeping assist, and a semi-autonomous driving mode that VW calls "Travel Assist."
The Tiguan's third row of seats will remain a ever-popular option. You can expect the 2022 VW Tiguans to appear in showrooms by the end of this year.
Owners say their favorite things about the Tiguan are (in descending order) the exterior styling, interior design, driving dynamics, visibility and safety, and infotainment system. Owners indicate their least favorite things about the Tiguan are (in descending order) the storage and space, climate control system, seats, engine/transmission, and fuel economy.