Is the Honda Pilot a Good Car
Topics Covered in This Article
Honda's mid sized, 5-door crossover SUV, the Honda Pilot, was introduced to the North American auto buying market in 2002. The largest Honda SUV in its lineup, the Pilot has three rows of seating and has a suspension designed to ride and handle similar to a car. The multi-purpose Honda Pilot can be utilized for off road use and towing, too.
If you are considering buying a used car that has under 140,000 miles and is a 2012 model or newer, get a free quote for one of our "extended car warranty solutions".
100% Online, 9 Coverage Options and No Robocalls!
The first generation Honda Pilot (YF1/2) began with model year 2003. In 2005, the newly debuted engine was changed to increase the horsepower from 240 to 255. Gear ratios were reconfigured and a new fuel tank allowed for a increased driving range of over 40 miles. All Honda Pilots from 2003-2005 had Honda's VTM-4 four-wheel drive system.
Another updated engine occurred in the 2006 model year. 2006 was the first time 4 wheel drive was not a standard option on the Honda Pilot. These new Front Wheel Drive models had the VCM system (Variable Cylinder Management) which were able to close down three cylinders under lighter loads to increase fuel efficiency even further. All Pilots featured a 5-speed automatic transmission.
2006 also saw a facelift for the Honda Pilot. A new and improved grille insert, halogen projection headlights and clear lens covers were now the norm. Inside the cabin, the gauge cluster was updated and the center console featured cup holders and redesigned storage compartments.
In 2008, two new trim levels were added. The VP (value package) replaced the LX as the base model Honda Pilot and the SE (special edition) found its way between the EX and EX-L trim packages.
G1 Honda Pilots could seat up to eight passengers but the limited legroom in the third row made it comfortable for only children or on (very) short trips. The rear seats could fold flat for a larger cargo area.
Second generation Honda Pilots (YF3/4) began in model year 2009. Unveiled as a larger version of the Pilot SUV, it offered 17 mpg city and 23 mpg highway fuel economy (16 / 22 for all wheel drive models.) New features included a two position seat with memory settings for the driver, a new power tailgate and a relocated gear shirt. In 2011 a voice- activated navigation system became available on certain trim packages.
2012 saw another redesign with a new front fascia, alloy wheels and changes to the bumper. The 2013 Honda Pilot embraced new safety and driver-assist technologies by offering a standard rearview backup camera and an 8 inch LCD screen, hands free calling, Bluetooth and a USB connector port.
The 2015 Special Edition now gave Honda Pilot owners a moon roof, satellite radio and rear seat entertainment. These were standard features in that trim level. State of the industry safety features included lane watch, blind spot information and rear cross traffic monitoring. There was also forward collision warning and collision mitigation braking. Lane departure and lane-keeping assist systems, along with road departure warning and adaptive cruise control, made "safety first" a Honda goal.
The third generation Honda Pilot began in model year 2016 with a sleek new appearance.
The 2019 Honda Pilot was given the Top Safety Pick award by the Insurance Institute for Highway Safety (IIHS).
Now in G3, the 2021 Honda Pilot offers seven different trim levels including the LX, EX, EX-L, the Honda Pilot Special Edition, the Touring, Elite and Honda Pilot Black Edition. The 2022 Honda Pilot will drop 2 trim levels and have 5 optional trim packages. The EX-L, SE and Touring models will offer seating for up to eight people. The Touring trim package also offers the option of second-row captain's chairs, but this will drop the number of seating for passengers to seven.
On the website Edmunds.com, the Honda Pilot has a five-star consumer rating and Edmunds gives the Pilot 8.2 out of a possible 10 points…high marks indeed! The Edmunds Testing Team evaluates over 200 cars each year and has been named one of the most trusted online auto review sites. When asked what the Edmunds rating system takes into account, a representative replied, "Each vehicle is driven on a standardized road test loop and visits our test track for instrumented testing in controlled conditions. Our time behind the wheel is used to develop ratings that describe how a car stacks up against its direct rivals in a particular size and price class."

Are Honda Pilots Reliable?
In 2018, the Honda Pilot scored a perfect five out of five rating for reliability. But in subsequent years, the story did not have as happy of ending. In 2019, the Pilot's score dropped to a meager 2 out of a possible 5 stars – and 2020 was even worse. This drop could have been because of the new generation of Pilots that were ushered in at that time. As we all know, often the "first" is not the "best." Kinks that present themselves in the "new and improved" versions of certain vehicles, often need to be worked out over time.

From 2003 to 2008, the Honda Pilot was a pretty good car and had stable reliability ratings. But when the Pilot was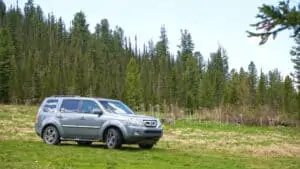 redesigned for the 2009 model year, ratings fell drastically. They also dropped after the 2015 redesign. In 2016, Honda released another new generation of Pilots and the reliability ratings dropped to just one out of five possible points, according to Consumer Reports. Honda Pilot bounced back quickly though, with a perfect reliability score just two years later.
2021 appears to be another "bounce back" year. The Honda Pilot scored a 3 out of 5 points, but the ups and downs that have occurred over the years should give car buyers concerns. The Honda Pilot stacks up in exactly in the middle of the pack for the SUV segment…it's not the best…and it's not the worst. "Decent" is the word Consumer Reports used to describe the Honda Pilot in their review.
Although the Pilot is not the best as far as reliability goes, MotorBiscuit.com points out that it is safe and it is roomy. And you should know that the Honda Pilot does have similar reliability ratings to a number of very popular vehicle makes and models.

What Are Key competitors of the Honda Pilot?
Other Mid-size SUV Models with Similar Reliability Ratings to the Honda Pilot
Jeep Liberty
Jeep Grand Cherokee
Mazda CX 7
Nissan Pathfinder
Subaru Tribeca
Ford Explorer
Toyota Fj Cruiser
Ford Edge
Subaru Outback
Toyota 4 Runner
Dodge Nitro
Toyota Highlander

What Are Common Problems with the Honda Pilot?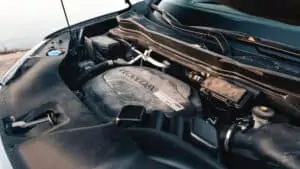 Repairpal.com says that the most common Honda Pilot problems included: overheating of the wire harness causing low beams to fail, warped front brake rotors causing vibration, a knocking noise from front end caused by stabilizer link issues and light not turning on when the door is opened.
2003 Honda Pilots had oil leaks in the valve cover gasket, leaky seals, broken bolts and defective pistons, as well as transmissions issues from slippage to stalling.
2005 Honda Pilot problems included a convertible top that would not function and intermittent steering problems. Coolant leaked in the engine, overheating, blown head gaskets and oil leaks from valve cover gaskets and oil pan seals were reported. This model saw recalls, as well.
The 2016 Honda Pilot had air conditioning and electrical issues, along with transmission failures and suspension problems. Water could also leak into the floor boards when driving in wet conditions. A recall occurred for seat belts that may not provide the restraint needed in a head-on collision.
2019 Honda Pilots had problems, too. Lack of power from the engine was the most common complaint by owners. There were also issues with uncomfortable seating.
In this model year, Honda recalled 211,000 U.S. Pilots to provide a remedy for airbags that could deploy in a low-speed collision.
These are just some of the problems associated with specific Honda Pilot model years, but let's look at some additional information.
Honda Pilot Transmission Problems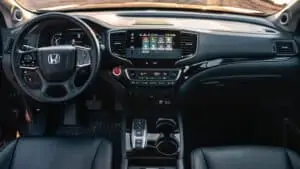 Although Honda has a long history of making reliable cars, the Honda Pilots in the 2003, 2005, 2009, 2011 and 2013 model years have all had reported transmission issues.
Honda Pilot Keyless Start System Problem
Often the reason that a keyless start does not work is a dead battery in the key fob. If the battery is allowed to go completely dead, you may need to re-program the transponder so that it reestablishes communication with the car's interior receiver.
If you need to reset a Honda Pilot's keyless entry system, try this:
Insert the key into the ignition and turn the key to the "on" position.
Press and hold either the "lock" or "unlock" button on the remote for one second.
Release the button on the remote and turn the key in the ignition to the "off" position.
Repeat this process two additional times.
And yes, you can reprogram those Honda Pilot keys yourself. See https://www.youtube.com/watch?v=wSpOdUhU8lw
Honda Pilot Emissions System Problem
The emissions system in your car is there to limit the amount of noxious fumes being emitted from your engine's combustion. Faulty sensors were to blame for most of the emission problems associated with the Honda Pilot. Many Pilot drivers have reported emissions system problems – particularly in more recent model years like 2016, 2017, 2018 and 2019. Small things like a faulty or ill-fitting fuel cap can lead to emissions issues, but more often than not the fuel injectors need replacement. This can cost more than $1500 to complete the fix.
While it is safe to drive with the emissions warning light illuminated on your dashboard if the problem is minor, you should know that you are polluting the air and that it is a problem you need to fix sooner, rather than later. Major emissions system issues could cause other systems to fail, costing you more money in the long run.
2020 Honda Pilot Infotainment Issues
With the HondaLink infotainment system, Honda owners are able to stream music, view current weather conditions, navigate and store favorite destination points. This system also gives you access to roadside assistance and emergency services. So when owners experience problems with their Honda Pilot's infotainment center, they are complaining about more than just not being able to listen their favorite tunes.
Honda Pilot Brake Rotor Problems
Rotor issues in your Honda Pilot can ultimately cause vibration when braking, but the first symptom commonly found when rotors are bad or failing is simply noisy brakes.
Grinding, humming and squeaking should not be ignored. Grooves and marks on the rotors are a tell-tale sign of rotor problems.
Your brake rotors should last 30,000-80,000 miles in a Honda Pilot. But with this problem, owners have reported issues that have been found to be caused by the warping occurring in the rotors. No one really knows why this occurs, although many speculate it is because Honda was attempting to cut weight on the Honda Pilot to increase
On the carcomplaints.com website it is reported by the NHTSA (National Highway Traffic Safety Administration) that the 2011 Honda Pilot experienced various "service brake problems" resulting in 7 crashes, 1 fire and 5 injuries. The problem with braking occurred at an average of 35,607 miles. This issue was, of course, was rated as severe.
Hill Start Assist Problem Honda Pilot
Hill assist prevents the Honda Pilot, when stopped on a steep grade, from rolling when the driver's foot goes from the brake to the accelerator. Sensors automatically inform the brake when the car is on an uphill or downhill slope and then maintains brake pressure for to prevent movement of the car. There are a few Honda Pilot forum entries discussing problems with this feature, but it does not appear to be a wide-spread problem. In many of the responses to owner's questions and complaints, people were advised that if they got a warning light regarding the hill start assist, ignore it – because when the car is restarted it usually clears itself. Many were also advised that if the "check engine" light illuminates, it often lights up other warning signals, including the one for hill assist.
2020 Honda Pilot Radio Problems
As Honda Pilot owners know, the radio is part of the infotainment center. But what many owners did not know is that when their vehicles loses all power – such as when you put in a new battery – the radio may need to be reset. Here are the simple reset instructions:
Without turning the engine over – turn the ignition key to "On"
Turn the radio on by pressing in on the volume control knob.
After 10 seconds, turn the radio off.
Press and hold the power button for two to five seconds.
Watch the radio display to confirm a reset has occurred.
You can also watch this video for guidance.
Other causes for complaints of "scratchy" and static in radio reception can be caused by lose wiring, broken antennas, etc. The problem does not appear to be caused by the actual radio equipment installed in Honda Pilots.
2017 Honda Pilot Power Tailgate Problem
The 2017 Honda Pilot's rear lift gate has been reported to get stuck in the half open position – then beep – then close without warning. The lift gate power button is also reported to fail intermittently. The diagnosis is that this problem is most often caused by a sensor failure.
2016 Honda Pilot Push Button Start Problems
Again, this problem is commonly caused by a dead or low battery in the key fob.
Another much talked about issue in Honda online forums is the ability to start the Honda Pilot engine remotely. The "remote engine start" feature comes built into the key fobs supplied with the new vehicle. It is designed to work when the operator is within approximately 180 feet of the vehicle. By pressing the lock button and holding the engine button for a second, the vehicle can start when the driver is not acutally in the car. 2016 Honda Pilot owners reported problems with their start button and it was found that they were often out of range for a remote starting protocol.
Much more concerning are the reports that the 2016 Honda Pilots would not start after going into "auto idle" mode. Many owners have asked Honda for a recall, but to date, this has not occurred.
2016 Honda Pilot Door Lock Problems
There are numerous online complaints logged for this problem. Some owners claim one door failed, others report three out of five doors not working, etc. Some could not lock or unlock the doors with their key fobs. Others couldn't get the interior controls to work. Many had to resort to manually unlocking or locking their door(s). Upon initial diagnosis, Honda Pilot drivers were told that it could be the actuators causing the issue.
If you're experiencing the same issue, see if you can hear the clicking of the actuator trying to move the lock. If you can, then it just may be that this mechanical part is worn out and needs replaced. The problem was not isolated to the Pilot 2016 model, but based on research it appears that this was a common problem in that model year.
Honda Pilot All Wheel Drive System Problem
Another warning light that has caused Honda Pilot owners concerns is the "AWD system problem." There appears to be an intermittent problem causing this light to randomly illuminate.
First, Honda Pilot drivers are to be informed that the AWD warning light always comes on when your vehicle is first started. The light is only to be considered a problem if it stays lit after the engine has been running.
Regarding all wheel drive issues that drivers of the Honda Pilot have experienced, Piloteers.org forum suggested that problems with AWD performance could be caused by driving in S mode (sports mode), instead of the traditional D mode (drive). The Sport mode is programmed to supply sudden power upon a driver's demand. It is stated that the Honda Pilot should not continuously be driven in S mode, and points out that over time, it will decrease fuel economy.
They then go on to state that the Honda Pilot's AWD system "learns" from a driver's input and may take awhile to adjust to their driving habits. There are all types of informational entries and articles about the all wheel drive behavior of a Honda Pilot, but it appears no one knows for sure why that pesky warning light goes on in the first place.
2016 Honda Pilot Torque Converter Problems
Found in automatic transmission vehicles, the torque converter acts much like a clutch that you used to find in automobiles with manual transmissions. A torque converter uses fluid to transmit power to the transmission to keep your engine from stalling out. Carcomplaints.com does mention that the 2016 Honda Pilot has had numerous problems and recalls concerning its transmission system. Motorbiscuit.com actually used the words "an alarming number of transmission problems." The torque converter was just one – in a long line of reasons – that the 2016 Honda Pilot experienced transmission problems.

How Much Does it Cost to Maintain a Honda Pilot?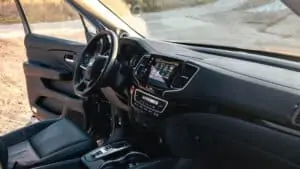 The average annual cost for repairs and routine maintenance on a Honda Pilot is $542. This compares favorably to $573 for midsize SUVs overall and $652 for all other vehicle models.
The frequency of needed repairs are higher than normal for the Honda Pilot, but the severity of these issues is "average." So while a Honda Pilot may need more time in the shop, the problems that need to be fixed shouldn't break the bank.
Honda Pilot Maintenance Schedule
The maintenance schedule for a Honda Pilot is relatively straightforward.
You should change the engine oil and rotate the tires in the first 7500 miles of driving.
At 15,000 miles, you will need to do that same service, plus replace the oil filter, inspect the brakes, steering, exhaust and cooling system components.
When your Honda Pilot's odometer shows 22,500 miles, a simple oil change and tire rotation should again be performed.
At 30,000 miles, check the valve clearance and perform that same inspections that you did at 15,000 miles. Additionally you should replace the air cleaner element, spark plugs and adjust the drive belts.
37,500 miles means you need to do another oil change and tire rotation.
When your Pilot hits 45,000 miles you need to replace the coolant and brake fluid, as well as have inspections performed on all of your major system components.
Although this may sound like a lot of maintenance, you should know that the cost to maintain a Honda Pilot is .45% better than other similar vehicles in this auto class segment. Over a 10 year ownership period, that equates to an average of $1500 in savings!
You can find all the manufacturer's recommended routine maintenance suggestions in your owner's manual, or look online for guidance. Need a place to start? Go to https://caredge.com/honda/pilot/maintenance
It is interesting to note that different online references look at maintenance cost through varying lenses. Here's a chart of anticipated maintenance costs and the probability for major repairs on the Honda Pilot over a 12-year lifespan. You'll see that the chances of a major repair being needed goes up greatly between year 3 and 4. There's another big jump between years 7 and 8. Honda Pilot models that are 11 to 12 years old, of course, show a high probability of needing a major repair…so be smart, if you're looking for a used Honda Pilot have them checked out by an experienced Honda auto service provider or make sure you have an extended warranty to cover any major repairs that may come up.
How Much Does it Cost to Maintain a Honda Pilot?
Age in Years, Major Repair Probability, Annual Costs
1, 2.17%, $276
2, 3.60%, $317
3, 4.04%, $382
4, 7.14%, $486
5, 10.22%, $573
6, 11.50%, $709
7, 12.40%, $986
8, 16.04%, $1,096
9, 17.72%, $1,198
10, 21.05%, $1,350
11, 32.61%, $1,369
12, 40.56%, $1,532

What Are The Best and Worst Model Years for a Honda Pilot?
Honda Pilots were built to last. So if you're on a tight budget and looking for a good used car, even first generation Honda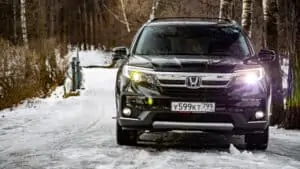 Pilots just might be a good choice.
Best Honda Pilot Years
If you are in the market for a used vehicle, you may want to look at the 2008 and 2015 Honda Pilots. These model years were particularly reliable. Just be sure you either have a third-party warranty, like what you can get from companies like Olive.com® or have a qualified mechanic perform a thorough pre-ownership inspection. And here's a hint: have them pay special attention to the transmission and radiator.
Worst Honda Pilot Year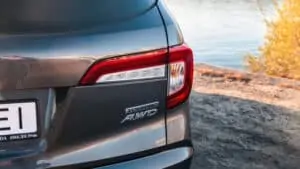 Based on factors such as repair costs and average mileage when problems occurred, the 2003 Honda Pilot may be a used car to just walk away from. The 2003 Pilot earned more complaints in that year than any other model. But you should also know that the 2005 Honda Pilot is a close contender for the "to be avoided" title, as well.

How Much is a Honda Pilot?
For 2022, the Honda Pilot sport utility vehicle starts at a MSRP of $39,060 for the EX-L trim package. The Special Edition starts at $39,660 and the Touring package is $43,620. Upgrading to the Honda Pilot Elite will cost you $49,120 and the Black Edition has a starting MSRP from $50,620.
All Honda Pilot versions offer 280 horsepower and the first three trim levels have estimated gas mileage of 20 city / 27 highway. The Elite trim package and Black Edition's gas economy drops to 19 miles per gallon in the city and 26 mpg while on the highway.
Towing capacity is between 3,500-5,000 pounds.
Oh – and one more thing you might want to know, the Honda Pilot will depreciate an average of 42% after 5 years.
Honda Pilot Summary
Honda builds their cars for reliability, longevity and has a good track record for safety, as well. But regardless of this fact, the Honda Pilot has experienced major ups and downs when it comes to its reliability rating. It is prudent for anyone considering a purchase of a used Honda Pilot, to research the specific model year and find out what common problems have been reported by owners. Then have a qualified mechanic perform an inspection to see if these problems will become your problem. Overall, the Honda Pilot is a good mid-sized SUV but you may find out that the prices are slightly above similar competitor's models.
Is A Honda Pilot Better Than An Acura MDX?
The Honda Pilot is one of the most popular Honda vehicles. It has been on the market for eleven years and has been through many modifications. So, is a Honda Pilot better than an Acura MDX? Both are reliable SUVS, but how do they stack up to one another in a side by side comparison? If you have a specific purpose for purchasing a vehicle, such as commuting, finding a car to buy a family car, or even wanting something that can take a little bit of abuse, the Acura MDX could be what you are looking for. But, it is important to compare the two to determine which one is best for you.
One thing that sets the Acura MDX apart from the Honda Pilot is most would say the MDX looks and feels more luxurious. The Honda Pilot has a maximum rating of five stars, which means that it is considered very safe to drive but the MDX offers a couple of extra safety features. It rates with a higher rating of seven. The Acura has a larger passenger area as well, which allows a greater number of people to drive the car comfortably. This is also one of the main reasons why the Acura is considered to be better for city driving and highway driving.
The layout of the Honda Pilot is also different compared to the Acura MDX. The Pilot is sleeker and more slender, much like the Acura. However, the Pilot is built much stronger and is more robust when it comes to off-roading. This strength is apparent in the weight distribution of the car. The Acura uses a much heavier steering wheel than the Pilot, which can make it easier to get a grip on the wheel and increase the car's stability.
One of the best features of the Acura MDX is the weight distribution of the vehicle. This makes sure that most of the weight sits on the rear wheels. The front car is not much heavier than the back or any of the other models in this class. This makes it easier for drivers to negotiate turns at high speeds and to gain a proper grip on the wheel.
The Acura has some handy features that make it easier to maneuver. For example, it has larger air bags in the cabin. These airbags are good for protecting passengers in case of an accident, but they also improve the handling. The improvement in handling is noticeable through some measures like the size of the steering wheel and the radius of the turning radius.
The engines of these cars are also generally reliable. They offer smooth and comfortable driving, even when the roads are not particularly challenging. They do not however suffer from timing problems or engine problems that can affect handling. Many drivers find the Honda engines to be on the smooth side. Neither models have many issues with constant repair or maintenance but that's not to say having an auto extended warranty such as one from Olive®, is not a good idea.
There are many areas where the Acura lacks compared to the Pilot. One of these is ride quality. The Honda does not have as great an overall package as the Acura does. However, the Pilot has a bit better handling. This is probably because of the smaller engine. The engine is also a bit louder though.
The Honda has received a lot of negative criticism over the course of its life. Many people who purchase these vehicles do so because they are high-performance automobiles. Reviews from owners indicate that this is not necessarily the case. Drivers often find the Honda to be comfortable and well built. The Acura is a bit better in almost every area, but the Honda Pilot is not anything to doubt about either. It is reliable and has great reviews. If you did a side by side comparison, the Acura probably still pulls ahead for luxury and performance. Choose the right car for you. One that will run and last a lifetime if possible.