Subaru Engine Problems You Should Know About if You're Shopping for a Used One
We know that Subaru is a popular brand. It appeals to many types of consumers and even the four legged kind who can have some serious influence over their owners. Subaru has a big brand following because they produce reliable cars that are safe and last a long time. They are also affordable and quite good looking too. In a 2019 study conducted by J. D. Power to see which auto brands have the most loyal following, you guessed it, Subaru was at the top. It ranked number one, with a 61.5% loyalty rating.
Despite Subaru being well loved, it has faced a some nagging issues over the past few years, to include some big-ticket (and pricey) repair issues such as problems with its CVT transmission and Subaru's engine problems.
In this blog we'll look at the most common Subaru engine problems and check out the Subaru 2.5 boxer engine reliability. Plus, we'll see if we can identify the most reliable Subaru engine. So, if you happen to be in the market for a used Subaru, you'll know what to watch for.
If you are considering buying a used car that has under 140,000 miles and is a 2012 model or newer, get a free quote for one of our "extended car warranty solutions".
100% Online, 9 Coverage Options and No Robocalls!
The Automaker's Commitment to the Subaru Boxer Engine
Almost exclusively, Subaru has chosen to outfit its vehicles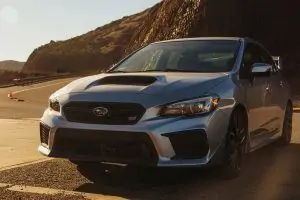 with boxer engines. All of Subaru's four-cylinder engines are liquid-cooled horizontally opposed boxer four-stroke engines, which the automaker has been making for more than 40 years. The exception to this is the EN engine series, which is used in the Subaru Kei cars and trucks (Japanese mini cars and trucks).
The boxer engine features pistons that move toward each other in a horizontal fashion. The movement of these pistons look like boxers throwing punches, which is how the engine name came to be. Because the movement is in opposition to one another, they counterbalance each other, resulting in a more balanced and smooth ride. For more than four decades, Subaru has been committed to the boxer engine because of the many advantages it affords, which we'll dive into later. So while there have been a few Subaru boxer engine problems reported, the automaker is committed to this engine and continuously improving it for future models.
Subaru Engine Problems + What Years Subaru had Engine Problems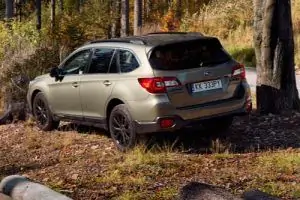 Some of the most expensive repairs an owner can deal with are engine issues. And because the engine is such a complex component, "engine issues" are not just one type of problem. There can be several issues that may affect a vehicle that could be labeled as an engine problem. Below are the most common engine issues Subaru owners have experienced. If you've noticed your Subaru isn't running at its best, your Subie may be dealing with an engine issue. Now just because Subaru has been challenged with engine problems doesn't mean that you shouldn't consider a Subaru as your next vehicle. We're just outlining the most commonly reported problems so that you can be aware of them and know what to look for, especially if you're experiencing some of the same, or you're shopping for a used Subaru to call your own.
Stalling Caused by Faulty Fuel Pump – 2020 Recall
In April 2020, Subaru issued a recall for more than 188,000 2019 Subaru vehicles, to include some of its more popular models like the Ascent SUV, Impreza hatchback and sedan, Legacy sedan and the Outback wagon, that were manufactured between June 2018 through February 2019. The culprit is a faulty fuel pump which can cause the engine to stall. This faulty fuel pump can become more of a safety issue if the engine stalls while in motion, with the potential to cause a crash. The issue that Subaru noted was that the fuel pump could crack and cause the vehicle to not start or stall while it's running. Some symptoms include the vehicle running roughly, or possibly shaking and loud noises coming from the engine area. These would result in the Check Engine Light illuminating. Per the recall, Subaru will replace the fuel pump. The NHTSA campaign number is 20V218 and Subaru's recall number is WRD-20.
Engine Computer Issues – 2019 Recall #1
In 2019, Subaru recalled more than 450,000 of its models in the U.S. to address engine computer issues. According to reports, the computer unit was incorrectly programmed, causing it to continue to power the ignition coil even after the motor had been shut off. This increased temperature could cause a short circuit or a blown fuse, resulting in a sudden power loss and the inability to start the engine. The models affected were Imprezas, model years 2017, 2018, 2019; and the Crosstrek, model years 2018 and 2019. Subaru will address the issue by updating the computer software and replacing the coils and fuses required.
Faulty Positive Crankcase Ventilation (PCV) – 2019 Recall #2
In 2019, Subaru issued another recall for more than 250,000 vehicles to address a faulty PCV valve that could cause the engine to lose power while in motion. It was noted that this faulty part could crack or split apart allowing pieces of itself and/or oil to enter the engine combustion chamber causing damage to engine components. The PCV valve is an emissions component that helps keep pollutants created by the engine from being released. It also helps to keep the engine clean and prevent crankcase pressure from building up. A telltale symptom includes increased tailpipe exhaust that is blue or gray in color. As part of the recall, Subaru will replace the faulty PCV valve, and if necessary, take care of any other damage that may have resulted from this faulty part, to include replacement of the engine if necessary. Models that were affected are listed below. The recall number is 19V744 for the 2017/2018 Impreza and Crosstrek, and 19V856 for all other models.
2017 and 2018 Impreza sedans
2018 Crosstrek SUV
2019 Hybrid Plug-In Crosstreks (manufactured between September 2018 and October 2018)
2019 Subaru Forester SUV
2019 Subaru Ascent SUV
Engine Noises and Possible Stalling – 2018 Recall
In 2018, Subaru issued a recall to replace a valve spring fracture that could lead to engine noise, malfunction and possibly even engine stalling. The fractured valve springs may cause abnormal noise and possibly even engine malfunction such as stalling if not addressed. Subaru noted that the problem was only seen in a few models, but chose to recall 140,000 early-year models – Impreza, XV Crosstrek and BRZ – to be proactive and abundantly cautious. According to Subaru, the issue was considered a "low risk" of engine problems occurring. The Subaru models that were affected were model years as early as 2012. Below are the specific models and years.
2012, 2013, 2014 Impreza hatchback and sedan models
2013 XV Crosstrek SUV
2013 BRZ coupe
Engine Oil Leaks Due to Faulty Head Gasket
One of the most common engine issues Subaru owners have dealt with has to do with faulty head gaskets. The issues spanned across a few models for a period of about five years. There were two rounds of head gasket problems. The first group is specific to the 1st gen EJ25D 2.5 liter boxer engine found mainly in the Legacy, Legacy Outback, Forester and the Impreza from 1996 to 1999. These engines suffered from internal head gasket leaks. The second group of head gasket issues came with the EJ251, EJ252 and EJ253 2.5 liter boxer engines. These head gaskets suffered from external leaks between the cylinder heads and the engine block causing coolant and/or oil to leak out between the head and the block. In both instances the issue stemmed from the type of head gasket that was used, not the engine itself. In all of the problematic vehicles, the head gasket that was used was a single layer graphite coated head gasket that is known to lose its coating at about the 100,000 mile mark. The stripping and chipping of this coating resulted in the head gasket seal to become jeopardized. Subaru rectified the issue by extending its powertrain warranty and is now using a non-coated multilayer head gasket. Models prone to head gasket issues are listed below. To learn more about these Subaru head gasket problems, read olive's blog detailing Subaru Head Gasket issues.
First round:
Legacy LSi, GT and Outback 1996 – 1999
Impreza 1998
Forester 1998
Second round:
Impreza 1998 – 2003
Forester 1999 – 2004
Legacy 1999 – 2004
Outback 2000 – 2004
Baja 2003 – 2005
Excessive Oil Consumption
Owners have consistently reported excessive oil consumption from their Subarus. While there was no official recall from Subaru, there was a class action suit filed. The lawsuit was filed because owners claimed some 2011 to 2015 Subaru Forester, Outback, Crosstrek, Impreza and Legacy models were using excessive amounts of oil between normal services. One owner noted that his Legacy was using so much oil that he had to start topping off his own oil with one quart every two weeks between services. According to the lawsuit, more than 650,000 people owned or leased one of these models. While Subaru did not do an official recall, the lawsuit was settled with Subaru agreeing to replace these engines with a redesigned boxer engine if the vehicle was deemed as one that was guzzling oil excessively. The vehicles that were affected include:
Forester (2011 – 2014)
Legacy (2013)
Outback (2013)
Impreza (2012, 2013)
XV Crosstrek (2013)
Pro-Tip: If you own or are considering a used Subaru that is less than 11 years old, you may want to consider an Extended warranty solution from olive®.
Subaru 2.5 Boxer Engine Reliability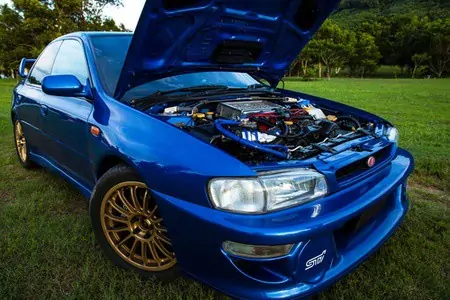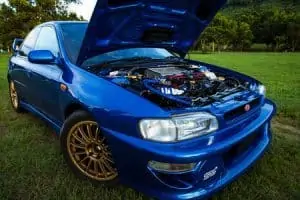 Many consumers ask: Is the 2.5 liter engine a reliable engine? The answer is not cut and dry. Subaru makes a lot of different 2.5 liter 4 cylinder engines, so to say that the 2.5 liter 4 cylinder engine is reliable or not reliable would not be fair or a true assessment because we'd be casting a wide stroke across multiple 2.5 liter boxer engine versions.
Here are the facts: Subaru experienced lots of engine issues due to head gaskets primarily in the EJ25D 2.5 liter engine and the EJ251, EJ252 and EJ253 liter engines. These engines were used primarily in the Legacy (1996 – 2004), Impreza (1998 – 2003), Forester (1998 – 2004), Outback (1996 – 2004) and Baja (2003 – 2005). These engines in particular have received a bad reputation for their lack of reliability. It was such an issue for Subaru that the automaker extended its powertrain warranty from 5 years/60,000 miles to 10 years/100,000 miles. These same engines seemed to guzzle excessive oil, so much so that a class action lawsuit was filed and settled by Subaru. Eventually these engines were phased out and replaced with the latest FB boxer engine series.
Most Reliable Subaru Engine
Although Subaru has been challenged with engine issues, most of the issues were isolated to a few engines, namely the EJs that were in the Impreza, Forester, Legacy, Outback and Baja models between 1996 and 2005. The latest Subaru boxer engines are part of the FB series boxer engines. This engine series has done well in reliability tests, and specifically the FB20D has been praised for its reliability. According to Consumer Reports, it has performed really well over the past few years in its predicted reliability tests, scoring mainly 5 out 5 in the Engine Major category, which accounts for major engine repairs like engine rebuilds or replacement, as well as cylinder head, head gasket, turbo or supercharger, and timing chain or timing belts issues. This engine has been able to reduce emissions and boost fuel economy without compromising the performance of the engine, achieved through a marked increase in the piston stroke. More torque is also seen through this engine because the pistons and rods are lighter. Another benefit of the FB20D boxer engine, which is the latest Subaru boxer engine, is that it now comes with direct injection that provides a noticeable increase in power and efficiency. The FB20D is in the latest Impreza, Outback and Forester models, three of Subaru's best-selling models.
Subaru Boxer Engine Benefits
As noted earlier, Subaru is committed to the boxer engine. It affords many benefits which make the investment in it worth it to the automaker. Let's explore the benefits.
The design of the boxer engine is innovative. It's flat design is more efficient because it allows for direct output into the transmission. This reduces engine components and inefficiencies, resulting in better fuel economy. The engine is also quieter because the engine experiences less vibrations because of the "flatter" design. In essence the pistons' punches cancel either out. It's also smaller than a typical engine, which means it weighs less, making it the perfect size for Subaru's vehicles.
One of its most important benefits is its low center of gravity, which makes it more stable and more responsive than a traditional inline or V engine, which also means it provides better safety. For instance, if the vehicle were to experience a frontal crash, because the engine sits lower to the ground, it is more likely to drop "below" the passenger compartment rather than into it.
To get the lower center of gravity point across, Subaru cleverly uses three different animals to illustrate how much more stable the boxer engine is. Imagine the inline engine as a giraffe, the V engine as a flamingo, and the boxer engine as an alligator. If you think about a lower center of gravity and how that equates to stability…Which do you think is more likely to be more stable? The giraffe, flamingo or alligator?
Currently there are only two automakers in the world that use the boxer engine in their vehicles, with Subaru using it almost exclusively across its lineup.
While the boxer engine does offer some great benefits, the fact remains that the automaker has dealt with numerous engine issues that have resulted in a few recalls. We hope this blog was helpful in summarizing some of those commonly reported engine issues consumers have experienced. We believe that research is key when buying a new or used vehicle. Subaru's reputation for reliability and safety is strong, so use this information as a supplement to your own research to help you when negotiating and ultimately buying your next Subaru.
olive® for When Your Vehicle is Not Reliable
Although Subaru has proven to be quite reliable, get peace of mind in the event it proves unreliable at some point or you encounter an unfortunate breakdown. Engine repairs can be quite expensive if you are having to deal with the repair out of pocket because your factory warranty has expired or your engine issue is not part of a recall.
Extended warranty solutions on pre-owned vehicles have become more critical because they provide coverage in case a repair is needed. In general, below is an example of items covered under mechanical breakdown insurance or vehicle service contracts (often referred to as extended auto warranties).
Steering System
Electrical Components
Engine Assembly
Drivetrain
Transmission
Exhaust Systems
Alternators, Manifolds, Pumps
Heating and Cooling Assembly
olive® offers Mechanical Breakdown Insurance plans in case an unexpected repair is needed. You can get a quote today and be covered tomorrow at shop.olive.com. Here are some of the benefits you can look forward to:
No waiting period
Start coverage up to 140,000 miles
No yearly mileage limits
Coverage across the U.S.
Low monthly payment options
Cancel anytime
Our products, customer service and reputation for excellence have earned us an A+ rating with the Better Business Bureau, and we have partnered with some of the insurance industry's largest companies to back us.