Mercedes-Benz Maintenance Cost
Info to Keep Your Benz Properly Maintained and Running at its Best
Owning a Mercedes-Benz is special and an investment, both in time and money. If you want your car to last the test of time, regardless of the brand, you need to maintain it well and service it accordingly. Owning a luxury car like a Mercedes-Benz is no different, however, taking care of it becomes even more critical. Luxury brands usually require specialized maintenance that is typically more expensive because of their craftsmanship, specialized parts and bigger tires.
In this blog, we'll discuss Mercedes maintenance – what you need to know, do and how much you can expect to pay to keep your Benz in tip-top shape.
If you are considering buying a used car that has under 140,000 miles and is a 2012 model or newer, get a free quote for one of our "extended car warranty solutions".
100% Online, 9 Coverage Options and No Robocalls!
What is A and B Service on a Mercedes-Benz?
Mercedes-Benz vehicles model years 2009 and newer come equipped with a Maintenance Service Indicator System that alerts you when you need to visit the service center. This system is convenient and makes it easy to maintain your Mercedes. It will begin alerting you that your vehicle is due for a check about one month before your due date. The alert system will continue to increasingly remind you as you get closer to your due date.
There are two important maintenance service requirements that ensure your Mercedes remains in good shape. There is A Service and B Service.
Mercedes Service A
Service A is required every 10,000 miles or 1 year, whichever comes first, and then approximately every 20,000 miles or 2 years after that. Service A is considered a standard check-in. Services performed in the Service A are:
Mercedes-Benz motor oil replacement
Oil filter replacement
Fluid level checks and corrections
Tire inflation check and correction
Brake component inspection
Maintenance indicator system reset
Mercedes Service B
The Service B maintenance is triggered every 20,000 miles and approximately one year after the Service A maintenance is done. As you would imagine, Service B is more detailed and includes everything in Service A, plus an overall review of your vehicle is performed, paired with all the service requirements specific to your Mercedes model. In general, Service B includes the additional following checks:
Vehicle Passenger Compartment Function Check
Cabin dust/combination filter replacement
Warning/indicator lamps, illumination and interior lighting
Windshield wipers, windshield washer system
Headlamp cleaning system
Check seat belts for damage and proper function
Reset Flexible Service System counter in instrument cluster
Brakes & Tires
Brake fluid exchange
Check brake pads for lining thickness front and rear
Check condition of the front and rear brake discs
Check tires for damage and condition
Correct tire inflation pressure, including spare
Measure and record tread depth
Underbody Visual Check
Check for leakage – major components
Check for chafe marks, line routing, components
Check condition of front axle ball joints and rubber boots
Check condition of steering mechanical components and boots
Engine Compartment Visual Check
Check for leakage – major components
Check for chafe marks, line routing, components
Engine oil and filter change
Check and correct fluid level in:

Brake system
Power steering
Windshield washer system
If so equipped: Battery, wet cell; Check acid level, replenish

Check battery condition
Check catch, safety catch and hinges on engine hood for proper operation
When you follow the recommended maintenance schedule, your Mercedes-Benz should last a long time. Service A and Service B maintenance alternates every year and when done according to schedule, your Mercedes will be checked at least once a year. Here is what the recommended Service A/B intervals look like:
A – Year 1 / 10k B- Year 2 / 20k
A – Year 3 / 30k B – Year 4 / 40k
A – Year 5 / 50k B – Year 6 / 60k
A – Year 7 / 70k B – Year 8 / 80k
A – Year 9 / 90k B – Year 10 / 100k
Mercedes-Benz Maintenance Cost
Unlike some automakers that offer free maintenance for their vehicles for a certain time, Mercedes is not one of them. So whether your Mercedes is new or pre-owned, you'll have to shell out the dough out of pocket annually for maintenance.
To offer some relief, Mercedes-Benz does offer prepaid maintenance plans that offer consumers the convenience of knowing they have a prepaid maintenance plan at a discounted price of 30%. A prepaid maintenance plan through Mercedes-Benz comes in 2, 3 and 4-year packages. While the items serviced may be the same, or relatively similar for the range of Mercedes models, the Service A and B plan prices vary depending on the specific model and year.
To get information and pricing on the prepaid Mercedes Service A cost or Mercedes Service B cost for your Mercedes-Benz, you'll have to call your local dealership. On average, you can expect to pay around $200 or more for a Service A routine visit. And a Service B check up will run you anywhere from $600 to as much as $950 for more of the specialty models.
Pro Tip: Checkout your local Mercedes dealership or Mercedes-Benz certified repair shop for any service specials, promotions or coupons to lower the cost of your Service A or Service B maintenance.
To get a general idea of cost, we consulted RepairPal. According to it, the average annual repair cost for a Mercedes-Benz is about $908. This includes both scheduled and unscheduled maintenance and repairs.
Need help navigating breakdown coverage options for a used car?
Mercedes Oil Change Cost
Just need an oil change? How much is an oil change for a Mercedes going to run me?
Regular oil service is required maintenance because it is essential to maintaining your Mercedes-Benz's high performance.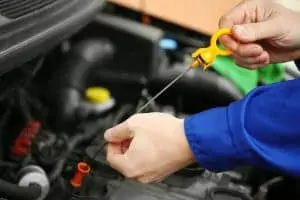 We recommend following the Mercedes-Benz regular maintenance schedule which will include an oil change as part of the Service A and Service B visit. However, if you need to get an oil change outside of your regular service visit you can expect to pay anywhere from $150 to $200 or more. We know this may seem expensive for just an oil change, but don't be tempted to skimp and get a cheap oil change for your Mercedes because it's not worth the savings. And we must also note that at Mercedes-Benz there is no such thing as "just an oil change," so if you need to get an oil change and you're going to go to the Mercedes dealer or a certified repair shop, then you'll actually be getting the Mercedes Service A check, which includes an oil and oil filter change, fluid checks and top-offs, tire pressure check, as well as a brake component inspection.
If you follow the recommended maintenance schedule from Mercedes-Benz, then you'll get an oil change regularly and according to the maintenance schedule. If for any reason, you fall off the schedule and need to have an oil change performed outside of a regular service, then you'll eventually get back on track because your requested oil change will actually be the Service A checkup.
Mercedes Maintenance Cost Over 5 years
As you know, the total price of a Mercedes-Benz goes far beyond what is listed on the sticker tag.
Factors like gas, insurance, repairs and maintenance, among other things should be taken into account when trying to figure out how much it will truly cost you to own your Mercedes over time. These costs will tell you the Total Cost of Ownership (TCO) over a certain period of time. And while there are more factors than just maintenance, it does play a big role in how much your vehicle will cost you over time, especially if you're looking at purchasing a luxury brand like Mercedes-Benz.
Since we're talking about maintenance on a Mercedes-Benz, we took a look at the average total maintenance costs over 5 years by consulting Edmunds.com's True Cost to Own calculator. Here is a snapshot of the 5-year maintenance cost for three popular models.
C300 4-Door Sedan 5-Year Maintenance Cost
2019 – $7,520
2018 – $8,747
2017 – $10,776
2016 – $10,574
2015 – $9,706
E300 4-Door Sedan 5-Year Maintenance Cost
2019 – $8,393
2018 – $8,790
2017 – $10,934
2016 – $11,550 – only E350 data available
2015 – $12,389 – only E350 data available
GLE 400 4MATIC 5-Year Maintenance Cost
2019 – $9,300
2018 – $10,221 – only GLE 350 4MATIC data available
2017 – $13,515
2016 – $12,919
You would expect the maintenance to be less with newer model years, however that is not always the case due to specific model year issues.
Regular Maintenance for a Healthy Benz – 7 Tips
If you own a Mercedes-Benz or hope to be sitting behind the wheel of one soon, there are a few specific maintenance tips to take note of so that your car will continue to run well and won't require major repairs over time. Follow these tips to lengthen the lifespan of your Mercedes-Benz.
Follow the Service Maintenance Schedule religiously – Routine maintenance will ensure your Mercedes-Benz operates at its optimum and helps to prevent costly repairs down the road.
Trust only an Authorized Mercedes-Benz Service Center – Mercedes-Benzs are specialized vehicles, so you'll want to know that the person working on your Benz is an expert and has plenty of experience working on Mercedes vehicles.
Check the oil regularly – Check your oil levels on a monthly basis. Keeping an eye on oil levels between services will preserve the high-level of performance. If the oil is dark brown or black, it's contaminated and should be replaced as soon as possible. If the fluid level is lower than it should be, this could be a sign of a car leak, so get your Benz into the shop quickly.
Check the coolant and fluid levels – By checking your coolant regularly and keeping levels topped off, you protect your car from overheating. Windshield washer fluid keeps your windshield clean during inclement weather, so keep it filled.
Maintain a good battery connection – Check your battery to ensure it has a strong connection. This will allow your car to run smoothly. Cleaning the battery ports is also a good idea with the use of a professional battery cleaning product. Clean the posts with the battery cleaner and then remove it with water and dry the posts thoroughly.
Monitor the tire pressure – Make sure the tires are inflated appropriately. Check your owner's manual to determine the correct tire pressure. Underinflated tires are a safety hazard and can increase your risk of collision.
Wash Your Benz Often – This may sound silly, but a good wash helps prolong the life of your car. Not only does your Benz continue to look good, but by removing dirt and debris, you protect its paint. And in areas where it snows, you also prevent road salt from collecting in the undercarriage, which can lead to corrosion.
Don't Let Costly Service Visits Get You Down – olive® to the Rescue!
Mercedes-Benz vehicles are specialized automotive machines requiring TLC from an expert. If you follow the maintenance schedule as recommended, then you're doing your part to keep your Mercedes in great shape for years to come.
However, all cars will eventually need to go to the repair shop for something or other, so consider an extended warranty from olive® to help off-set some of those costs. The cost to repair a Mercedes can be more expensive than the average car. When you have olive® by your side, going to the service shop doesn't have to result in anxiety over the cost to repair. olive® will have your back.
For nearly 20 years olive® and its affiliates have been providing coverage for vehicles in a consumer-friendly way. Get peace of mind with olive's Mechanical Breakdown Insurance.
Why Choose olive®?
No waiting period
Start coverage up to 140,000 miles
No yearly mileage limits
Coverage across the U.S.
Manageable monthly payment options
Cancel anytime
In general, below is an example of items covered under extended warranties.
Steering System
Electrical Components
Engine Assembly
Drivetrain
Transmission
Exhaust Systems
Alternators, Manifolds, Pumps
Heating and Cooling Assembly
You can get a quote today and be covered tomorrow. Best of all, our products, customer service and reputation for excellence have earned us an A+ rating with the Better Business Bureau, and we have partnered with some of the insurance industry's largest companies to back us. We're in the business of helping you live life covered!
Check out olive® at https://olive.com/ today!