Dressing up Your Ride for Halloween!
Ten Ways to Spook up your Vehicle
It's Halloween season and millions of Americans are preparing for the day by stocking up on candy, planning their costumes and decorating their lawns with spooky surprises for the upcoming trick-or-treaters.
This year, because of the coronavirus pandemic, Halloween and trick-or-treating will most definitely look different, but that doesn't mean we can't embrace the fun and spookiness of the night.
In the spirit of All Hallow's Eve, many are going above and beyond this year with ghoulish and wickedly entertaining ways to make the season memorable, despite COVID-19. Neighborhood social feeds are chattering up ways to come together as communities to make the night even more ghoulish and a howling good time for the kiddos. Some have more elaborate Halloween decorations on display, while others plan to get decked out in foolishly fun costumes when they hadn't before to greet the ghosts and goblins. Others are literally going bigger, by handing out full-size candy bars. (Make sure to stop at that house!)

Costumes are more elaborate than ever before and with tons for costume pop-up shops and online retailers, the choices abound. In the past few years Americans have spent billions of dollars (yes, that's with a "b" and not an "m") on costumes for their kids, themselves and their pets!
From scary and spooky to cute and funny, glam and fantastical – dressing up is no longer just for humans and our canine friends. There's a new fad when it comes to dressing up and it includes your ride! Yep, you read it right, decking out your car for Halloween is a thing! If you don't want to be among the witches and goblins and want to keep appropriately socially distanced, then consider spooking up your ride!
Whether you'll be cruising around town or leaving your ride on display, here are a few car costume ideas to turn your everyday ride into a monster machine.
Just Chillin' – Ideas for Parked Vehicles
(…meaning, you're not going to drive around and it's just for show.)
Graveyard in the Trunk – Turn your trunk into a spooky graveyard by arranging tombstones and scattering a few bones about. For added effect, try incorporating some lighting to the trunk to give it a purple or orange glow. Make the tombstones yourself out of Styrofoam or push the "easy" button and buy a graveyard kit from a party supply store.
Mummify your Car – For a clever, easy and not-so-scary "outfit," turn your vehicle into a mummy! On the windshield, use some window paint to draw two BIG eyeballs. Then, wrap and drape the entire car in white sheets, leaving part of the windshield visible. Depending on how scary you want your mummy to be, your eyes can be friendly or menacing. When you're done, all you will see are the eyeballs peeking out!
The Spook Truck – For those with trucks, this is easy and eye catching! Fill up the cab of your truck with generic Halloween accessories like skulls and crossbones, and maybe a few big spiders. Place them in the cab, then fill in with dried up leaves (the browner the better). For a more elaborate display try adding some dried up branches to create a dead tree and don't forget to add in some spider webs. When you're done, you'll have the ultimate spook truck. This idea can easily be used to create a not-so-scary display in your cab with pumpkins, scarecrows and hay bales.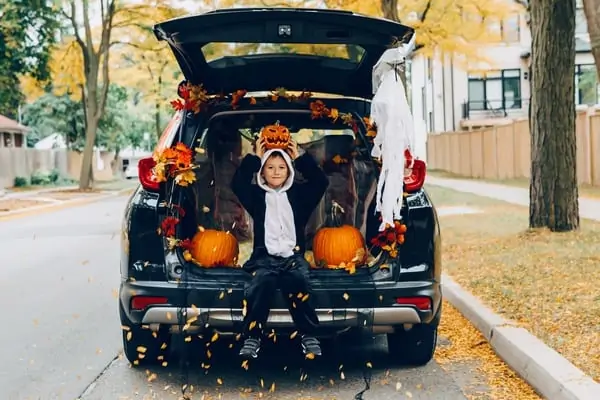 Scarin' About Town – For Vehicles on the Move
Hearse-ing Around – If you have a long car or an SUV, turn it into a hearse. All you have to do is add some curtains to your windows and invite a spooky passenger to ride along with you throughout the month of October. Your passenger can be a skeleton, werewolf, vampire or witch! You can make or buy a Halloween themed license plate cover and add a skeleton head to your front hood to serve as a hood ornament.
A Spider's Den – Wrap your car with lots of gauzy spider webs – the more the better! Make or buy an extra large spider and attach it to the top of your ride. Voila…you have turned your ride into a spider's den that is easy and safe to take on the road!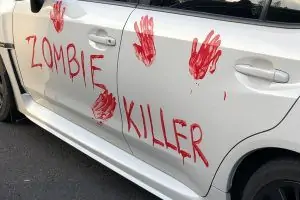 Zombie Killer Car – If you really want to draw eyes and have others do a double take, then turn your car into a zombie elimination machine! Have zombie limbs hanging from your trunk and for extra effect, attach a zombie's body (or just part of the body for an extra gruesome display) to the trunk or hood of your car. Put bloody handprint decals on your windows and car. And don't forget to identify your ride with a message for the zombies like: "Zombies, stay away or die!" or "Eliminating Zombies Everywhere."
A Hitch for a Witch – Attach a witch and her broom to the top of your car (as if she's hitching a ride). We don't think you'll need much more than that, right? Use car paint to scribble cute or spooky messages on your car like: "Wicked Witchy Taxi – Call for Ride – 666-666-6666." For other hitchhiker passenger ideas, consider trading in the witch for a mummy, vampire, zombie or werewolf.
Just a Little Bit of Halloween Spirit
Crazy Car Clings and Decals – Wanna embrace the season, but keep it simple? Stickers and decals may be the way to go. There are a variety of Halloween themed car decals that you can consider, like scary handprints or drippy blood clings for headlights and taillights. Peeking monster clings are cute and perfect to give drivers behind you a giggle. For you cat lovers, there are lots of crazy cat clings just right for the season.
Along for the Ride – Invite a spooky passenger to ride along with you throughout the month – maybe a witch? Skeleton? Vampire? They can ride shotgun or in the back seat.
Oops, Did I Catch Your Arm? -Hang fake limbs from your trunk or window, like witches legs or fake arms! These are simple and easy.
Ready to Spook Up Your Ride?
Where to Shop
There are many places to shop for decorations for your ride. Some popular haunts include local thrift stores and dollar marts. Big box stores, party supply stores and Halloween shops are also great options. And of course, online retailers like Amazon and Oriental Trading Company are easy and you can shop without having to leave your abode.
Keeping it Safe on the Road
Depending on what you have in mind for your car decor, make sure to keep it safe, especially if you'll be driving your vehicle. If you'll be driving, make sure to choose decorations that won't be safety hazards. They shouldn't obstruct your view or the view of other drivers. They should also be well secured (no flying spiders or limbs, please!). And don't forget your windows and mirrors – your decorations should not block them in any way.
Something Wicked This Comes…NOT with olive® (No, Sir!)
Don't let scary noises under the hood get you down. As you prepare for a fang-tastic Halloween night, make sure to have olive® by your side.
In the scary event of a breakdown, you'll want olive® as your travel companion. olive® is shaking up the way drivers look at extended warranties. Get peace of mind with olive's Mechanical Breakdown Insurance.
Why Choose olive®?
No waiting period
Start coverage up to 140,000 miles
No yearly mileage limits
Coverage across the U.S.
Manageable monthly payment options
Cancel anytime
You can get a quote today and be covered tomorrow. Best of all, our products, customer service and reputation for excellence have earned us an A+ rating with the Better Business Bureau, and we have partnered with some of the insurance industry's largest companies to back us. We're in the business of helping you live life covered!
Take your insurance coverage to the next level at olive.com®
Wishing you a happy "Boo" from our olive® crew to yours. Enjoy the Halloween season. Keep it safe, keep it fun, and enjoy the ride.