Content Galore – How do Podcasts fit in?
In this day and age, there is plenty of content going around. Between old fashioned cable, streaming services like Netflix, Hulu, Disney +, YouTube and of course, books upon books to read there isn't a shortage of content to read or watch. So where do podcasts fit in? For many they don't. For others, they subscribe to, listen and love their podcasts. To date, Podcasts are one of the least accessible forms of online media, but they are becoming very popular.
So, what's it all about? Well, let's get into it!
What is a Podcast?
A podcast is a series of audio files or audio shows that a user can download and listen to on a personal device. Some podcasts are ongoing and some are like any series of shows with a numbered amount and a beginning and an end. There are thousands of podcasts that one can listen to.
How do I find and listen to Podcasts?
It depends on the device that you are listening on.
If you have an Android device, it is suggested that the best way to listen is off the Google Podcasts App. You can download this from the Play Store. Once the app is installed, use the search box to find a podcast that is right for you.
If you have IOS device, the Podcasts app that is auto installed is the best option. It gives you easy access to the world of Podcasts. The app is intuitive and makes it easy to search and subscribe.
Content
To begin with, the content can be overwhelming. There is an abundance of podcasts to listen to. The Podcast apps are aware that it can be too much, so they do their best to organize content. We suggest starting with something you are most passionate about or something that you want to learn about. Once you begin to get the hang of it, you will find that it is super convenient and might become addicting.
Are Podcasts Free?
Most podcasts are free. Because they are free many podcasts feature commercials or sponsors that are often embedded within the podcast. Once in a while, a creator will charge a subscription fee to listen to a set of episodes, but it is not as common and it will be very clear if there is a charge.
How long has podcasting been around?
Podcasting has been going on longer than some would think. It looks like 2003-2004 are the beginning years. In June of 2005 Apple released ITunes 4.9 and it was forever added to IOS updates. Since the early 2000's many podcasts have been developed. In fact, the first trademark of a podcast came in March of 2005. It stated that the term podcast is, "an online pre recorded radio program over the internet." Some podcasts follow a docu-series or TV Series approach. There are a set number of episodes that talk to one particular story. Other options are podcasts that cover subjects that are long running. Some are even featured on You Tube as well. So, for some you can choose to listen or watch the podcast.
Why listen?
Podcasts bring many benefits to a listener.
Top reasons to listen:
1. Content
There are so many content options. Name anything you are interested in or want to learn about and there is probably a podcast out there to subscribe to. Everything from History to True Crime, Comedy to Conspiracy, Bigfoot to Baseball or the Paranormal to Politics there is something for you. Whether it is fun or serious or both, there are thousands of options for everyone.
2. Convenience
It's simple, subscribe and listen when you want to. You control the timing. You can fit them into your schedule. Whether you download and listen to on a drive, while you are making dinner or before bed, you choose how and when you listen. Super convenient.
3. Non-Readers Paradise
For those who prefer not to read, for whatever reason, a podcast is a great alternative to learning and gathering information. Not every person enjoys reading books, magazines or online content. For those who still want brain stimulation, a podcast is a perfect way to gain knowledge and interaction. You can plug and play easily and if you need to rewind, the apps make it easy to do so. You can even control the rate of speed that you listen!
4. Interactive/Community
Podcasts are engaging. When you find one, two or three that you love, you will see that you are among fellow audience members who care about what you do. Podcasts listeners are loyal and look forward to the next episode. The creator can involve his or her community by making it interactive. Many do live recordings where they interact with their audiences, they can take calls and can quickly shift their content to what the audience wants.
Should Children Listen?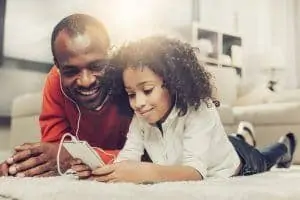 There are several podcasts for kids. Storytelling is as old as time. Many enjoy podcasting because of the storytelling feature of it all. For this reason, many children do like to listen to podcasts. The same goes for both adults and children, podcasting is a way to learn about one's passions as well as typical school type subjects. In addition, there are family podcasts that families can listen to together. Many are thought provoking and often give families things to ponder and discuss.
Frequency?
The great thing that many find is nice when it comes to podcasting is that there aren't any rules. Podcasts over the years have improved be it in content, in production, in sound quality etc. The frequency to podcasts is unique to the podcast. Some are daily, some are weekly, some release by season and some are long term. There are no rules when it comes to content or frequency. Again, we suggest finding one that fits your interest level and that will give you your frequency and participation levels.
So, there you have it, podcasting info galore. We hope that we have helped line out the ins and outs about podcasting. It doesn't mean it is right for everyone, we respect that aspect. We know that there is no shortage of content now-a days or ways to spend one's free time. But we do think that if you haven't already tried, it could be something that you'd enjoy. They are interactive, convenient and full of knowledge for one to gain. Go ahead try it!
Happy Podcasting!

Take your insurance coverage to the next level at olive.com®
Cover it. Olive® it
Stay in the (loop, circle, oval, pit) with these blog topics and more by connecting with us. Wherever you find yourself, know that olive® is with you, every mile, every day, every journey.