The 4Runner – So Many Great Years to Consider
Pinpointing the Toyota 4Runner Best Years and Which 4Runner Years to Avoid
The Toyota 4Runner is one of the most popular SUVs in the world and it's one of Toyota's better selling vehicles across its lineup. It's one of the few SUVs on the market that has been referred to as a "pure-bred" and lives up to its class category name – Sports Utility Vehicle. Made well and known for being hearty and tough, yet quite nice looking too, it can be used as a daily ride for running errands, yet can take you effortlessly off the grid with its rugged off-roading capabilities.
The 4Runner is dependable, well-equipped and has tremendous resale value, so finding a pre-owned one should be no problem. We'll break down the Toyota 4Runner best model years, how much you should budget, and which years you should avoid, or get thoroughly checked out before purchasing. In fact, we recommend you get any previously owned vehicle checked out before you buy it. This information is not meant to discourage you from buying a Toyota 4Runner, but to give you the information you need to make the right buying decision. Sometimes you can get a great deal on a particular year of Toyota 4Runner because they may be a bit more difficult to sell, and if you can make sure the issue is addressed or use it as a negotiation point you may be able to buy with peace of mind and save some money over another model year.
If you are considering buying a used car that has under 140,000 miles and is a 2012 model or newer, get a free quote for one of our "extended car warranty solutions".
100% Online, 9 Coverage Options and No Robocalls!
4Runner Overview
The 4Runner has been around since the 1980s and it has been a popular choice for lots of different consumers, but it seems to especially appeal to those adventure seekers and weekend warriors who need a reliable partner both on and off the road.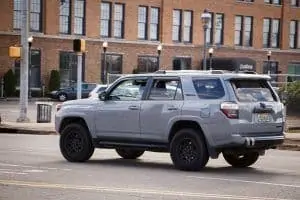 Currently in its 5th generation, the 4Runner has evolved over the years, but it has kept true to its spirit of being a "real" SUV, made for fun and adventure but yet chameleon-like in that it's able to handle city life just fine and not look out of place doing it. It's the best of both worlds.
Since its beginning, the foundation for its design has been inspired by the truck and 35 years later, that is still the case. With plenty of cargo space and seating for up to 7 with the optional third row, it's perfect for those who are looking for a rugged ride that is also safe enough to haul the family away for some weekend fun. It's not a massive SUV, but it's definitely not small either, making it just the right size.
Toyota offers nine 4Runner trims, equipped with lots of off-roading, tech and safety features. Trims include the SR5, Trail Special Edition, SR5 Premium, TRD Off-Road, TRD Off-Road Premium, Venture Special Edition, Limited, Nightshade Special Edition and TRD Pro.
Some off-roading features to highlight include crawl control and a locking rear differential to help you keep a steady pace when driving over challenging terrain.
Utilitarian features include LED headlights and fog lights for greater visibility. And one of our favorite features is Toyota's signature power rear glass window, which raises and lowers with the push of a button. No longer do you have to open the back door to put in your cargo or groceries, you can just lower the window. And if Fido is traveling with you, you can crack the window just slightly for some fresh air.
The 4Runner can also tow up to 5,000 pounds so that your outdoor adventure gear and toys aren't left behind. There is also a 120V AC power outlet, which is conveniently located in the cargo area to allow you to power your gadgets when off the grid (or even when just in the city).
From a tech perspective, the 4Runner comes with an easy-to-use infotainment system that features an 8-inch touchscreen display enabled with Apple CarPlay, Android Auto and Amazon Alexa. There are also two front and two rear USB ports so that you can stay powered and connected.
How Much Will a 4Runner Cost?
If you were purchasing brand new, you could expect to pay anywhere from $36,590 for the base model SR5 to upwards of $50,570 for the base TRD Pro. Since the 4Runner holds its resale value well, it has a better depreciation value than most vehicles, so considering a used 4Runner is not a bad idea. On the flip side, because of its excellent resale value, the 4Runner can still be quite expensive, depending on what you're looking for in terms of features and how old you're willing to go.
The automotive research firm, iSeeCars.com, conducted a study to see which vehicles retain their value the best, and as you'd expect, the 4Runner ranked within the Top 10. Its average 5-year depreciation is 38.5%, making it the 6th best. The average 5-year depreciation of all vehicles is 49%. Here is what you can expect to pay for a pre-owned 4Runner for model years up to 10 years old. All model years, except for the 2014 and 2020, earned a predicted reliability score of 5 out 5 from Consumer Reports. The 2014 and 2020 model years still performed well, earning a score of 4 out of 5.
2011 $15,625 – $18,900
2012 $16,825 – $21,200
2013 $18,500 – $22,800
2014 $20,225 – $25,075
2015 $21,300 – $30,825
2016 $23,175 – $32,550
2017 $25,975 – $35,425
2018 $28,100 – $38,600
2019 $30,650 – $40,725
2020 $32,950 – $43,425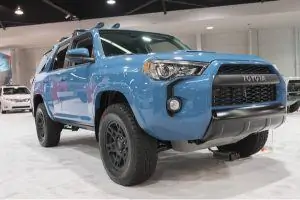 Although the 4Runners have an awesome track record when it comes to reliability, you can never be too safe when purchasing a used vehicle, especially if it is no longer protected by the OEM. We recommend protecting your Toyota 4Runner with an extended warranty. You can research and buy an extended warranty solution for your vehicle online with a trusted partner like olive®. Olive® specializes in vehicle extended warranties for consumers. Extended warranties for older and used Toyota vehicles are available at https://olive.com/.
Check, Check – Rugged and Reliable
Reliability is a very important consideration when purchasing a new or pre-owned vehicle, so let's answer the question, specifically for the 4Runner. Is the Toyota 4Runner reliable? Yes! The 4Runner has consistently received awesome reliability ratings year over year, and you can count on it to last a very long time, like into 6-digit mileage figures.
We consulted RepairPal to get a look at some of the 4Runner's stats. The 4Runner's Reliability Rating is above average, scoring a 4 out of 5, ranking it 9th out of 26 other midsize SUVs. It scores better than other midsize SUVs, which average a 3.5 Reliability Rating.
And according to a study conducted by automotive research firm iSeeCars.com to see which vehicles are most likely to last longer than 200,000 miles, the Toyota 4Runner ranked in the Top 15 (#8) for all vehicle types, and number 3 when compared to all other SUVs. According to the data from the firm, 3.9% of 4Runners last longer than 200,000 miles and are well above the average of 0.9%. Kudos to Toyota – on the Top 15 list, Toyota had seven models rank well, including the Toyota Land Cruiser, Sequoia, Highlander, 4Runner, Tundra, Avalon and Tacoma. https://www.iseecars.com/longest-lasting-cars-study#v=2020
Maintenance Costs
While the 4Runner is a reliable SUV, it will inevitably need to visit a repair shop from time to time. According to RepairPal, the average total annual cost for repairs and maintenance on a Toyota 4Runner is also lower than its classmates, $514, compared to an average of $573 for midsize SUVs and $652 for all vehicle models.
When looking at the frequency and severity of repairs, the 4Runner does well there too, with frequency being noted as "not often" and severity being listed as "not urgent." Toyota 4Runner owners have to bring their vehicles into a repair shop for unscheduled repairs an average of 0.4 times per year, which is the same when compared to other midsize SUVs, as well as for all vehicle models. The probability of a repair being a severe or major issue is 13% for the Toyota 4Runner, compared to an average of 13% for midsize SUVs and 12% for all vehicle models.
What is the Best Toyota 4Runner Model Year?
When shopping for a used 4Runner there are plenty of great options. Usually, we're able to determine the "best" model year by looking at the data –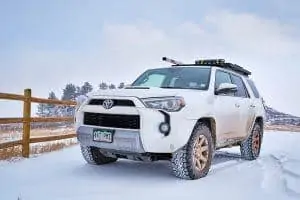 sifting through reliability scores, performance factors and digging into the complaints, but when it comes to the 4Runner, there isn't just one best (or even two or three) because if truth be told, Toyota really outdid themselves with the 4Runner. Over the past 10 years, and even 20 years, reliability scores have been consistently exceptional and the same can be said for customer satisfaction scores – consistently receiving above-average approval from owners. In terms of complaints, the numbers are low. In fact, so low that you may think that there is an error, but nope there isn't. It's a testament to how well-built the 4Runner is, and as a result its legendary reliability is showing up in terms of few complaints and praises from its drivers. Really, determining the "best" 4Runner model year is going to come down to your personal preferences and budget. Because 4Runners continue to sell so well, they can be more expensive than other SUVs that are the same age, so with this in mind, we've identified a few model years that have stood out over the past 15 years.
5th Gen: 2017 – 2019 | 2010 – 2013
If you want to get into a "newer" 4Runner then model years 2019, 2018 and 2017 are good choices. Yes, the price tag is still more than $25,000, but there isn't too much difference between these years and latest 2020 and 2021 models, so you can save some money, while taking advantage of the latest body style, tech and safety features. By purchasing a used 4Runner that is about two years old, you can save about $8,200 compared to buying it new and still have a relatively new model with plenty of useful life remaining.
According to CarEdge, an automotive firm that studies vehicle depreciation, the 2019 Toyota 4Runner is its top pick for the best model year value for the 4Runner because you only pay, on average, 83% of the price as new, with 92% of the vehicle's useful life remaining.
https://caredge.com/toyota/4runner/depreciation
Model years 2010 – 2013 are still a part of the 5th generation, but because they are older, they are less expensive. You can buy a 2010 or 2011 for less than $15,000. And since the 4Runner is rated as one of the best SUVs to take you well beyond 200,000, they still have plenty of life left. These model years received a lot of upgrades from the previous models, so you're likely to find off-roading features like crawl control, as well as several terrain modes. Beginning in 2010, many more trim options were offered too.
4th Gen: 2007 and 2008
The 2007 and 2008 are being called out because not only did they receive perfect reliability scores, but they also have relatively low complaints for being nearly 15 years old. It's also easier to find one for less than $10,000, possibly even less than $9,000, depending on what you're after. The other standout for this generation is that it is the only generation that offered a V8 engine, so if you're looking for a more powerful ride, then the fourth-genners are right up your alley.
As with any used vehicle, you're going to want to have the vehicle inspected by a mechanic, preferably one that is certified to work on Toyota 4Runners, before you sign on the dotted line. And because we can't predict the future, we'd also recommend purchasing an extended warranty too. We know that the 4Runners are reliable and long-lasting, but in the event that an unexpected repair is needed, it's good to be protected so that you're not shelling out cash out of pocket. Shop extended warranties with a trusted partner like olive® at https://olive.com/.
Toyota 4Runner Years to Avoid (Or what to look out for)
5th Gen: 2015
As we've mentioned previously, there are lots of great older 4Runner options, but the 2015 should be avoided, or at the very least, seriously inspected before considering it to buy. While the 2015 had the most complaints than other five-genners, they are still relatively low and nowhere near the amount associated with the 2003 through 2005 models, which we'll discuss later. We mention the 2015 model year because out of all the models ever made, it is the only year where owners reported issues with the airbags. The airbags did not deploy consistently, making this complaint the 4Runner's overall second worst issue and a major safety concern. The average cost to repair is $9,000 at an average mileage of 15,000 miles. So we'd recommend avoiding this year or at the very least putting it through a very rigorous inspection if you're considering purchasing the 2015.
4th Gen – 2003 – 2005
Bar far, these model years – 2003, 2004 and 2005 – had the most complaints and should be avoided if you have the choice. Carcomplaints.com labeled the 2003 year as the "worst model year ever," but to clarify, none of the 4Runners are really that bad. In fact, carcomplaints.com awarded all three years their seal of "Awesome," which is confusing we know. Let us explain: these model years should be avoided because they are just not as good as other model years. They are not bad at all, just others are better. Carcomplaints.com noted on their website that "although the 2003 model year is the "worst" model year for the 4Runner, it's not really bad at all – mainly it's just that other 4Runners model years are even better."
Regardless, since they do have the most complaints, it's worth investigating. The worst problems associated with these years have to do with body and paint issues, specifically rusting. Lots of owners reported severe rust and corrosion causing the body frame to fall apart in some of the worst cases. One owner said his rust and corrosion issues were so extreme that one of his transmission mounts fell right through a hole. Another reported that the entire frame was affected and received a quote to replace at $12,000 to $15,000.
Out of all the complaints associated with all the 4Runner model years, two of the top three are in relation to rust: excessive rusting (#1) or undercarriage rusting (#3). The average cost to repair is anywhere from $1,400 to $2,000. Toyota is aware of the rust issue, however it has not formally done a recall for the 4Runner. It did however do a recall for rust for the Tacoma and Tundra pickup trucks.
Before you purchase a 4Runner of any year, we recommend being diligent about checking the frame for any rust or corrosion, especially model years that are part of the fourth gen (2003 – 2009).
Protecting Your Toyota 4Runner
Unfortunately, no amount of research can protect us from unexpected repairs, so we recommend purchasing a Toyota extended warranty solution for your 4Runner. Our mechanical breakdown insurance and vehicle service contracts that extend coverage on pre-owned vehicles can be a great way to avoid expensive repair costs if something goes wrong.
Introducing olive®
For nearly 20 years olive® and its affiliates have been providing coverage for vehicles in a consumer-friendly way. Get peace of mind with olive's Mechanical Breakdown Insurance.
Why Choose olive®?
No waiting period
Start coverage up to 140,000 miles, and be covered all the way up to 185,000
No yearly mileage limits
Coverage across the U.S.
Manageable monthly payment options
Cancel anytime
You can get an online quote today and be covered tomorrow-and you will get no robocalls from olive®. Best of all, our products, customer service and reputation for excellence have earned us an A+ rating with the Better Business Bureau, and we have partnered with some of the insurance industry's largest companies to back us. We're in the business of helping you live life covered!
Learn more abiout Toyota 4Runner coverage or get an instant online quote.