Key Points covered in this article:
What's the Best Toyota Camry Year?
How Reliable is The Toyota Camry?
What Are The Best Toyota Camry Model Years
Waht Are The Toyota Camry Years to Avoid
What's the Best Toyota Camry Year?
The Toyota Camry has long been an American favorite. Its simple design and Toyota's commitment to reliability and continuous improvement has proven a smart investment for the automaker. Despite being touted as a utilitarian vehicle that isn't flashy, it still is a consumer favorite. It's Toyota's second best seller after the RAV4 and when looking at all vehicle types across the spectrum – pickups, SUVs and sedans – the Camry is consistently one of the best.
2020 was a rough year for the automotive industry because of the pandemic, which affected sales for much of the second and third quarters, but despite the sluggish sales across the industry, the Camry still outsold other sedans and many SUVs. It was the best-selling sedan in America. Car and Driver compiled a list of the top-selling 25 vehicles in 2020, and the Toyota Camry came in at number six, despite a heavily dominated truck and SUV market. The top five consisted of three pickup trucks and two crossovers, one of which was the RAV4.
But despite its popularity, the Camry isn't celebrated as much as other vehicles, and we believe it is because its understated charm and long-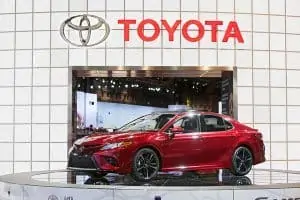 proven reliability have become the norm for the model, hence why it sometimes goes unnoticed, other than for its reliability.
In this blog, we'll discuss the Toyota Camry and why it's a gem of choice if you're looking for a sedan that's reliable, safe and affordable. We'll look at the best Toyota Camry model years and the model years you should avoid, or get thoroughly checked out before purchasing. In fact, we recommend you get any previously owned vehicle checked out before you buy it. This information is not meant to discourage you from buying a Toyota Camry, but to give you the information you need to make the right buying decision. Sometimes you can get a great deal on a particular year of Toyota Camry because they may be a bit more difficult to sell, and if you can make sure the issue is addressed or use it as a negotiation point you may be able to buy with peace of mind and save some money over another model year.
If you are considering buying a used car that has under 140,000 miles and is a 2012 model or newer, get a free quote for one of our "extended car warranty solutions".
100% Online, 9 Coverage Options and No Robocalls!
Camry Overview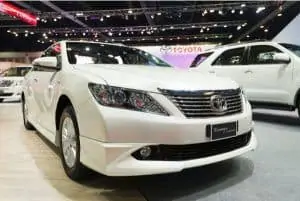 The 2021 Toyota Camry is a well priced midsize sedan with lots of standard safety features, an easy-to-use infotainment system, and equipped with sharp steering providing a smooth ride. It has excellent fuel economy and can easily accommodate five passengers in its roomy cabin, which provides plenty of legroom and headspace.
Some enhancements made to the latest generation include a fully redesigned exterior, enhanced safety features, a revamped information system, better engines and better gas mileage with sharper handling. In the 2019 model, Apple CarPlay and Amazon Alexa were added to the standard list of features. The 2020 year brought with it the addition of Android Auto as standard and an available all-wheel drive option, plus the TRD trim debuted. In 2021, there is an available 9-inch touchscreen.
Depending on the trim, a brand new Toyota Camry will start at just under $25,000 and go as high as $32,000.
Coming to America – The Camry Through the Generations
The Toyota Camry came to America in the early 1980s, making its debut in 1983. The Camry quickly became an American favorite throughout its eight generations. Below is a quick and very high-level look at the Camry generations.
1st generation (1983 – 1986) – Released in 1983 in the U.S., it was a small four-door sedan with a 2.0 engine that came in only a 5-speed manual transmission and averaged about 30 mpg.
2nd generation (1987 – 1991) – The exterior remained the same, but in the second gen, the four-cylinder became the base engine with a V6 as an option.
3rd generation (1992 – 1996) – This generation received a cosmetic redesign which took the square-ish body type and made it more round and smoother, making it overall slightly larger than the previous two gens. In the third generation, the Camry featured a better A/C system and better insulation to reduce road noise. For station wagon lovers, this generation is the last to offer a wagon.
4th generation (1997 – 2001) – The Camry was redesigned again and its new exterior body became sleeker and more aerodynamic. This gen also made available two engine sizes, the 2.2-liter, four-cylinder and 3.0-liter V6 with either an automatic transmission or a 5-speed manual.
5th generation (2002 – 2006) – Once again, the Camry became bigger, bumping it into the midsize sedan category, while still offering excellent fuel efficiency. It is this generation that really took off, making it the best-selling car in the U.S. for the next decade.
6th generation (2007 – 2011) – Multiple trims of the Camry became available – CE, LE, SE and XLE. The 6th gen also offered its first Hybrid, using both a gas engine and an electric motor, available both as an automatic or 5-speed manual.
7th generation (2012 – 2017) – This gen ditched the manual transmission all together, but the automatic transmission became available as a 6-speed. The seven-genners were equipped with more standard features too, like cruise control, a power tilt-and-telescoping steering wheel, and ports for USB and Bluetooth capabilities. Higher-end trims offered keyless entry.
8th generation (2018 – Present) – In the latest gen, the engine was upgraded, featuring a 2.5-liter, four-cylinder engine that gets 34 mpg. For those wanting more power, the higher trims come with the option of a 3.5-liter, V6 engine with 300 horsepower that gets 26 mpg combined. The 2020 model year introduced a TRD option, which offers upgrades like a better chassis, suspension, and a much sportier look.
The Camry Reliability
According to Consumer Reports' brand-level rankings for 2020, Toyota is one of the most reliable auto brands in the industry right now. Popular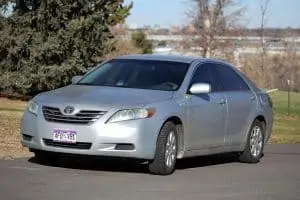 Toyota models, like the Camry, Corolla, Highlander, 4-Runner, Tacoma and Tundra have consistently scored 4s or 5s out of 5 in the Consumer Reports predicted reliability test over the past 10 years.
The Toyota Camry is considered a midsize sedan that is highly dependable and comes with impeccable reliability stats. It boasts an "Above Average" Reliability Rating from RepairPal with a score of 4.0 out of 5.0. The average for its classmates is also a 4.0, however the Camry ranks third out of 24 midsize cars. The average total annual cost for repairs and maintenance on a Toyota Camry is $388, compared to an average of $526 for other midsize cars and $652 for all vehicle models, making it excellent in terms of ownership costs. That is quite good, considering that on average, it's $150 less expensive than its classmates to tackle repairs and maintenance.
When it comes to repairs and the severity of those repairs, the Camry also does well. Toyota Camry owners have to bring their vehicles into a repair shop for unscheduled repairs an average of 0.3 times per year, compared to an average of 0.3 times for midsize cars and 0.4 times for all vehicle models. The probability of a repair being a severe or major issue is 11% for the Toyota Camry, compared to an average of 12% for midsize cars and 12% for all vehicle models. In summary, the Camry not only boasts excellent ownership costs, but repairs are less severe and less frequent, making it one of the most reliable cars on the road.
It also has received numerous awards throughout the years. Here are some of the latest:
The 2020 Toyota Camry received the NHTSA 5-Star Overall Safety Rating
IIHS 2020 Top Safety Pick+ winner
U.S. News & World Report's 2020 Best Midsize Car for the Money winner
The 2019 Camry and Camry Hybrid received Car and Driver's Editors' Choice Award
2019 Kelley Blue Book's KBB.com Best Resale Value Award winner
Best Toyota Camry Model Years
Buying a used Toyota Camry is a great consideration for some consumers, especially if you're managing to a budget or looking for a really reliable vehicle that has proven it can keep cruising well beyond 100,000 miles easily. Here are our top picks for the best Toyota Camry years.
7th Generation – Overall, the best bang for your buck is going to be model years 2013, 2014 and 2015. These are part of the 7th generation, and while there are lots of great options from 2012 to 2017, the '13, '14 and '15 are standouts. Why?
Well for starters, Consumer Reports gave them all a perfect predicted reliability score of 5 out of 5 and an above average customer satisfaction score of 4. Furthermore, the number of recalls associated with these years are really low – 2, 3 and 1, for the 2013, 2014 and 2015, respectively. Their combined recalls are far less than some of their predecessors, which we'll get into next. In terms of complaints, as you'd expect, those are relatively low too, with most of the complaints dealing with the A/C/Heater system and interior accessories. These model years are also well priced, ranging anywhere from $9,000 to $14,500 at the high end for the 2015.
6th Generation – This generation had the most bad apples, but if you find a 2010 Camry, it too scored perfectly for reliability and earned a 4 for customer satisfaction. It also had the least amount of complaints for this generation. Because the sixth generation was challenged with engine issues, we'd highly recommend you have the 2010 inspected before signing the Bill of Sale,
5th Generation – If you're comfortable with an older Camry and happen to stumble upon a model year 2004 with relatively low miles that is in great condition, it may make an awesome deal at less than $5,000. As you guessed, it too earned a 5 out 5 for reliability and 4 for customer satisfaction. And for being nearly 20 years old, it has some of the lowest complaints out of any of the model years.
Pro-Tip: If you purchase an older Toyota Camry, consider an extended warranty from a trusted partner. Olive® is a name you can trust and offers extended warranties for many Toyota vehicles, like the Camry. Shop and buy online at https://shop.olive.com/.
Toyota Camry Years to Avoid or Make Certain These Issues Are Addressed
You would think that buying a used Camry of any year is a safe bet, especially when its reputation for legendary reliability precedes it. However, not every model is made the same. Adjustments made here and there from model to model can happen on occasion and with that, the possibility of issues. This is the case with these Toyota Camry model years – 2007, 2008 and 2009.
If you were looking just at the models' stats, it may not be obvious because a score of 4 for reliability (which all three model years received) from Consumer Reports is a great score. But if you look at the model's 20-year history, you'll quickly see that the Camry consistently received perfect 5 out of 5 reliability scores with above average owner satisfactions scores as well. For the model years 2007, 2008 and 2009 that just isn't the case, they scored a 4 for reliability, had some of the highest recalls and by far had the most complaints.. The price tag may be attractive (between $5,000 and $7,000), but if you don't check for these issues before you buy the amount you'll pay in repairs and maintenance will quickly add up, turning your "great buy" into a money pit.
These three model years were plagued with engine issues. From excessive oil consumption to complete engine failure, these issues are severe and very expensive to repair, especially if you have to replace the engine, which many owners reported as the recommended repair. Below are a few stats associated with each of the three years.
2007 – This year had the most complaints of the three years – 998 total with 58% of them specific to engine issues. This year also had the most recalls – 10 total. Carcomplaints.com labeled the 2007 model as the year to "avoid like the plague," and we can see why.
2009 – The 2009 also had 10 recalls and the second most number of complaints (457). Its number one complaint was excessive engine oil consumption and coming in second within the engine failure category were complaints associated with complete engine failure. Out of the three years, carcomplaints.com labeled it as the Worst Model Year Ever. We ranked it second after the 2007 because more of the 2007's complaints were specific to the engine (58%) compared to the 2009's 53%, and the 2007 also had its fourth complaint category noted as transmission issues, which also carries an expensive repair price tag.
2008 – The 2008 is the best of the worst in terms of issues. It had the least amount of complaints, but still those complaints and issues dealt with the engine. Consumers complained about excessive oil consumption, the car lurching forward unexpectedly, and complete engine failure.
While we ranked our "worst" from worst to least worst, our recommendation is steer clear of these model years all together. The Camry is overall a great used car option, so if you're driven by price, then consider the 2004 or 2010.
Peace of Mind for the "Just-in-Case" Moments
Unexpected repairs are to be expected, so extended warranties on pre-owned vehicles have become more critical because they provide coverage in case a repair is needed. Even if the used vehicle is a Toyota, it doesn't hurt to protect your investment, just in case.
Consider an extended warranty from olive®. Get peace of mind with olive's Mechanical Breakdown Insurance.
Why Choose olive®?
No waiting period
Start coverage up to 140,000 miles
No yearly mileage limits
Coverage across the U.S.
Manageable monthly payment optionsCancel anytime
You can get a quote today and be covered tomorrow. Best of all, our products, customer service and reputation for excellence have earned us an A+ rating with the Better Business Bureau, and we have partnered with some of the insurance industry's largest companies to back us. We're in the business of helping you live life covered! Extended warranties for older and used Toyota vehicles are available at https://shop.olive.com/.