Strength in Numbers…The VW Golf and The Golf GTI
If you are shopping for a Volkswagen Golf, you may have these questions:
Which VW Golf is Most Reliable?
Are Volkswagen Golfs Good Cars?
How Much Does a VW Golf Cost?
How Much Does it Cost to Maintain a VW Golf?
Should You Buy a Golf or a GTI?
The Volkswagen Golf family offers 11 different models of the "peoples' car" to pick from, allowing drivers to choose specific options to meet their exact wants, driving needs and visual appeal preferences. Produced in Germany and available world-wide, there are a lot of Golfs to choose from out there: the Golf, a Golf GTI, Golf GT, R-Line, GTD, GTE, E, R, GTE Advance, etc.
The VW Golf is historically Volkswagen's best-selling car. There have been over 35 million Golfs sold and the reason for its popularity will become more and more apparent as you read on.
In this article we will explore two of the Volkswagen models: the VW Golf and the Golf GTI. The difference in these two hatchbacks is primarily the engine; the GTI being the more "performance" driven and better-equipped sibling. The Golf GTI is also the more pricey of the two, obviously, but you must keep this in mind: there is more that impacts the cost of a car than just the sticker price.
If you are considering buying a used car that has under 140,000 miles and is a 2011 model or newer, get a free quote for one of our "extended car warranty solutions".
100% Online, 9 Coverage Options and No Robocalls!
How Much is a Used VW Golf?
Over an 80+ year history, VW pricing appears to be driven by brand consistency. For the current model year,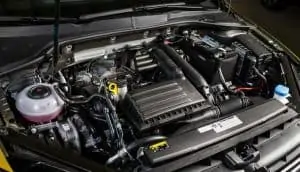 the 2021 Golf is priced from $25,790 and the 2021 Golf GTI starts at an MSRP of $28,695.
If you're looking to choose from used models, below is a guideline for the estimated pricing on late model VW Golfs. Of course, pricing will be dependent on the "wear and tear" condition and TLC received on each vehicle you consider. You may want to seek out the opinion of a qualified auto service repair specialist to examine any used vehicle you are considering for purchase and have them advise you on any mechanical considerations. Based on the current MSRP pricing, you can estimate that a Golf GTI will be priced slightly higher than the Golf pricing listed below.
2020 Priced from $18,200
2019 Priced from $16,600
2018 Priced from $13,600
2017 Priced from $12,799
2016 Priced from $11,500
2015 Priced from $9,600
Volkswagen Golf Fuel Efficiency
Most buyers will also want to research fuel efficiency. Although this does add to the cost of ownership and should be considered prior to purchasing, it is only the tip of that iceberg. As you will see in this comparison, there's not enough of a difference to sway one to choose the GTI over the Golf, or vise versa. The same is true when you look at the diesel engine models.
The EPA estimates the 2021 sport-compact class Golf gets 29 mpg in the city and 39 on the highway with the standard stick-shift transmission. Highway mpg drops to 33 with the optional automatic transmission.
The sporty GTI is rated for 24 mpg city and 32 mpg highway with the automatic transmission model. Going with the manual transmission reduces those averages to 23 mpg and 30 mpg, respectively.
EPA estimates for the 2021 Golf diesel will earn you 29 mpg in the city and 39 mpg on the highway. With the optional automatic transmission the estimated gas mileage will remain the same in city but the highway mileage falls to 33 mpg.
As a side note, if it's all about gas mileage for you, know this: the Volkswagen XL1 takes a big, fat, blue, first-place ribbon with 233.1 mpg! But we digress…
While most people may conclude their research once the MSRP and gas mileage numbers are in, we advise buyers to look deeper. You need to know that it really doesn't matter if you're interested in a Golf or the Golf GTI – an older model or a brand spanking new VW – if it's not reliable, the headaches it's going to cause you and the money it's going to cost you can be more than just a small annoyance. Missed work. Late pickups. Towing and service bills coupled with the inconvenience you'll experience throughout your daily life without your vehicle … let's just say that you'd be well advised to research and compare ALL of the numbers before you make your final decision on what to buy.
We hope that the following information may help you decide which is the best VW Golf model to buy or even which VW models you may choose to avoid.
Which Volkswagen Golf is the most reliable?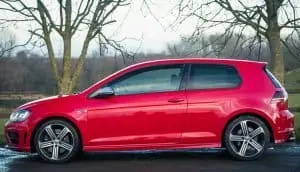 Are Volkswagen Golfs good cars? That may depend on which Golf and what model year you're talking about. To find out more, we'll look at the VW Golf reliability ratings and compare them to the VW Golf GTI reliability scores.
First, we should probably touch briefly on how automobile reliability is measured. Vehicles are rated based on the number of customer complaints per 100 vehicles of the same make and model, as provided by J.D. Power and Associates. Who's J.D. Powers? They are a company that has been tracking and analyzing global consumer information for over 50 years.
The VW Golf's reliability rating comes in higher than the Golf GTI ranking. Golf ranks 4.0 out of a total of 5 points – which makes it above average on the reliability scale. Golfs rank 24th out of the 36 compact cars reported.
How reliable are VW GTI models? The Volkswagen GOLF GTI reliability rating comes in at only 3.0 out of 5 points, rating it much lower. The Golf GTI ranks only 34th out of a total 36 models compared in the compact car category. So if asked "Is the Golf GTI a good car?" based on this comparison alone, we would have to say "No, it's not." But read on…
VW Golf Maintenance
At Repairpal.com (https://repairpal.com/problems/volkswagen/golf) you'll find a list of the common VW Golf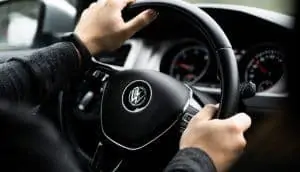 problems based on car owner complaints.
Owners report VW Golf transmission issues, including that high mileage automatic transmissions may experience shifting problems and they have also reported on VW Golf stalling problems
Reverse gear failures and noise in manual transmissions were of concern
VW Golf problems with electrics include problems due to ground issues and electric door lock problems
There was also reports of that the VW Golf "loses power"
Less concerning (and less costly) issues included:
Premature Head Light Burnout and Bulb Harness Failure
VW Golf suspension problems reported
VW golf oil consumption and pump problems
Sensor problems were reported, with VW Golf oxygen sensor problems being a major concern.
Erratic Turn Signal Operation
VW Golfs starting problems were reported
VW Golf oxygen sensor problem – along with speed sensor problems
VW Golf air conditioning problems were also reported, many having to do with an odor coming from the HVAC vents
Even with all of the above system issues and problems being reported, the typical maintenance cost of a VW Golf is a surprisingly low $630.00 annually, making it about average for vehicle ownership costs.
Also know this, Golf repairs overall are less severe than other models reporting in the same class (compact cars) and the frequency of these repairs is usually classified as average. Major repairs are not common for the VW Golf.
Below you can see some of the average costs for common VW Golf repairs and services.
Ignition Switch Replacement
$201 – $232
Mass Airflow Sensor Replacement
$316 – $329
Powertrain Control Module Replacement
$1,202 – $1,232
Headlamp Switch Replacement
$223 – $232
Check Engine Light Diagnosis & Testing
$132 – $166
Window Switch Replacement
$201 – $222
Stabilizer Bar Link Kit Replacement
$119 – $132
Exhaust Pipe Replacement
$732 – $767
Air Bag Control Module Replacement
$772 – $795
Hood Latch Replacement
$152 – $169
VW Golf GTI Maintenance
Below is a list of the VW GTI common problems based on car owner complaints:
Owners of 2019 VW GTIs reported stalling problems
High mileage automatic transmissions experienced shifting problems
VW Golf GTI electrical problems included sunroof, starter and power window concerns
The VW GTI had air conditioning problems
Reverse Gear Failures were noted.
The VW GTI had electrical problems including sun roof problems and power window failure
Ignition Coil, Wires and Spark Plug Failure
VW GTI fuel pump problems were another concern to customers
The GTI model also experienced many of the less-severe issues that the GOLF owners reported. However, the Golf GTI's annual maintenance cost was much higher than the VW Golf, averaging $791 yearly.
Below are some of the average costs on common GTI repairs and services.
AC Recharge
$142 – $179
Blower Motor Resistor Replacement
$109 – $118
Tire Pressure Monitoring System Relearn
$40 – $51
Battery Test
$40 – $51
Engine Front Cover Gasket Replacement
$311 – $360
Brake System Inspect
$101 – $128
Tire & Wheel Assembly Rotate & Balance
$91 – $115
Fuel Pressure Sensor Replacement
$190 – $209
Variable Valve Timing Control Solenoid Replacement
$391 – $412
Seat Heater Replacement
$600 – $647
Of course, you should know that repair and maintenance costs can vary depending on the vehicle's age, the mileage driven, and the location where repairs are made.
So how can you reasonably compare all this information? Withclutch.com took this a step further by reporting "service frequency" scores showing that the GTI required more unscheduled, major service visits (at costs over $1000 per visit) in a 3 year period, than other models studied. The VW Golf GTI scored 2.88 visits in a three years period in comparison to an industry average of only 1.3 in the same three year period. This should make potential buys nervous. Read more on this reporting and see how other auto manufacturer's makes and models compared
https://www.withclutch.com/maintenance-cost/volkswagen-gti
Volkswagen Golf History and Overview
So now that you're aware that not all model s are equal – let's looks at the model. While we won't say that there is any "bad" Volkswagen models, there are, however, versions that may not be as desirable as others, especially in older model years. Check out these numbers…
The Volkswagen Golf has evolved over the last decade. As of 2018, it has grown to become one of the top three best selling vehicles in the world, next to the Ford F-Series and the Toyota Corolla.
Just so that you know, VW vehicles are titled according to their "generation" by the acronym "MK", meaning "mark". So, for example, the sixth generation of the VW Golf is often referred to as the Golf MK6.
It is also helpful to know that a generation is a collection of years for a specific model where there is not much change in the design, parts, or manufacturing process. Therefore, model years within a generation often share many of the same problems. Consider, for example, the 5th generation Jetta. All Jettas from 2006-2019 should be avoided, they are dead last in the VW generation reliability rankings.
To explain the generation categories further:
2012 – Present is the 7th Generation
2008 – 2012 is the 6th Generation
2003 – 2008 is the 5th Generation
1997 – 2003 is the 4th Generation
1991 – 1997 is the 3rd Generation
1983 – 1991 is the 2nd Generation
1974 – 1984 was the 1st Generation
The original Golf model was manufactured to replace the VW Beetle. In 1975, it was sold under the name "Rabbit".
And, as with most things, "new and improved" can be used to describe Volkswagens. Recent CarBuyer research verifies that the Golf Mk6 model is considered more reliable than the Golf Mk5. It only makes sense that the Mk7s and next generation Mk8s will continue to outshine previous model years.
So there's your Volkswagen history lesson. But let's move quickly through time to examine how this iconic car has fared and progressed in the reliability arena.
VW Golf GTI
Although we generally like to talk about used vehicles dating back 5 years or less, we feel that we must go back further back when examining the VW Golf GTI reliability issues.
The Consumer Report VW GTI reliability studies recommend avoiding the 2010 and 2012 GTI models completely. In fact, 2012 is rated as the worst Volkswagen GTI model year ever reported. Model years 2013 and 2014 proved to be a bit more reliable, yet there were still numerous reports of 2014 VW GTI reliability problems. In fact, the GTI has had 3 generations, generation 6 (2009-2014) being the least reliable. The stories of VW Golf GTI Mk6 problems were widespread.
Looking at more recent models, in 2015 Volkswagen introduced the MK 7 GTI offering – a 2.0 liter turbo charged four-cylinder engine, but alas, the 2015 VW Golf GTI reliability was also one of the most unreliable model years reported for the GTI. And unfortunately, the next year was no better and the 2016 VW Golf GTI problems persisted. Both 2015 and 2016 models were both reported to suffer with catastrophic turbo failures.
But these issues appear to have been resolved with the 2017 model year. The 2017 VW Golf GTI reliability took a turn for the better! How reliable are VW GTIs now? Most of the "modern" MK 7 Volkswagen GTIs are MUCH more reliable – and predictably – more expensive than previous versions.
VW Golf
The Golf has 6 generations under its belt, with the 6th (2010 to 2013) being the least reliable.
Released in the U.S. in 2015, the VW Golf MK 7 offered an improved safety rating and updated features giving a much needed reprise from the VW Golf Mk6 problems. This newer version Volkswagen also offered a smoother, more refined turbo engine, propelling this new, improved VW Golf onto the Reliability Index Top 100 car list.
Generally speaking, new model Golfs are about average when you talk specifically about the frequency of service and the severity of service they require. Being more specific repairpal.com reports the probability of a Volkswagen Golf having major issues is 11%. That is compared to the same 11% for other compact cars and 12% of all vehicle models.
Likewise, unscheduled repairs average .3 times per year – the same as other compact cars. (All vehicle models average .4, incase you were wondering.) Owners of Golfs that are older than 3 years report that they had to seek service about once a year, but few experienced severe system failures.
Again, the VW Golf has an annual service cost estimated to be approximately $630, while other compact car's annual service expense was lower at $562. But, when looking at all vehicle models in this class, their annual service cost came in at $652, making the VW Golf a less expensive choice if you're basing your decision on repair costs. Golf years to avoid? Buyers should pay special attention to VW Golf DSG problems (direct gear shiftbox) . You might want to avoid Golfs with that transmission before the 2013/2014 model year. Carguide.com suggests that you buy one with a manual gearbox or purchase a later Golf model.
Which VW Golf Model Should You Choose?
Here is a quick Pros & Cons listing for both cars:
Golf GTI Pros & Cons
Responsive handling and exceptional driving enjoyment
Powerful engine
Ample space for passengers and cargo
Luxurious, well-appointed interior
Unimpressive fuel economy
Infotainment system is slow
GOLF Pros & Cons
Excellent steering and superb handling
Quiet and comfortable ride
Exceptional outward visibility from the cockpit
Large storage areas
Touchy brakes
Excessive amounts of hard plastics appear "tacky"
One final note, 2021 will be the last year that the VW Golf model will be available in the U.S. It will be replaced by the sporty GTI and Volkswagen R versions.