The People's SEDAN…The VW Jetta
It started out as just a slightly different version of the successful VW Golf hatchback, and over the years ended up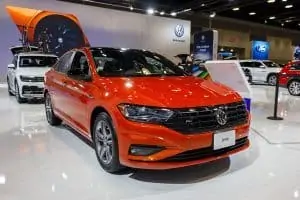 being one of Volkswagens best-selling vehicles.
The Volkswagen Jetta is a compact car that has been available to consumers since 1980. The Jetta was designed to be a step above the ever-popular VW Golf, and was positioned to fill the void for those looking for a reliable, fun-to-drive sedan.
Many auto manufacturers have discontinued their sedan offerings in the past few years in favor of the more popular SUV's and electric cars. But for the near future, the Volkswagen lineup will still have the Jetta, and the performance oriented Jetta GLI. The Jetta is proclaimed by its manufacturer to be the perfect balance of a sophisticated look combined with sleek lines and a modern interior…all for an affordable price.
How affordable? With 5 trim levels – the S, SE, R-Line, SEL and top-of-the-line SEL Premium – there is a VW Jetta to fit nearly every budget. The low-end S model starts under $20,000 for the 2021 model year. USnews.com states "The 2021 Volkswagen Jetta starts at $18,995, which is slightly below average for a base level compact car. However, that's for a model with a manual transmission; the lowest-priced automatic Jetta is $19,795."
The SE upgrades the driver comforts with a panoramic sunroof and 6-way adjustable power driver's seat and starts at a MSRP of $22,895. The R-Line trim has an affordable MSRP starting at $22,795 and this option will get you 17" alloy wheels, faux leather (called "leatherette" in VW marketing materials) seating surfaces and fog lights. The SEL ups the creature comforts further with 10-color ambient interior lighting, "App Connect " with wireless capabilities and a full digital cockpit. The VW Jetta SEL has a starting MSRP set at $25, 745. For $28,045, the SEL Premium ups the game with genuine leather seating surfaces, ventilated front seats and an 8 " touch screen navigation system.
Throughout its history, the VW Jetta has competed with the big boys in the compact-sedan world. Its superpowers seem to be in the exceptional fuel economy and a comfortable ride. Owners have also expressed satisfaction in the user-friendly infotainment center. But the Jetta does have some weak points: it has been described in the past as having "dull" handling. It ranked "below average" in previous safety scores. Since safety has always been a core value of Volkswagen, this particular report was a surprise to most. And owners said it possessed a less-than-luxurious interior quality for base models.
Volkswagen is nothing but responsive to its critics, and consumers expect nothing less; so as expected, the VW Jetta current model year has added more active safety features and wireless capabilities including Android Auto and Apple CarPlay.
If you are considering buying a used car that has under 140,000 miles and is a 2012 model or newer, get a free quote for one of our "extended car warranty solutions".
100% Online, 9 Coverage Options and No Robocalls!
VW Jetta History Through The Generations
Since inception, there have been seven generations of the VW Jetta.
The First Generation – A1, 1979 was the beginning.
The VW Jetta quickly became the best-selling European car in the United States, Canada, and Mexico. It debuted in the U.S. in 1980.
The Second Generation – A2 was introduced in 1984.
Poking its head in the US Market in 1985, the Mark 2 series is the longest running VW Jetta generation to date.
The Third Generation – A3 debuted in 1992.
Volkswagen discontinued the name Jetta and renamed the little sedan the Volkswagen Vento in the European markets.
Volkswagen has often favored names that have to do with "winds"… for example the VW Passat. Passat means "trade wind." VENTO translates to "wind" in both the Portuguese and in Italian. It has been rumored that the Jetta was named for the "jet stream", although there are discrepancies among varying sources as to whether this rumor is accurate. This third generation Jetta debuted in North America in 1993 after production delays and quality problems occurred in the VW plant in Puebla, Mexico. The name was kept JETTA in the North American markets because of the popularity of the second-generation VW vehicles. Although it looked about the same as the Mark 2 from the outside, underneath the Jetta had numerous refinements.
The Mark 3 Volkswagen Jetta was the car that proved to Volkswagen that the North American market was worth fighting for. When sales hit an all-time low due to the problems with the Mexico manufacturing plant, the Jetta rebounded quickly and became the best-selling Volkswagen in the USA.
The Fourth Generation – A4 began production in 1999.
Again leaving the name Jetta for the North American audience, this vehicle became known as the Volkswagen Bora in other parts of the world. (Again we saw the "wind" reference; Bora is the name of a strong, cold northeast wind that blows across the coast of the upper Adriatic Sea, Greece, Russia and Turkey.) That same year the slightly larger VW Passat was born.
Generation Five – A5 began in 2005.
Because of the popularity shown to VW, the fith generation of the VW Jetta went on sale in the United States first. One major change was in the design of the rear suspension. Reportedly, Volkswagen hired the Ford engineers who designed the suspension on the Ford Focus.
The Sixth Generation – A6 began in 2010.
The Jetta became known as the NCS (New Compact Sedan). This new A6 model was larger and less expensive to manufacture than the previous generations, allowing it to become even more competitive against other compact car rivals. Wanting to see just how far the VW Jetta could take them, Volkswagen set a pie-in-the-sky goal of sales of the Jetta topping 800,000 units in the North American market by 2018. The cost-cutting measures pushed the VW Jetta out of the "premium," compact / small car market.
The Seventh Generation of the VW Jetta – A7 Production began in 2018.
Volkswagen debuted the MQB platform to a North American audience in 2019.
And, since we all know bigger is better, the Mark 7 was a little larger than Generation 6. It also came onboard with the latest generation of Volkswagen's infotainment system, turning heads with its color-customizable interior lighting which included illumination across the dashboard and instrument panel, front and rear doors, foot wells, and gauge. The interactive lighting and dashboard display was marketed by Volkswagen as the "Digital Cockpit".
VW Jetta Reliability
When it comes to the Volkswagen Jetta, most Jetta owners will brag to you how proud of their Jetta and for the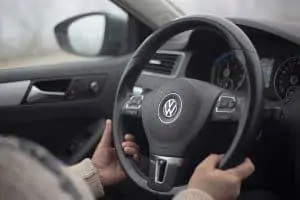 little-to-no mechanical problems they have had with their VW. But you should know this: VW has had common problems across several Jetta model years.
Of special note: one or more power windows experienced failures requiring a complete regulator replacement. Occasional electrical window failures are always going to occur, but this failure, while not catastrophic, occurred in over 23 different model years!
This was a non-issue if your car is still under the manufacturer's warranty. But before you buy a used Jetta, you'll want to make sure it doesn't have any of these issues and as an extra added security, you may want to purchase a 3rd party extended warranty solution such as mechanical breakdown insurance (in Colorado) or a vehicle service contract policy. You can read more about these policies HERE.
Even with problems like listed above, the Volkswagen Jetta reliability rating is 4.0 out of 5.0, ranking it 21st out of a total for 36 compact cars.
This reliability rating does not tell the entire story. VW Jetta repairs are usually less severe and are needed less frequently than the average small car, so the VW Jetta can be considered one of the more reliable vehicles on the road.
VW Jetta TDI Reliability
You'll see "TDI" on all current Volkswagen Group cars with diesel engines. Many falsely think that the "D" stands for "diesel", but the TDI acronym is short for 'Turbocharged Direct Injection'. This should not be confused with the VW Jetta TSI. TSI stands for Turbocharged Stratified Injection. All U.S. Volkswagen models now have turbocharged engines. Stratified injection simply means that the fuel is injected into the cylinders before ignition.
These engines not only became known for their outstanding reliability, but also for the amazing fuel economy. Owners can expect city miles per gallon to come in at around 31 – and highway mpg is estimated at a whopping 46!
If that isn't enough to get you thinking about looking at a Volkswagen diesel try this: the diesel engine of a VW is reported to last for up to 500,000 miles!
But axeladdict.com does throw a wrench into this estimate saying, "The TDI engine may last up to 500k miles but everything around it won't. And if you depend on VW dealerships to perform the repairs, plus the added premium of diesel fuel, the long term cost savings will erode. For example, the Turbocharger is only good for 100 to 150k miles."
We believe one reason late model VW TDI Jettas were slow to move off of the sales lot in past years had to do with "emissionsgate" (also known as "dieselgate.") In 2015, the EPA (Environmental Protection Agency) fined Volkswagen for violations against the United States Clean Air Act. The EPA found that Volkswagen had intentionally programmed their Turbocharged Direct Injection (TDI) diesel engines to only activate when emissions lab testing was not occurring. This "work around" allowed the Jetta to meet US standards during regulatory testing, when in fact diesel Volkswagens were actually emitting 40 times more NOx (think: hydrocarbons) in real-world driving than was allowed. Volkswagen put this software programming on over a half million United States diesel Volkswagens in model years 2009-2015.
Ironically, it was the Cars.com editor who found that the fix for this problem was a simple software upgrade and an improved catalytic converter. As a bonus, these minor adjustments actually improved acceleration while only sacrificing 1 mpg of fuel efficiency.
But it was issues like this that may have caused the VW Jetta TDI problems in their reliability score. The VW Jetta received only a 3.5 out of a possible 5 points in reliability scoring.
Other VW Jetta TDI problems that were reported included:
VW Jetta TDI starting problems
VW Jetta TDI automatic transmission problems
VW Jetta TDI DSG transmission problems
VW Jetta TDI turbo problems
VW Jetta TDI AC Problems
But overall VW Jetta TDI problems (AKA VW JETTA diesel problems) appeared minor.
The VW Maintenance Schedule
The average cost for unscheduled repairs on a 2019 VW Jetta is between $400 and $488 annually. The average for all Jettas is $609.
Whether you drive a brand new VW or a pre-owned Volkswagen model, you'll want to keep up on the recommended service standards to keep your VW running in top condition and also to help preserve the value of your Volkswagen. Performing and keeping receipts for your services and repairs is how to get the best price on your VW Jetta when it's time to sell, or trade up. Typically the exact requirements and recommended services can vary from model to model, year to year, but Volkswagen makes it pretty easy on owners; all you need to know is that various standard preventative maintenance is needed about every 10,000 miles driven.
After the first 10K miles, you will need the standard oil and oil filter replacement. You might also ask for a tire rotation to assure a longer tire lifespan.
At 20K, 60K and 100,000 miles, add to the previous list: a battery inspection, tire inspection, brake system inspection, fuel, dust and pollen filter replacements and check the tire filler bottle expiration date; replace as necessary.
At 30K, 50K, 70K and 90,000 miles you will need to have a trained service professional inspect the brake discs, replace brake and clutch fluids. These, of course, are in addition to the previous service recommendations.
At 40K, 80K and 120,000 miles, you'll be asked to bring your vehicle in for a series of comprehensive inspections. These inspections should be done along with all of the 10,000 mile service standard recommendations and replacements.
The inspections are or may include:
Tires
Battery
Brakes
Coolant
Engine
Exhaust
Electrical components
Underbody sealant
CV joints
The replacements and other services are or may include:
Fuel filter replacement
Dust and pollen filter replacement
DSG transmission fluid and filter change
Tire filler bottle expiration date check
Tire filler bottle replacement in the mobility kit
Typical Maintenance Costs For The VW Jetta
As we mentioned before, the average repair cost for a Volkswagen Jetta is estimated at $609 annually. This compares to $526 for other compact car models and $652 for all vehicles.
By knowing the top 5 complaints that actual VW Jetta owners have reported, you can try and prevent the common VW Jetta problems from happening. More information can be found at repairpal.com or for an estimation of a fair price range for your specific car repair visit repairpal.com/estimator.
The five most common problems for VW Jetta owners have been reported as follows below.
This is a list showing the complaints in order from most to least and is not inclusive of all complaints reported.
1. High Mileage Automatic Transmissions May Have Shifting Problems
Shifting issues may be due to internal problems in high mileage automatic transmission vehicles and is the number one reported issue when VW engine problems occur. They can be difficult to resolve without a full transmission replacement. This complaint was common across 24 model years and noted when mileage was at an average of 131K . Dating back to 1990, model years 2013, 2014 and 2015 were not affected.
Below are some estimated costs for correcting the problem:
The average cost for a Volkswagen Jetta Transmission Replacement is between $4743 and $4934
2. Ignition Coil, Wires and Spark Plug May Fail
An ignition coil or spark plug may fail unexpectedly resulting in an engine misfire and/or causing the "Check Engine Light" to illuminate. Again, this complaint occurred in mostly high mileage VWs. The average mileage that this problem was reported was 115,530 miles. 17 model years were affected. Since 1990, model years 2003, 2007, and years from 2014 to current did not make the list.
Below are some estimated costs for correcting the problem:
The average cost for a Volkswagen Jetta Ignition Coil Replacement is between $129 -$143.
The average cost for a Volkswagen Jetta Spark Plug Wire Replacement is between $168 -$183.
The average cost for a Volkswagen Jetta Spark Plug Replacement is between $182 -$212.
The average cost for a Volkswagen Jetta Check Engine Light Diagnosis & Testing is between $132 -$166.
3. Power Window Failure
At an average mileage of 90,374, one or more door power windows may fail, commonly due to a failed window regulator.23 model years were affected from 1993 through 2017. Model years not reporting problems include: 2012 and 2015.
Below are some estimated costs for correcting the problem:
The average cost for a Volkswagen Jetta Window Regulator Motor Replacement is between $445 -$475
The average cost for a Volkswagen Jetta Window Regulator Replacement is between $312 -$347.
4. Difficult to Diagnose Electrical Issues
Electrical issues are often difficult to diagnose. These can often be intermittent problems. This issue is typically due to ground wiring issues. At an average mileage of 145,340, 25 model years were affected from current model on back to 1990.
Below are some estimated costs for correcting the problem:
The average cost for a Volkswagen Jetta General Diagnosis is between $132 -$166.
5. Odor from HVAC Vents
Condensation in the heater case may cause a musty odor from the HVAC system (heating, ventilation and AC ) after sitting for two hours or more. A cleaner is available for the heater case and the drain system should be checked for debris. This complaint came when the average odometer reading was 49,850 miles. 15 model years affected beginning in 1999. It has been a problem continually since 2004 and up until 2018 models.
Below are some estimated costs for correcting the problem:
The average cost for a Volkswagen Jetta AC Diagnosis is between $61 -$77.
*Note that this range in pricing is only an estimate and does not include taxes and fees, and does not factor in your specific model year or unique location. Related repairs may also be needed.
Other repair items for the VW Jetta included:
VW Jetta wiper motor problems
VW Jetta EGR value problems
VW Jetta turbo problems
VW Jetta gearbox problems
VW Jetta clutch problems
VW Jetta timing chain issues
VW Jetta speed sensor problems
VW Jetta throttle body problems
VW Jetta starting problems
VW Jetta door lock issues
VW Jetta Bluetooth problems
…and there were multiple complaints about VW Jetta 1.4 TSI problems
Many of the issues reported were minor repair incidents. You can visit https://repairpal.com/estimator/volkswagen/jetta for repair estimates on Volkswagen Jetta models from 1990 to 2021.
Which VW Jetta is the best year to buy?
The best VW Jetta model to buy is a tough call to make but we can try and give you some guidance based on facts.
One thing we've seen over and over: the 2009 VW Jetta is a year to avoid or at least be certain that this issue is fixed. 2009 was a year that the ABS braking system failed on VW Jettas (and other vehicles from the VW automaker) at a mileage average of 89,500 odometer miles. It took until the end of 2016 for Volkswagen to issue recalls for the 2009 and 2010 Jettas.
The best year for used VW Jetta? Ranker.com gives the trophy to the 2006 model. Second place went to the 2011 VW Jetta model. Third to the 2000 year model.
The rest of the field rounding out the top 10 came in as follows: 2001, 2003, 2010, 2008, 2007, 2002, 1999.
The best year for VW Jetta TDI model is anyone's guess. After looking through forum after forum we were unable to narrow it down. One consensus we did find: the ALH engine used between 1998 and 2006 is regarded by many as one of the best.
Summary
The VW Jetta has great fuel economy and a spacious interior for a small car. The 147-hp, 1.4-liter turbocharged four-cylinder engine that's coupled to an eight-speed automatic transmission can deliver responsive acceleration when commanded. Handling is a bit "dull" for sports enthusiasts (there is a sportier GLI model available) but the quiet cabin – even in trim models that use faux leather – gives a premium feel. State-of-the-industry safety features like AEB (automatic emergency braking), FCW (forward collision warning) and BSW (blind spot warning) are standard in all but the base trim model.