Atlas Big. Strong. Reliable…and the namesake of Volkswagen's 3-row SUV
The name Atlas is known by most as a mythological god who carried the heavens on his shoulders and personified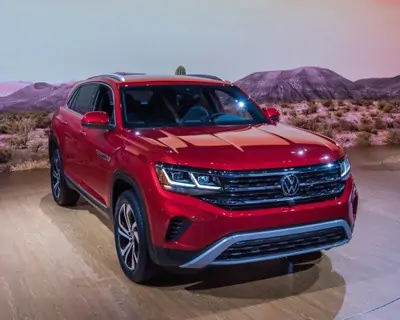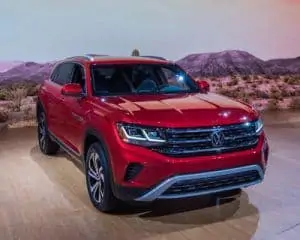 the very meaning of strength and endurance.
So it may be no wonder – and a good marketing ploy -– why Volkswagen choose the name for its first venture into the three row, midsize crossover SUV market.
Originally the VW Atlas was supposed to be called the Teramont, to follow the apparent " T-trend" in naming Volkswagen SUV models. (There's the Volkswagen Tarek, the VW Tiguan, VW Touran, the Volkswagen Touareg, VW Tharu, and Volkswagen Tayron.) Since American dealers who first saw the vehicle disliked the Teramont name – and Volkswagen does allow for regionally-based marketing decisions – the Teramont moniker ended up being only marketed outside North America, and the Atlas name was adopted for use in the United States and Canada.
People liked the Atlas from its first introduction. Even Edmunds had something nice to say about its first impression of Volkswagen's new midsize SUV. They offered their professional opinion that the VW Atlas is "a great compromise between precise handling and everyday comfort."
In case you don't know what Edmunds is; they are an on-line, informational, "everything auto" site that the car buying public can use as a reliable resource for automobile information and comparisons. Edmunds was named as one of the most trusted, prominent online review sites, along with the likes of OpenTable and TripAdvisor. They offer four different tools within their website to help people decide which make, model and year of vehicle fits their needs and budget. There's a Compare Cars tool, New Car Price Quotes, Edmunds True Market Value®, and Edmunds True Cost to Own®. But you should also know this: Carmax recently purchased the entire Edmunds' company. It's still left to be seen if this will affect the valuable, reliable and unbiased information that they have provided to auto consumers for the last 55 years.
Edmunds also noted that the 2021 VW Atlas sports utility vehicle offered a spacious interior with ample adult passenger room in all three rows and straightforward, easy-to-use cabin design.
If you are considering buying a used car that has under 140,000 miles and is a 2012 model or newer, get a free quote for one of our "extended car warranty solutions".
100% Online, 9 Coverage Options and No Robocalls!
VW Atlas History
Built on the same platform as the mega-popular Volkswagen Golf, and offering eight trim levels to choose from, the VW Atlas is the largest Volkswagen vehicle offered in North America on the VW MQB platform.
What's this MQB platform all about? The Modular Transverse Toolkit (denoted as MQB – don't ask, we don't know why either!) is a technology platform used by Volkswagen in a wide variety of their vehicle models. You can find the MQB platform in everything from their small VW Polo, up to their large Atlas SUV. All MQB models are equipped with transverse engines that are installed in the front of the vehicle.
Developed as a concept, diesel plug-in hybrid in September 2013, the predecessor to the current Atlas model was introduced at the LA Auto Show late in the 4th quarter of 2016, but it still took many more months after that preview to actually be available for purchase. It was finally presented for sale to car buying consumers in the United States and Canada in May of 2017, for the model year 2018.
Is the VW Atlas a good car?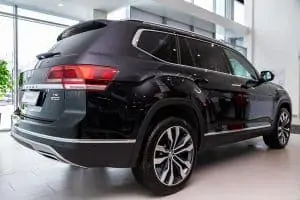 When it debuted in 2017, the Volkswagen Atlas was near the top-of-the-pack when it came to mid-sized sport utility vehicles, but new competitors and an ever-evolving SUV market prompted the need for continuing future upgrades.
This year, the 2021 Atlas got restyled headlights, bumpers, taillights and a new front grill. It also got a new steering wheel design and an innovative driver safety aid that can scan and recognize traffic signs. There were, however, no changes made to the 2021 engines; and many think Volkswagen missed the boat not adding some additional power under the hood.
The 2021 Volkswagen Atlas underwent Edmunds' Expert Rating system and scored an impressive 8 out of 10 possible points. Their experts spent a year, and logged some 20,000 miles of driving time in the SUV to come up with that rating. Here are questions that were posed to those Edmunds experts. The point values are on a scale of 1 to 10, with one being the least favorable result and 10 being the best:
Edmunds' Expert Rating for The VW Atlas
How does the Atlas drive? 8.0
How comfortable is the Atlas? 8.0
How's the interior? 8.5
How's the tech? 8.5
How's the storage? 8.0
How economical is the Atlas? 6.5
Is the Atlas a good value? 7.5
Wildcard 7.5
The wildcard is apparently just opinions and additional thoughts assembled during the year-long trial period. Edmunds' experts noted that the Atlas wasn't as fun to drive as a Mazda CX-9 or Honda Pilot, but that buyers who didn't need the "sporty" options will find the Atlas "pleasant enough."
The Edmunds' experts also stated that they had mixed opinions about the Atlas' styling.
And although the "pros" were uninspired, the "cons" were not many, but they are pretty important considerations for car purchasers interested in a VW Atlas. Edmunds experts registered two complaints:
Lackluster acceleration, and
Lower fuel economy than most competitors.
Still, overall the VW Atlas is ranked an impressive fourth by Edmunds in midsize, 3 row SUVs.
U.S. News and World Report concurred when rating the driving performance and gas mileage. They found that the VW Atlas' 4 cylinder base-model engine felt underpowered when tested for highway driving performance. The upgrade to the V6 model did, however, offer a little livelier driving experience, but it wasn't as potent as other automobile rivals in its midsize SUV class.
Looking for a second – or even third – opinion? Consumer Reports road test for the VW Atlas was relatively strong. It scored an 84 out of 100.
VW Atlas Pricing
If you're wondering what's the best VW Atlas model to buy, it depends on what options you are interested in because the costs can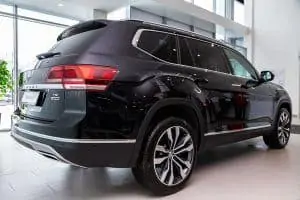 vary greatly. Atlas offers a wide variety of different "something for everybody" trim models, but auto shoppers must always remember that competition is stiff in this midsized, three row, SUV category. It may make sense to shop around if price is a big consideration for you. VW Atlas competition includes the following: Mitsubishi offers the Eclipse Cross; there's also the not-very-well-known Toyota Venza along with the Sequoia, the popular Subaru Outback; the Hyundai Santa Fe, the Kia Sorento, the Honda Pilot, as well as the infamous Ford Explorer and Chevy Tahoe.
The Volkswagen Atlas lowest priced model is the front wheel drive Atlas S. It has a starting price of $31,545. But there's a vast difference between the Atlas' base and the upper tier model – a difference of over $17,000!
Not only are there different trim levels for the VW Atlas, there are two different engine variations for most models. A 2.0 TFSI engine supporting an 8 speed transmission pushing out 235 horsepower and the 3.6 liter VR6 FSI engine offering 276 horse and an 8 speed automatic.
Here's a comprehensive list of all Atlas models lineup by price:
Atlas S – Starting at $31,545 MSRP
Atlas S with 4MOTION® – Starting at $33,445 MSRP
Atlas SE – Starting at $34,895 MSRP
Atlas SE with 4MOTION® – Starting at $36,795 MSRP
Atlas SE with Technology – Starting at $36,895 MSRP
Atlas V6 SE with Technology – Starting at $38,295 MSRP
Atlas SE with Technology with 4MOTION® – Starting at $38,795 MSRP
Atlas V6 SE with Technology R-Line – Starting at $39,695 MSRP
Atlas V6 SE with Technology with 4MOTION® – Starting at $40,195 MSRP
Atlas V6 SE with Technology R-Line with 4MOTION® – $41,595 MSRP
Atlas V6 SEL – $42,295 MSRP
Atlas SEL with 4MOTION® – Starting at $42,395 MSRP
Atlas V6 SEL with 4MOTION® – Starting at $44,195 MSRP
Atlas SEL Premium with 4MOTION® – Starting at $47,195 MSRP
Atlas V6 SEL Premium with 4MOTION® – Starting at $48,995 MSRP
The 2021 Volkswagen Atlas Cross Sport ranked #8 on TrueCars Best Midsize SUV for value …putting it one better than the Toyota Highlander and one step below the 2021 Chevrolet Traverse.
The Atlas Cross Sport took the Atlas original seven-seat practicality, downsized it to a five-seater then did a sporty makeover. There's still the comfort of a roomy cabin, the quiet drive, the innovative technology, the safety features – but there's just no third row seating. This lack of the two back seats means that the Cross Sport has an expanded cargo area, perfect for hauling sporting equipment. Along with a 5,000 pound towing capacity, this SPORT vehicle is destined to be used for many adventures!
Of course there's still these two little negative points to remember: fuel economy and a powertrain that is less than "sporty."
Oh, and there's another negative consideration, at that price point the SEL Premium is at a "near-luxury" car cost.
New Vs Used Volkswagen Atlas Models
Used Volkswagen Atlas models may be hard to come buy considering that this model has only been available since the 2018 model year. As reported on caredge.com, used VW Atlas models will depreciate approximately 44% in 5 years. This means that the resale value of a new Atlas will be somewhere around $24,000 in five years. This is based on an average driving history of 12,000 miles per year or less, and the interior and exterior being in good condition.
Click – here – to for a Volkswagen depreciation calculator.
Here's more information on anticipated depreciation, residual values, resale values and how to get the best price on your VW Atlas.
Estimated Volkswagen Atlas Depreciation
| | | | | | |
| --- | --- | --- | --- | --- | --- |
| Years Old | Depreciation | Residual Value | Resale Value | Mileage | Resale Year |
| 1 | $9,266 | 78.79% | $34,423 | 12,000 | 2022 |
| 2 | $10,311 | 76.40% | $33,378 | 24,000 | 2023 |
| 3 | $11,779 | 73.04% | $31,910 | 36,000 | 2024 |
| 4 | $16,357 | 62.56% | $27,332 | 48,000 | 2025 |
| 5 | $19,424 | 55.54% | $24,265 | 60,000 | 2026 |
So if you're wondering what you can save by purchasing a used VW Atlas VS a Used Model, you may want to think about this:
If you buy an Atlas that is 2 years old, you could save $10,000 over buying a new model. You will still have an automobile that is relatively new and one that can still give you many more years of drivable "life." If you plan to keep this car for three years, your total cost of depreciation would be $9,113. HINT: New vehicles depreciate quickly…try looking for vehicles between two and four years old for the best bang for your buck!
And while we're speaking about what it costs to own a VW Atlas, we might as well talk about insurance costs. The average cost to insure a VW Atlas is around $1530 per year. This, of course, is dependent on your driving record, the deductible, the amount of miles you actually drive annually and the vehicle age, model, etc…it also depends on your chosen insurance company (and it DOES PAY to shop around!)
VW Atlas Safety
Historically, Volkswagens have been considered one of the safest vehicles to drive, and the VW Atlas is following other Volkswagen models with high marks in safety features and ratings.
The NHTSA (National Highway Traffic Safety Administration), an agency that is part of the U.S. Department of Transportation, gave the 2019 and 2020 Volkswagen Atlas a perfect score of 5 out of 5 possible stars for safety. This score was a combination of results obtained in a series of crash tests: a front crash test, front passenger side impact test, several side crash tests, a rollover test, etc. Learn more about the tests performed here (https://www.nhtsa.gov/ratings#:~:text=The%205%2DStar%20Safety%20Ratings%20program%20evaluates%20how%20vehicles%20perform,of%20crashes%20on%20America's%20roadways.)
Some of the safety features offered in the new VW Atlas include:
Rear cross-traffic alert, blind spot monitoring, and forward collision mitigation come standard on every 2020 VW Atlas. Automatic LED headlights are featured on all trim package models, and the upper-end models have optional automatic emergency braking, adaptive cruise control, and lane assist.
And, if you're living in a colder climate and thinking, "is the VW Atlas good in snow?", know this: Atlas features Active Control as a part of its Volkswagen exclusive 4Motion system. 4Motion is a trademark of Volkswagen and is used on VW's four-wheel drive (4WD) systems. 4Motion allows the driver to select specific profiles based on the driving conditions they are experiencing. When the Snow Mode is engaged, the transmission upshifts earlier in the power cycle to help optimize traction, often activating before wheel spin occurs.
4Motion not only improves drivability in bad weather and while on slippery roads, it also improves the car's towing capacity.
VW Atlas Reliability and Issues with the VW Atlas
So here's where the Atlas falls behind other similar cars from other makers. When comparing the reliability of the Volkswagen SUV to other SUVs in its class, the Atlas ranks DEAD LAST. The Atlas has only a 13% reliability rating. Compare that to the Subaru at 63% and the Kia at 62%, and you may start hearing warning bells go off!
Issues with the VW Atlas are many: brakes, electrical, and engine problems logging the top complaints received by the National Traffic Highway Safety Administration (NHTSA).
For 2021, although there is not a reliability rating available yet, the Volkswagen Atlas has already had 7 safety recalls issued by the NHTSA.
WHEELS:RIM: recall date: 03/02/2021
STEERING: recall date: 01/26/2021
BACK OVER PREVENTION, SENSING SYSTEM, CAMERA: recall date: 11/17/2020
STEERING: recall date: 11/16/2020
TIRES:SIDEWALL: recall date: 11/12/2020
SEATS: recall date: 08/25/2020
EXTERIOR LIGHTING, HEADLIGHTS: recall date: 08/25/2020
Although many of these problems are covered under the Volkswagen four year / 50,000 mile limited warranty, these issues would seem to overpower anything that was positive about this SUV.
Consistently reported issues by owners affecting Atlas VW reliability:
VW Atlas remote start issues
VW Atlas coolant issues
VW Atlas catalytic converter problems
VW Atlas battery issues
VW Atlas sunroof problems
VW Atlas air conditioning issues
VW Atlas battery problems
VW Atlas transmission issues
VW Atlas radio problems
And it appears that many of the VW Atlas problems occurred in multiple years. As an example, it was reported that both the 2018 VW Atlas had transmission problems and the 2019 VW Atlas also experienced transmission problems.
Additionally, there were numerous problems still reported with the 2019 VW Atlas that were a carry over from the 2018 VW Atlas issues.
VW Atlas Maintenance Schedule
Due to the VW Atlas problems listed above, an Atlas owner might be wise to follow the manufacturer's suggested maintenance schedule closely, to mitigate VW Atlas issues and so that the manufacturer's warranty is not voided. The schedule is easy to follow and should help maintain the longevity, performance and the resale value of your VW Atlas.
The Atlas maintenance schedule is based around 10,000-Mile Intervals.
The first oil and filter change on your VW Atlas is due at 10,000 miles. If getting the maintenance done by a factory-trained Volkswagen technician, they should also provide a visual inspection of the vehicle's major components and look for signs of any developing issue.
This same level of scheduled maintenance will be repeated for each 10,000 miles. As the odometer miles add up, a few more services will be added. See below for further details:
20,000-, 40,000-, and 60,000-Mile Intervals
At each 20,000 mile interval, your Atlas should get inspections on tires, brakes and vital, internal components like the battery, exhaust system, suspension, and coolant system. Air and dust/pollen filters may need replacement. If you report any sounds or other signs of an issue developing, a road test may be performed to diagnose the cause.
80,000-Mile Intervals
At 80,000 miles, if it hasn't already been done, your VW Atlas may need the spark plugs replaced. It is also recommended that you change the transmission fluid.
By keeping up with the regular interval schedule, little problems might not turn into big problems!
Finally…
The Volkswagen Atlas is a fun and comfortable SUV to drive. With seating for up to seven adults and envious safety ratings, it will be a solid contender for those looking for a midsize SUV. When seating is properly configured; with second and third row seating folded down, you can get a whopping 98.6 cubic feet of storage space along with precise handling and a smooth ride. In mythology, Atlas was the strongest of the titans…which now makes us wonder why they didn't just name this vehicle TITAN, to follow Volkswagen's "T" naming methodology. Problem solved…