Tire Shopping for Your Nissan Altima?
Tire information you need to consider when purchasing your next set.
When shopping for a new set of tires for your Nissan Altima, it's important to do some research. Unfortunately, tires seem to get overlooked. Consumers tend to look at a vehicle's safety record and how reliable it is, which are important factors to consider, but just as important are the tires on your car. If you took time to research your vehicle, we recommend taking some time to learn about the best tires for your ride too.
The wheels on the bus go 'round and 'round…it's true, the wheels and tires do keep your vehicle moving, but they do so much more than that. Read on to learn why the tires you outfit your car with matter and learn what to look for when shopping for a new set.
If you are considering buying a used car that has under 140,000 miles and is a 2012 model or newer, get a free quote for one of our "extended car warranty solutions".
100% Online, 9 Coverage Options and No Robocalls!
Why Tires Matter
Tires are one of the most important parts of a car. For starters, they are a safety component. Tires allow your car to stop. That's right, I bet you were thinking it was the brakes. The brakes stop the wheels from turning, but it's the grip of the tires that actually brings the car to a stop.
Tires affect how well your car performs and how well it will handle the road. Even the "best" cars won't handle the road well if they are not outfitted with the right tires.
Choosing the Right Tires for You
If you think about it, the tires are the only piece of the car that is touching the road, so choosing the right tire for the type of driving you're doing and the types of surfaces your driving on is critical for your safety.
When choosing you'll also need to take into account the climate you live in and your personal driving style. Are you a leisurely driver who appreciates a quiet tire? Or are you a fast driver and like the ultimate driving experience while you're taking your corners?
Making sure your tires accommodate for your locale and driving habits will ensure your tires last longer and keep you safe on the road.
Best Tires for the Nissan Altima
When you're shopping for tires, the choices seem to be countless. There are so many different tires in the market right now – all season, winter, all terrain, performance, highway. The list is endless. It can be a bit overwhelming. With so many options available, choosing the right tires for your Nissan can be really difficult. We're here to help you out.
Which tires are best for the Nissan Altima?
The best tires for your Nissan Altima should be durable and last you through many seasons. They should also allow for a comfortable ride for the driver and passengers, while also being responsive and providing excellent contact with the road.
Below is a list of the best tires for the Nissan Altima, divided into different categories for all types of drivers.
Best Touring and Grand-Touring Tires for the Nissan Altima
These types of tires are best for the typical Nissan Altima driver. These tires offer a safe and reliable driving experience. They offer good traction, grip and braking in both dry and wet conditions. They also have a very good hydroplaning resistance and even offer good traction and braking in light snow. As a guide, these tires are great for drivers who generally tend to stick to the speed limit. They are durable, offer better treadlife and are most cost-effective. These tires are not meant for spirited drivers. They are not designed for very fast driving or taking corners quickly. Touring and Grand-Touring tires offer all-season, summer and winter tires based on where you live.
Bridgstone Turanza QuietTrack
Michelin Premier A/S
Pirelli Cinturato P7 All Season Plus
General AltiMax RT43
Cooper CS5 Ultra Touring
Continental PureContact LS
Best High-Performance Tires for the Nissan Altima
High-Performance tires are extremely responsive and made for those drivers who crave that ultimate driving experience. These tires provide for a much better performance than the Touring and Grand-Touring tires due to their slightly softer tread compound and stiffer sidewall. If you're looking for better traction and grip while taking the corner, these tires fit the bill. They also provide stronger braking. Putting these tires on your Nissan Altima will allow you to drive faster and not have to worry that you're going to slide. High-Performance tires are also offered in all-season, summer and winter tires to accommodate for climate.
Bridgestone Potenza RE980AS
Pirelli P Zero All Season Plus
Best Winter Tires for the Nissan Altima
All-season tires are designed to work in most conditions, accommodating for a larger temperature range than other tires, however if you want the best driving for winter conditions, you may want to consider winter tires. They are designed specifically for cold conditions and have a deeper tread, resulting in excellent grip and traction. Winter tires perform well on cold, dry and wet pavement and are the best for snow and ice, traction and braking.
Bridgestone Blizzak WS90
Michelin X-Ice Xi3
Tires for the 2020 Models
If you have a 2020 Nissan Altima model that features all-wheel drive and looking to replace the factory tires, here are tires to consider. These are categorized by model.
Best 16-inch for Nissan Altima S
Yokohama Avid Ascend GT – Best budget tire
Goodyear Assurance WeatherReady – Best mid-priced tire
Michelin Crossclimate+ – Best superior tire
Best 17-inch for Nissan Altima SV, SL
Cooper CS5 Ultra Touring – Best budget tire
Goodyear Assurance WEatherReady – Best mid-priced tire
Michelin Crossclimate+ – Best superior tire
Best 19-inch for Nissan Altima SR, Platinum
Cooper CS5 Ultra Touring – Best budget tire
Goodyear Eagle F1 Asymmetric – Best mid-priced tire
Dunlop SP Sport Maxx 050 – Best superior tire
Tire Safety and Tips for Maintaining Your Tires
Properly maintained tires are really important to a car. Regardless of whether the vehicle is a sedan, like the Altima, or big truck or SUV, well maintained tires allow for the safe operation of your car.
Rotate your tires every 6,000 to 8,000 miles. This will allow for balanced wear on the tires. Most tire shops will rotate them for free if you purchased the tires from them.
Check the tire pressure regularly. We recommend checking once a month and before any big road trip. Every car built after 2008 has a Tire Pressure Monitoring System indicator. If this indicator illuminates, it means that at least one of your tires is more than 25% under inflated.
Maintain the proper tire pressure recommended for your car. Low tire pressure is a safety issue and can cause the tires to lose their grip in wet or slick surfaces. The recommended tire pressure for your Nissan Altima under normal temperature conditions is 32 psi.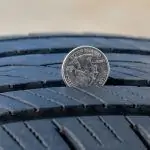 Check the tire tread depth regularly to maintain good traction. You've probably heard this tip, but it's worth mentioning it again: use a quarter to help you measure. Insert the quarter upside down between the tire grooves. If you can see above Washington's head, your tread is low and should probably start looking for new tires.
Move new tires to the back. If not all your tires are new, then location does matter. Putting new tires on the back axle will help you keep control of your car on wet or slick roads. If you happen to lose traction in the rear tires, you'll spin out.
Pro-Tip: Tires should be replaced in pairs. If you need to save money, don't purchase just one tire, purchase the pair.
No mismatching, please. Mismatched tires, meaning they are not all the same type of tire, can negatively impact how your car handles. And because they are not the same, they will cause unusual wear on the other tires.
Incorporate tire safety into your regularly scheduled maintenance checks. According to the National Highway Traffic Safety Administration (NHTSA), 9% of crashes found that there was an issue with the tire before the crash occurred. Well maintained tires can increase fuel economy and extend the life of your tires.
Don't Brake for Just Any Extended Warranty
In the unfortunate event of a breakdown, you'll want olive® by your side. olive® is shaking up the way drivers look at extended warranties. Get peace of mind with olive's Mechanical Breakdown Insurance.
Why Choose olive®?
No waiting period
Start coverage up to 140,000 miles
No yearly mileage limits
Coverage across the U.S.
Manageable monthly payment options
Cancel anytime
You can get a quote today and be covered tomorrow. Best of all, our products, customer service and reputation for excellence have earned us an A+ rating with the Better Business Bureau, and we have partnered with some of the insurance industry's largest companies to back us. We're in the business of helping you live life covered!
Buckle up and enjoy the ride – olive® has you covered. Take your insurance coverage to the next level.