The Toyota Highlander – Midsized & Big on Reliability
Exploring the best years for the Highlander and which years should you potentially avoid
The SUV market in the U.S. continues to grow and dominate over pickup trucks and even sedans, so it's not surprising that the Toyota Highlander is Toyota's best-selling midsize SUV.
According to the GoodCarBadCar 2020 sales charts, the Highlander was one of the best selling SUVs across the entire midsize SUV market. Out of 26 classmates, the Highlander sold the second most SUVs in 2020, just behind the Jeep Grand Cherokee, which took the number one spot by selling just 3,500 more units than the Highlander. It's interesting because the Highlander outsold the Grand Cherokee in December, so we'll be curious to see if that trend continues into 2021.
If you're in the market for a midsize SUV, join the club! It seems like everyone is after an SUV these days, especially because they provide such versatility, driving like a car and providing the cargo space of a truck. And just like its fellow Toyota siblings, the Highlander is dependable, well-equipped and will last a long time. Shopping for a Toyota Highlander? Read on to get the scoop on which is the best model year for the Toyota Highlander and which Highlander years you should avoid, or get thoroughly checked out before purchasing. In fact, we recommend you get any previously owned vehicle checked out before you buy it. This information is not meant to discourage you from buying a Toyota Highlander, but to give you the information you need to make the right buying decision. Sometimes you can get a great deal on a particular year of Toyota Highlander because they may be a bit more difficult to sell, and if you can make sure the issue is addressed or use it as a negotiation point you may be able to buy with peace of mind and save some money over another model year.
If you are considering buying a used car that has under 140,000 miles and is a 2012 model or newer, get a free quote for one of our "extended car warranty solutions".
100% Online, 9 Coverage Options and No Robocalls!
Midsize When it Matters
As a midsize crossover SUV, the Highlander has lots of competition, but as we've noted, it sells really well, and not just for Toyota, but across the SUV spectrum too. The Highlander has been around since 2000 and 20 years laters it's as popular as ever.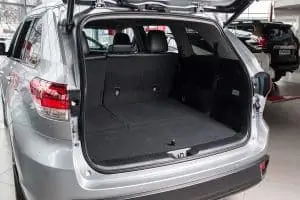 It was completely redesigned for the 2020 model year and offers lots of attractive features, like a roomy interior that is well appointed and good looking. It has lots of infotainment and safety features that come standard and it is equipped with a V6 engine, providing more power and a smooth ride. It also offers a third row as standard to fit more passengers.
It appeals to consumers who need extra space without necessarily wanting a big SUV. The Highlander hits that sweet spot just perfectly for many consumers because it offers three rows, which can accommodate up to 8 passengers, with a medium-size footprint. While it may appear big, it's technically categorized as a midsize SUV. The Highlander is marketed by Toyota and as "refined for the daily drive," appealing to families on the go. With nine trims available, including a few hybrid models, you're able to customize your daily ride to meet your everyday needs. The trims include: L, LE, Hybrid LE, XLE, Hybrid XLE, XSE, Limited, Hybrid Limited and Platinum.
How Much Will a Highlander Cost?
A 2021 Toyota Highlander's starting MSRP is $34,810 for the lowest base model L and will cost close to $47,000 for its high-end base level trim, the Platinum. It seems counterintuitive, but the more expensive the trim, the less seating capacity you get. In the starting base models, you can sit up to 8 passengers comfortably, the mid-range trims can sit 7+ and the most expensive Platinum will sit 7. It still offers a great seating capacity for being categorized as a midsize SUV, but the seating capacity does not correlate to the price tag.
While the Highlander is a great SUV with impeccable reliability, it is slightly more expensive than its rivals, however it is one of the best values in terms of depreciation. Yes, you may pay a little more up front, but you'll make that up as time goes by. So if you're planning to hold onto your Highlander for a few years, you'll be glad you made the investment. According to iSeeCars.com, a Toyota Highlander will depreciate about 44% after 5 years and is expected to have a 5-year resale value of nearly $25,000. So it does a great job of retaining its value in the short-term 3- to 5-year marks. In the auto research firm's Top 10 depreciation ranking, the Toyota Highlander placed #5, losing less than 45% (44.6%) of its value after 5 years, which is better than the average depreciation of all SUVs, which is 51.6%.
Here is what you should budget for a pre-owned Toyota Highlander for model years up to 10 years old. All model years, except for 2011, 2019 and 2020, earned a predicted reliability score of 5 out 5 from Consumer Reports. These model years however, were no slouches – they earned a score of 4 out of 5.
2011 $10,675 – $13,475
2012 $11,925 – $15,050
2013 $13,300 – $17,350
2014 $15,725 – $22,050
2015 $17,425 – $24,925
2016 $19,800 – $27,225
2017 $22,000 – $30,675
2018 $23,800 – $34,300
2019 $25,825 – $38,750
2020 $30,495 – $41,480
If purchasing a used vehicle, regardless of how dependable it is, we recommend considering an extended car warranty solution in case of an unexpected repair. You can research and buy an extended warranty solution for your vehicle online with a trusted partner like olive®.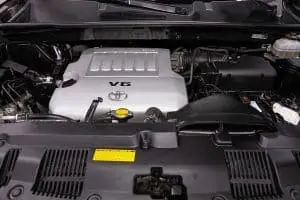 olive® specializes in mechanical breakdown insurance and vehicle service contracts for consumers. These are available for vehicles 10 years old or less and starting with under 140,000 miles at https://olive.com/.
High Five for the Highlander's Reliability
The Highlander, just like all other Toyota vehicles, has supreme reliability. It has consistently received above-average ratings since it was introduced in 2000. When we looked at the Highlander's 6-year reliability average (years 2016 – 2021), it averaged a 4.5 predicted reliability score from Consumer Reports, making it one of the most reliable SUVs out there, and one of the most reliable Toyota models.
According to RepairPal, the Highlander's Reliability Rating is above average, scoring a 4 out of 5.0, ranking it 7th out of 26 other midsize SUVs. The average midsize SUV Reliability Rating is 3.5, making it more reliable than its midsize SUV classmates. And since repair costs factor into a vehicle's rating, you'll be happy to know that its repair costs are lower too.
To further underscore its reliability, the Toyota Highlander ranked in the Top 15 Longest-Lasting iSeeCars.com study. The auto research firm conducted this study to see which vehicles are most likely to last longer than 200,000 miles. The Highlander came in at #5, doing better than the 4Runner (#8) and even the Tundra (#11) and Tacoma (#15) which still ranked high. The research revealed that 4.2% of Toyota Highlanders on the road are likely to take you beyond the 200k mileage marker.
https://www.iseecars.com/longest-lasting-cars-study#v=2020
Maintenance Costs
Besides regular maintenance, like oil changes and fluid top-offs, your visits to a repair shop when owning a Highlander should not be too often and relatively less expensive than if you were taking in another SUV brand.
RepairPal notes that the average total annual cost for repairs and maintenance on a Toyota Highlander is $489, compared to an average of $573 for midsize SUVs and $652 for all vehicle models. When you do have to visit a repair shop it shouldn't be too often. According to research, Toyota Highlander owners have to bring their vehicles into a repair shop for unscheduled repairs an average of 0.3 times per year, compared to an average of 0.4 times for midsize SUVs. And the probability of a repair being a severe or major issue is 13% for the Toyota Highlander, which is the same when compared to its classmates. So the Highlander has lower-than-average ownership costs, with the frequency and severity of repairs being fairly average.
The Best Years for the Toyota Highlander
According to our research, and taking into account reliability, complaints and depreciation data, our picks for the best Toyota Highlander model years to consider are the 2018 and 2017 years, and for an older model, the 2007.
The 2018 and 2017 model years are relatively new and have low complaints. Both scored perfectly on reliability (5 out 5) and performed well on the Consumer Reports performance road tests, which look at acceleration, transmission, fuel economy and brakes. Out of a potential score of 5 out 5, both received a 4 for acceleration, 5 for transmission, 2 for fuel economy, and 4 for brakes. Customer satisfaction scores were also above average for both the 2018 and 2017 years (3 and 4 respectively).
Because they are models that are just a few years old, you can really get a great deal because you have depreciation working in your favor. For instance, purchasing a model that is about 2 years old, you'd save about $17,000 compared to buying new. According to CarEdge, both the 2018 and 2017 model years offer a great value for someone who is looking to purchase a pre-owned Highlander that has lots of useful life remaining. With the 2018, you would pay on average about 67% of the price as new with 83% of its useful life remaining. The same is true for the 2017 – you would pay about 54% of the price as new.
2007 – If your budget is a little bit tighter and you are comfortable with an older Toyota Highlander, then here is the best deal on a Toyota Highlander. The 2007 model year is a great buy. For being more than 10 years old, it only has nine complaints that have been lodged against it and those complaints do not affect major components. The complaints are associated with the A/C and interior accessories. Out of all the Highlanders' model years, there is only one model year that received the carcomplaints.com seal of "Awesome," and that was the 2007 model. With a perfect reliability score of 5 from Consumer Reports and awesome customer satisfaction reviews, it's a solid choice that you can find anywhere from $5,650 to $7,425 depending on condition and mileage.
Toyota Highlander Years to Consider Avoiding
Although the Highlander has proven to be reliable, there are a few model years to avoid. They are mostly in the 1st generation so if you're tempted by the low price tags that hover below $5,000, we'd highly suggest that you have that first-gen model inspected before making the purchase. Most car shoppers aren't looking at vehicles that are nearly 20 years old, but it's worth mentioning. Below are the model years to avoid.
#1 Avoid: 1st Gen – 2003 and 2002
The 2003 model had the third most complaints out of the entire Highlander's history and because the most cited complaints deal with the engine, we're suggesting you look past this year. Carcomplaints.com labeled it the "Worst Model Year" because of the severity of the engine problems associated with the 2003 model at relatively low mileage. The most consistently reported problem dealt with the threads for the engine bolts being stripped, costing on average about $3,200 to replace. Other owners reported complete engine failure at a tune of $6,400, while others were plagued with subframe rust, which has been an issue in other Toyota models, like the Tacoma, Tundra and 4Runner. The average cost to repair rust will cost in excess of $3,700.
The 2002 should also be avoided. While it does not have nearly the amount of complaints as the 2003 model, its number one complaint is within the engine category too, with engine failure reported most often. When carcomplaints.com looked at all the complaints ever reported, the top 3 were affecting these two model years, and the 2002 was affected by two of the top 3:
#1: Threads for engine bolts stripped (2003)
#2: Engine failure (2002)
#3: Excessive oil (2002)
As a note, overall engine problems were the number one complaint for first gen models 2001 – 2006.
#2 Avoid: 2nd Gen – 2008
The 2008 model year was another year that also had high complaints (second to the 2015) with engine problems being the most commonly reported by owners. While this is a red flag, we'd like to note that the engine problems were not nearly as severe as those experienced in the first generation, but it is worth noting. With 74 total complaints and 30% of them associated with the engine, it should be avoided. Most commonly reported engine problems were knocks and rattles on cold start up, faulty rubber oil lines, the engine not starting, and timing chain leakage. Plus, since it is the first year of a new generation, it may be best to skip to the next year and let the automaker work its way through the first model kinks.
#3 Avoid: 3rd Gen – 2015
The 2015 has the most complaints thus far and for this reason, we put it on the "avoid" list. While the complaints are not major, there are quite a few of them. The most commonly reported issues affected the interior accessories, mostly dealing with uncomfortable seating and the audio system freezing up. Other issues that were reported were excessive wind noise, the power liftgate not working and issues related to the air conditioning system.
A Reliable Vehicle Deserves Reliable Coverage Too
Cars and SUVs are made to last longer, which means people are keeping their vehicles a lot longer than before. When owning a highly reliable vehicle like the Toyota Highlander, it's tempting to skip on extra protection like an extended warranty solution. Don't! We'd highly advise anyone who is driving a pre-owned vehicle, especially if the OEM warranty is expired, to consider mechanical breakdown insurance or vehicle service contract. They have become more critical than ever before because they provide coverage in case a repair is needed.
Shop for an extended warranty solution with a trusted partner like olive® that is just as reliable as your Toyota. For nearly 20 years olive® and its affiliates have been providing coverage for vehicles in a consumer-friendly way. Get peace of mind with olive's Mechanical Breakdown Insurance.
Why Choose olive®?
No waiting period
Start coverage up to 140,000 miles
No yearly mileage limits
Coverage across the U.S.
Manageable monthly payment options
Cancel anytime
The process is easy and completely online. You can get a quote today and be covered tomorrow. Best of all, our products, customer service and reputation for excellence have earned us an A+ rating with the Better Business Bureau, and we have partnered with some of the insurance industry's largest companies to back us. We're in the business of helping you live life covered!
Protect your ride with olive® at https://olive.com/.