The RAV4 – Toyota's Best Seller
Highlighting the Best Year for the Toyota RAV4 + RAV4 Years to Avoid
Over the past twenty years, we've seen a shift of consumer's buying preferences as it relates to car shopping. American consumers are opting for crossover SUVs when given the choice, hence the rise of the compact crossover. You'll notice that parking lots across the nation are dominated by crossovers. Why?
The crossover is usually more affordable than a traditional SUV. They are smaller and easier to get around in, have better fuel economy, lower sticker prices, are stylish and can be quite zippy depending on the engine size. For consumers who need something bigger than a car, but not looking to go as big as a traditional SUV, and don't want to drive around in a minivan, the crossover is a great option!
The Toyota RAV4 is Toyota's compact crossover and it's no surprise that in the past few years it has become Toyota's best seller, outselling every Toyota model, including the popular Camry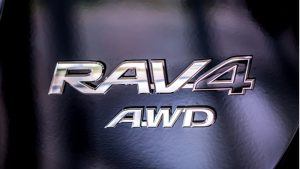 and Corolla. In 2020, the RAV4 achieved a major milestone by hitting 10 million sales worldwide, and in 2019 alone, the model sold nearly one million units globally with more than half coming from American consumers.
Let's take a closer look at Toyota's bestseller, the RAV4. If you're shopping for a compact crossover, the RAV4 may be a great option to consider. We'll look at the best model years for the Toyota RAV4 and Toyota RAV4 years you will either want to avoid or pay extra attention to some of the known issues we list below so you can have them addressed..
The RAV4
Toyota offers many RAV4 trims for every type of consumer. Whether you're looking for a budget-friendly option or opting for some luxury or even some outdoorsy fun, there are plenty of choices. According to the Toyota website, the 2021 RAV4 is offered in 11 different trims, from the base model LE to the plush Limited version and everything in between to take you from luxe to adventure. Want some off-roading thrills? No problem, there's even a TRD Off Road option. So while the RAV4 may be considered the automaker's smaller SUV, the options are not small, no way!
The RAV4 has a long list of standard features, including Apple CarPlay, Android Auto, a user-friendly infotainment system with a 7-inch touch screen. Standard safety features include lane keep assist, lane departure and trace assist, which keeps the vehicle centered in the lane, even on curved roads. Also included are forward collision warning, automatic emergency braking and pedestrian detection. The RAV4 comes with a 2.5-liter four-cylinder engine and an eight-speed automatic transmission. Front-wheel drive is standard but all-wheel drive is optional on the LE, XLE, XLE Premium and Limited, and standard on the Adventure and TRD Off-Road models. Taking cues from other Toyota legends, like the Tacoma and the 4Runner, the RAV4 front-end design is rugged and stylish. Because it is a crossover, it looks like a smaller SUV, but drives smoother than both the Tacoma or 4Runner. It is a well-rounded crossover with a roomy cabin, made with quality materials. It's fuel efficient, but yet can deliver power too. Below are the starting MSRP for the different RAV4 trims.
LE $26,050 LE Hybrid $28,500
XLE $27,345 XLE Hybrid $29,795
XLE Premium $30,050 XLE Premium Hybrid $32,500
Limited $34,580 Limited Hybrid $37,030
Adventure $33, 155
TRD Off-Road $35,780
XSE Hybrid $34, 450
Raving Reliability
Toyota has built a reputation for producing reliable cars and SUVs, so as you would expect, the RAV4 comes with raving reliability scores. According to RepairPal, the Toyota RAV4 earned a 4 out of 5 stars on the firm's Reliability Rating scale, which makes it 3rd best out of 26 compact SUVs. When compared to other vehicles in general, the RAV4 has excellent ownership costs with repairs being less severe and less frequent than other compact SUVs and vehicles overall, making it one of the most reliable vehicles on road.
On other reliability scales, the RAV4's reliability scores are consistent with that of RepairPal's. Using Consumer Reports' data, the RAV4's decadelong average reliability came in at an impressive 4.5 out of 5, and a 4.1 when we averaged its scores over the past 20 years! So the legendary Toyota reliability does not waver when it comes to the RAV4.
The average annual repair cost is $429, compared to an average of $521 for other compact SUVs. The frequency you can anticipate visiting a repair shop is low too and comparable to its classmates. Toyota RAV4 owners have to bring their vehicles to a repair shop for unscheduled repairs an average of .3 times per year, compared to an average of .4 for all other vehicle types. When it comes to severe repairs, you'll be pleased to know that the probability of a repair being major is about 10%, so not urgent. Other SUVs in its class average 11%.
While repairing a Toyota RAV4 can be less expensive than other brands, you could still come across a hefty repair bill at some point, so we recommend adding additional coverage through a mechanic al breakdown insurance provider (MBI), or a vehicle services contract (VSC). These are often referred to as an extended car warranty. A MBI or VSC can help take the sting out of an unexpected repair and give you peace of mind. Olive is a trusted name in the MBI and VSC industry and specializes in vehicle extended warranties for consumers. You can see if your car qualifies, get 9 different coverage and pricing options and even buy and manage online if you want to at quote.olive.com.
Maintenance Costs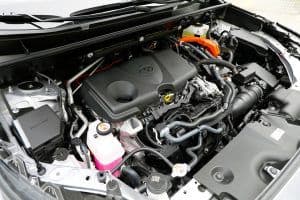 In terms of general maintenance, it should be free for the first two years or 25,000 miles if you purchase a brand new RAV4. All new Toyotas come with the ToyotaCar plan, which takes care of normally scheduled maintenance and includes engine oil and filter changes, tire rotation, a multi-point inspection and fluid level checks and adjustments. After the first two years, most maintenance will average anywhere between $100 and $200, but for bigger mileage specific service checks, you can expect to pay anywhere from $300 – $400.
Top 5 RAV4 Problems
Although the RAV4 is a great compact SUV and has proven to be reliable, owners have had some challenges with some model years. Here are the most commonly reported problems as reported to RepairPal, as well as the associated average cost of the repair.
Faulty EVAP Vapor Canister – The vapor canister has been reported to plug/clog the vent valve because it releases charcoal pellets resulting in a fault code of either P0441, P0442 or P0446, which is the primary code associated with this fail and an electrical failure. Proper repair involves replacing the entire canister with all the valves as a unit. Unfortunately, this repair can be expensive as it is located on top of the fuel tank. Model years affected: 1996-2016 with an owner reported cost of about $1,000 to $1,500. Average mileage: 106,403.
False Catalytic Converter Failure – Owners reported the Check Engine Light would illuminate pointing to a bad catalytic converter. The issue ended up being a software issue, which Toyota remedied by upgrading the software to correct the false "bad catalytic converter" message. This affected second and third generation model years 1996 and 2001-2007. Average mileage: 149,044. The average cost to diagnose the Check Engine Light is between $88 and $111.
Failed Oxygen Sensor
The Check Engine light comes on when one or more of the oxygen sensors fails, resulting in reduced fuel economy, rough idling or a hesitant engine that possibly skips or misfires. Other symptoms include a 'rotten egg' smell or black smoke coming from the exhaust. Model years affected: 1998, 2001 – 2003, 2006-2012, 2014 at an average mileage of 247,047. The average cost to replace the RAV4 oxygen sensor is anywhere between $275 and $297.
Transmission Shifting Issues – At higher mileage the automatic transmission may not shift correctly, which may be caused by the throttle position sensor being out of alignment or a shift solenoid needing to be replaced. Ten model years were specifically affected with this shifting issue: 1996, 1997, 2000-2008 at an average mileage of 133,569.
This was corroborated by the carcomplaints.com website, which lists transmission issues as the worst problem for the RAV4. The worst model years in terms of transmission complaints are 2002 (368 complaints), 2001 (180 complaints), and 2003 (120 complaints). To fix transmission problems, plan around $2,400 and occur around 70,000 miles on average depending on the specific transmission issue.
Excessive Oil Consumption – Drivers noticed excessive oil consumption between oil changes. Many times, the loss of oil was drastic, causing the engine oil warning light to display. Usually this problem occurs when the vehicles' oil is not changed frequently, however this problem has been reported consistently for a few model years, specifically those in the third generation. Owners said their RAV4's engine would burn lots of oil causing them to add more oil more than once per month. The vehicle's engine should be cleaned of oil sludge, but if the excessive oil consumption continues, the vehicle may require new piston rings. Five model years were affected, 2004-2008 at an average mileage of 121,285.
What is the Best Year for the Toyota RAV4?
As we've mentioned before, the RAV4 has demonstrated that it is a reliable compact SUV, so when looking to determine the "best," it was quite challenging, considering the fourth generation model years have near perfect reliability. But we sorted through the data and have decided; The 2016 model year is the "best" Toyota RAV4 and worthy of your hard-earned cash. Here's why:
The 2016 Toyota RAV4 earned a perfect reliability score from Consumer Reports and when it was put to the test, literally, by J. D. Power, it came up on top, beating out model years 2017 and 2018 by just a smidge. So while our "best" RAV4 is the 2016, you really can't go wrong with the newer two years, 2017 or 2018.
The 2016 earned an overall score of 86 based on the J.D. Power 100-Point Score, which is based on thousands of unbiased opinions of verified owners. Overall it ranked #1 in the J.D. Power Top 10 Rated SUV list comparing similar compact SUVs, beating out the likes of Honda, Nissan, Mazda and other popular brands, like Chevy and Ford.
For quality and reliability, it scored an 86, boasting a "great" for its driving experience and "best" score of 91 for its resale value. The 2016 Toyota RAV4 was also the winner of the J.D. Power Performance Award for its design and performance after the first 90 days of ownership. While the 2016 has more complaints than the 2018 model year, it's also two years older and the most common complaints fell within the interior accessories category, specifically the cruise control function.
The 2016 model years are ranging in price from $15,000 to just under $20,000.
Pro-Tip: If you purchase an older Toyota RAV4, it's wise to consider a MBI or VSC for your your Toyota from quote.olive.com/.
Toyota RAV4 Years to Avoid?
While the Toyota RAV4 is generally a very reliable car, If you look at the RAV4's history, there are a few years you might want to avoid, or get thoroughly checked out before purchasing. In fact, we recommend you get any previously owned vehicle checked out before you buy it.
This information is not meant to discourage you from buying a Toyota RAV4, but to give you the information you need to make the right buying decision. Sometimes you can get a great deal on a particular year of RAV4 because they may be a bit more difficult to sell, and if you can make sure the issue is addressed or use it as a negotiation point you may be able to buy with peace of mind and save some money over another model year.
We'll start with the latest generation and work our way back because while older RAV4s are still on the market, it is more likely that consumers looking for a used one, will be looking for one less than 10 years old.
5th Generation (2019 + present) – For being a fairly newer model you wouldn't expect it to be on our "avoid" list, especially since Toyota is known for its reliability, but the 2019 has some issues you should make certain you are aware of and address. Over the past 20 years, not only does the 2019 model have the lowest reliability score of 2 out of 5 from Consumer Reports, but it also has quite a few complaints already. And the complaints being reported are not cosmetic either, they affect the transmission and engine components. In the 2019 RAV4, owners have experienced gear slippage, hesitating or lurching forward at slower speeds, loud acceleration and a faulty gas gauge that some owners have said does not read the amount of gas correctly, so you never know how much gas is actually in the tank. One owner noted that the tank never seems to read more than three quarter's full. If you're after a newer model RAV4, the 2018 would be our choice.
4th Generation (2013 – 2018) – Overall the 4th generation produced some great RAV4s, but for the purposes of this exercise, we'd suggest avoiding the RAV4 model year 2013. While it had a reliability rating of 5, it is the year that experienced the most complaints, with the worst complaint being a major safety issue. Owners noted that their RAV4 would suddenly accelerate and would not stop even after pressing the brakes. Owners reported accidents, which resulted in the deployment of the air bags and in some cases a total loss of the vehicle. For this reason alone, 2013 is not a safe bet.
If you're set on an older RAV4, consider other model years that are part of the fourth generation, like model years 2017, 2016 or even 2012.
3rd Generation (2006 – 2012) – The 2008 RAV4 also has a few issues you will want to have addressed, or avoid and consider getting another model year that is likely a bit more reliable. . There may be better options for the price and with far less complaints. Toyota has been making the RAV4s since 1994, spanning five generations, and out of all its model years and gens, the 2008 was labeled as the "Worst" model year ever from carcomplaints.com. In looking at the data, we couldn't agree more. carcomplaints.com, m.
Model years 2006 through 2008 had a high number of complaints annually and the issues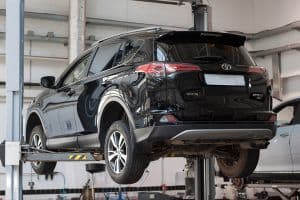 associated with those complaints were severe, citing engine and transmission issues, as well as steering and exhaust problems. While the 2008 had fewer complaints than the 2007 model year, the engine and transmission issues plagued the 2008 model year. These repairs are typically more expensive and occurred at lower mileage. Below are the top 3 most common complaints owners reported with the 2008,
#1 Excessive oil consumption | average cost to fix: $3,300
#2 Air bags did not deploy | average cost to fix: $3,000
#3 Transmission Jerking | average cost to fix: $900
Get Peace of Mind – Invest in an olive Extended Warranty
We know Toyota is known for its reliability, but what happens when they prove otherwise? Just like with any vehicle, no matter how well crafted, items eventually break down. Olive wants you to prepare for the unexpected and not break your wallet in the process. Get peace of mind to back your ride.
For the most part, vehicle warranties expire after the first three years or 36,000 miles, so it's a good idea to have a Mechanical Breakdown Insurance plan at the ready in case of an unfortunate breakdown. With olive, you're covered, and you can get a quote online easily and be protected the very next day.
Our products, customer service and reputation for excellence have earned us an A+ rating with the Better Business Bureau, and we have partnered with some of the insurance industry's largest companies to back us. With olive, we'll be your reliable partner, in the event your vehicle isn't. Here are some of the benefits you can look forward to:
No waiting period
Start coverage up to 140,000 miles
No yearly mileage limits
Coverage across the U.S.
Manageable monthly payment options
Cancel anytime
The Toyota Highlander – Midsized & Big on Reliability
Exploring the best years for the Highlander and which years should you potentially avoid
The SUV market in the U.S. continues to grow and dominate over pickup trucks and even sedans, so it's not surprising that the Toyota Highlander is Toyota's best-selling midsize SUV.
According to the GoodCarBadCar 2020 sales charts, the Highlander was one of the best selling SUVs across the entire midsize SUV market. Out of 26 classmates, the Highlander sold the second most SUVs in 2020, just behind the Jeep Grand Cherokee, which took the number one spot by selling just 3,500 more units than the Highlander. It's interesting because the Highlander outsold the Grand Cherokee in December, so we'll be curious to see if that trend continues into 2021.
If you're in the market for a midsize SUV, join the club! It seems like everyone is after an SUV these days, especially because they provide such versatility, driving like a car and providing the cargo space of a truck. And just like its fellow Toyota siblings, the Highlander is dependable, well-equipped and will last a long time. Shopping for a Toyota Highlander? Read on to get the scoop on which is the best model year for the Toyota Highlander and which Highlander years you should avoid, or get thoroughly checked out before purchasing. In fact, we recommend you get any previously owned vehicle checked out before you buy it. This information is not meant to discourage you from buying a Toyota Highlander, but to give you the information you need to make the right buying decision. Sometimes you can get a great deal on a particular year of Toyota Highlander because they may be a bit more difficult to sell, and if you can make sure the issue is addressed or use it as a negotiation point you may be able to buy with peace of mind and save some money over another model year..
Midsize When it Matters
As a midsize crossover SUV, the Highlander has lots of competition, but as we've noted, it sells really well, and not just for Toyota, but across the SUV spectrum too. The Highlander has been around since 2000 and 20 years laters it's as popular as ever.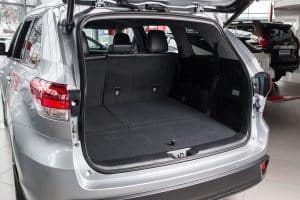 It was completely redesigned for the 2020 model year and offers lots of attractive features, like a roomy interior that is well appointed and good looking. It has lots of infotainment and safety features that come standard and it is equipped with a V6 engine, providing more power and a smooth ride. It also offers a third row as standard to fit more passengers.
It appeals to consumers who need extra space without necessarily wanting a big SUV. The Highlander hits that sweet spot just perfectly for many consumers because it offers three rows, which can accommodate up to 8 passengers, with a medium-size footprint. While it may appear big, it's technically categorized as a midsize SUV. The Highlander is marketed by Toyota and as "refined for the daily drive," appealing to families on the go. With nine trims available, including a few hybrid models, you're able to customize your daily ride to meet your everyday needs. The trims include: L, LE, Hybrid LE, XLE, Hybrid XLE, XSE, Limited, Hybrid Limited and Platinum.
How Much Will a Highlander Cost?
A 2021 Toyota Highlander's starting MSRP is $34,810 for the lowest base model L and will cost close to $47,000 for its high-end base level trim, the Platinum. It seems counterintuitive, but the more expensive the trim, the less seating capacity you get. In the starting base models, you can sit up to 8 passengers comfortably, the mid-range trims can sit 7+ and the most expensive Platinum will sit 7. It still offers a great seating capacity for being categorized as a midsize SUV, but the seating capacity does not correlate to the price tag.
While the Highlander is a great SUV with impeccable reliability, it is slightly more expensive than its rivals, however it is one of the best values in terms of depreciation. Yes, you may pay a little more up front, but you'll make that up as time goes by. So if you're planning to hold onto your Highlander for a few years, you'll be glad you made the investment. According to iSeeCars.com, a Toyota Highlander will depreciate about 44% after 5 years and is expected to have a 5-year resale value of nearly $25,000. So it does a great job of retaining its value in the short-term 3- to 5-year marks. In the auto research firm's Top 10 depreciation ranking, the Toyota Highlander placed #5, losing less than 45% (44.6%) of its value after 5 years, which is better than the average depreciation of all SUVs, which is 51.6%.
Here is what you should budget for a pre-owned Toyota Highlander for model years up to 10 years old. All model years, except for 2011, 2019 and 2020, earned a predicted reliability score of 5 out 5 from Consumer Reports. These model years however, were no slouches – they earned a score of 4 out of 5.
2011 $10,675 – $13,475
2012 $11,925 – $15,050
2013 $13,300 – $17,350
2014 $15,725 – $22,050
2015 $17,425 – $24,925
2016 $19,800 – $27,225
2017 $22,000 – $30,675
2018 $23,800 – $34,300
2019 $25,825 – $38,750
2020 $30,495 – $41,480
If purchasing a used vehicle, regardless of how dependable it is, we recommend considering an extended warranty in case of an unexpected repair. You can research and buy an extended warranty for your vehicle online with a trusted partner like olive.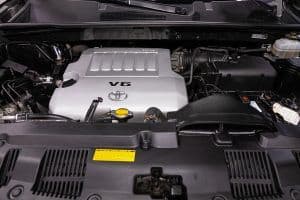 Olive specializes in vehicle extended warranties for consumers. Extended warranties for older vehicles are available at https://olive.com/.
High Five for the Highlander's Reliability
The Highlander, just like all other Toyota vehicles, has supreme reliability. It has consistently received above-average ratings since it was introduced in 2000. When we looked at the Highlander's 6-year reliability average (years 2016 – 2021), it averaged a 4.5 predicted reliability score from Consumer Reports, making it one of the most reliable SUVs out there, and one of the most reliable Toyota models.
According to RepairPal, the Highlander's Reliability Rating is above average, scoring a 4 out of 5.0, ranking it 7th out of 26 other midsize SUVs. The average midsize SUV Reliability Rating is 3.5, making it more reliable than its midsize SUV classmates. And since repair costs factor into a vehicle's rating, you'll be happy to know that its repair costs are lower too.
To further underscore its reliability, the Toyota Highlander ranked in the Top 15 Longest-Lasting iSeeCars.com study. The auto research firm conducted this study to see which vehicles are most likely to last longer than 200,000 miles. The Highlander came in at #5, doing better than the 4Runner (#8) and even the Tundra (#11) and Tacoma (#15) which still ranked high. The research revealed that 4.2% of Toyota Highlanders on the road are likely to take you beyond the 200k mileage marker.
https://www.iseecars.com/longest-lasting-cars-study#v=2020
Maintenance Costs
Besides regular maintenance, like oil changes and fluid top-offs, your visits to a repair shop when owning a Highlander should not be too often and relatively less expensive than if you were taking in another SUV brand.
RepairPal notes that the average total annual cost for repairs and maintenance on a Toyota Highlander is $489, compared to an average of $573 for midsize SUVs and $652 for all vehicle models. When you do have to visit a repair shop it shouldn't be too often. According to research, Toyota Highlander owners have to bring their vehicles into a repair shop for unscheduled repairs an average of 0.3 times per year, compared to an average of 0.4 times for midsize SUVs. And the probability of a repair being a severe or major issue is 13% for the Toyota Highlander, which is the same when compared to its classmates. So the Highlander has lower-than-average ownership costs, with the frequency and severity of repairs being fairly average.
The Best Years for the Toyota Highlander
According to our research, and taking into account reliability, complaints and depreciation data, our picks for the best Toyota Highlander model years to consider are the 2018 and 2017 years, and for an older model, the 2007.
The 2018 and 2017 model years are relatively new and have low complaints. Both scored perfectly on reliability (5 out 5) and performed well on the Consumer Reports performance road tests, which look at acceleration, transmission, fuel economy and brakes. Out of a potential score of 5 out 5, both received a 4 for acceleration, 5 for transmission, 2 for fuel economy, and 4 for brakes. Customer satisfaction scores were also above average for both the 2018 and 2017 years (3 and 4 respectively).
Because they are models that are just a few years old, you can really get a great deal because you have depreciation working in your favor. For instance, purchasing a model that is about 2 years old, you'd save about $17,000 compared to buying new. According to CarEdge, both the 2018 and 2017 model years offer a great value for someone who is looking to purchase a pre-owned Highlander that has lots of useful life remaining. With the 2018, you would pay on average about 67% of the price as new with 83% of its useful life remaining. The same is true for the 2017 – you would pay about 54% of the price as new.
2007 – If your budget is a little bit tighter and you are comfortable with an older Toyota Highlander, then here is the best deal on a Toyota Highlander. The 2007 model year is a great buy. For being more than 10 years old, it only has nine complaints that have been lodged against it and those complaints do not affect major components. The complaints are associated with the A/C and interior accessories. Out of all the Highlanders' model years, there is only one model year that received the carcomplaints.com seal of "Awesome," and that was the 2007 model. With a perfect reliability score of 5 from Consumer Reports and awesome customer satisfaction reviews, it's a solid choice that you can find anywhere from $5,650 to $7,425 depending on condition and mileage.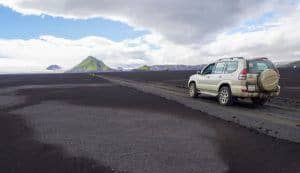 Toyota Highlander Years to Consider Avoiding
Although the Highlander has proven to be reliable, there are a few model years to avoid. They are mostly in the 1st generation so if you're tempted by the low price tags that hover below $5,000, we'd highly suggest that you have that first-gen model inspected before making the purchase. Most car shoppers aren't looking at vehicles that are nearly 20 years old, but it's worth mentioning. Below are the model years to avoid.
#1 Avoid: 1st Gen – 2003 and 2002
The 2003 model had the third most complaints out of the entire Highlander's history and because the most cited complaints deal with the engine, we're suggesting you look past this year. Carcomplaints.com labeled it the "Worst Model Year" because of the severity of the engine problems associated with the 2003 model at relatively low mileage. The most consistently reported problem dealt with the threads for the engine bolts being stripped, costing on average about $3,200 to replace. Other owners reported complete engine failure at a tune of $6,400, while others were plagued with subframe rust, which has been an issue in other Toyota models, like the Tacoma, Tundra and 4Runner. The average cost to repair rust will cost in excess of $3,700.
The 2002 should also be avoided. While it does not have nearly the amount of complaints as the 2003 model, its number one complaint is within the engine category too, with engine failure reported most often. When carcomplaints.com looked at all the complaints ever reported, the top 3 were affecting these two model years, and the 2002 was affected by two of the top 3:
#1: Threads for engine bolts stripped (2003)
#2: Engine failure (2002)
#3: Excessive oil (2002)
As a note, overall engine problems were the number one complaint for first gen models 2001 – 2006.
#2 Avoid: 2nd Gen – 2008
The 2008 model year was another year that also had high complaints (second to the 2015) with engine problems being the most commonly reported by owners. While this is a red flag, we'd like to note that the engine problems were not nearly as severe as those experienced in the first generation, but it is worth noting. With 74 total complaints and 30% of them associated with the engine, it should be avoided. Most commonly reported engine problems were knocks and rattles on cold start up, faulty rubber oil lines, the engine not starting, and timing chain leakage. Plus, since it is the first year of a new generation, it may be best to skip to the next year and let the automaker work its way through the first model kinks.
#3 Avoid: 3rd Gen – 2015
The 2015 has the most complaints thus far and for this reason, we put it on the "avoid" list. While the complaints are not major, there are quite a few of them. The most commonly reported issues affected the interior accessories, mostly dealing with uncomfortable seating and the audio system freezing up. Other issues that were reported were excessive wind noise, the power liftgate not working and issues related to the air conditioning system.
A Reliable Vehicle Deserves Reliable Coverage Too
Cars and SUVs are made to last longer, which means people are keeping their vehicles a lot longer than before. When owning a highly reliable vehicle like the Toyota Highlander, it's tempting to skip on extra protection like an extended warranty. Don't! We'd highly advise anyone who is driving a pre-owned vehicle, especially if the OEM is expired, to consider an extended warranty. Extended warranties have become more critical than ever before because they provide coverage in case a repair is needed.
Shop for an extended warranty with a trusted partner like olive that is just as reliable as your Toyota. For nearly 20 years olive and its affiliates have been providing coverage for vehicles in a consumer-friendly way. Get peace of mind with olive's Mechanical Breakdown Insurance.
Why Choose olive?
No waiting period
Start coverage up to 140,000 miles
No yearly mileage limits
Coverage across the U.S.
Manageable monthly payment options
Cancel anytime
The process is easy and completely online. You can get a quote today and be covered tomorrow. Best of all, our products, customer service and reputation for excellence have earned us an A+ rating with the Better Business Bureau, and we have partnered with some of the insurance industry's largest companies to back us. We're in the business of helping you live life covered!
Protect your ride with olive at https://olive.com/.