Subaru Forester Reliability
What you need to know about Subaru's Best Seller, including Subaru Forester Problems.
The Forester was Subaru's first real venture into the SUV market. In the '90s when SUVs were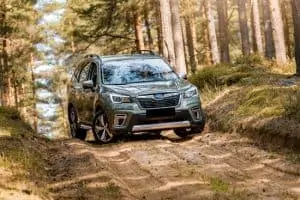 starting to take off, Subaru was competing in that market with the Outback, but then decided to make it official with the introduction of its first SUV, the Subaru Forester. It was one of the first crossover SUVs in the emerging crossover market. It was built like a car, but was taller and offered all-wheel drive like an SUV. To get the point across, Subaru advertised the Forester with the slogan: "SUV tough, Car easy." The slogan took off and worked incredibly well for the automaker, and it was exactly what American consumers were looking for at the time. The blending of car and SUV made it very popular and some might even say that it was the Forester that helped Subaru cement its presence in the U.S.
As part of Subaru's SUV lineup, the automaker has three SUV options – a subcompact, compact and midsize. The Forester is right in the middle. It is considered a compact SUV and a great option for consumers who want a Subaru, but not looking for a station wagon. It hits the sweet spot of being not too small and not too big – just right.
In its fifth generation, the Subaru Forester continues to be one of Subaru's best-selling models. Throughout the past decade it has always been in the top two in terms of sales, and has jostled with the Outback for the number one spot. However, in the past five years it has settled in at number two. But that changed in 2020 (again) when the Forester outsold the ever-popular Subaru Outback by nearly 24,000 units. We'll see if that trend continues into 2021.
Let's get into the Subaru Forester and see why this compact SUV is so popular with consumers. We'll dig into its reliability and sort through some common Subaru Forester problems to know about.
If you are considering buying a used car that has under 140,000 miles and is a 2012 model or newer, get a free quote for one of our "extended car warranty solutions".
100% Online, 9 Coverage Options and No Robocalls!
Are Subaru Foresters Reliable?
Subaru is known for producing safe, dependable and reliable vehicles that perform well both on and off the road. The Subaru Forester lives up to that reputation. According to RepairPal, it receives an above average reliability rating from the firm. The Forester received 3.5 stars out of 5, ranked 21 out of 26 compact SUVs, and is noted to have an average ownership cost when compared to all other vehicles.
Consumer Reports' predicted reliability tests show that the Forester performed well across the board. Its average 5-year reliability score is near perfect, earning a 4 out of 5 with Consumer Reports. The 2020 model year produced perfect scores in both categories, earning a 5 out of 5 points for its predicted reliability and owner satisfaction. And the 2021 model year scored well too, earning 4s for both its reliability and owner satisfaction.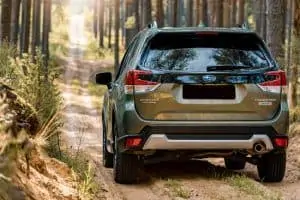 The research firm also ranked the 2021 Subaru Forester #1 in its compact SUV ranking. The Forester earned a high score of 89, beating out the #2 competitor by more than 5 points. And if that is not impressive enough, did we mention that it was competing against 21 other models?
To further underscore its reliability, the 2020 Subaru Forester received the highest possible safety rating from IIHS, making it a Top Safety Pick+ recipient. It also performed well in the IIHS crash prevention tests and received the firm's highest possible rating for front crash prevention.
The 2020 Subaru Forester also earned top marks from the National Highway Traffic Safety Administration (NHTSA), receiving its 5-Star Safety rating.
Below is data for the Subaru Forester reliability by year for the last five years, as noted by Consumer Reports.
Year Predicted Reliability Owner Satisfaction
2021 4 4
2020 5 5
2019 4 4
2018 5 4
2017 2 4
So if you're wondering: Is Subaru Forester reliable? The short answer is yes, however we recommend doing your own research to ensure that whatever vehicle you decide to make your own, you understand its reliability ratings, safety record and common repairs associated with the make, model and year. Being informed on these key reliability factors will put you in a better position to make the best decision for you and possibly help with car shopping negotiations.
Maintenance Costs
As you know, the price on the sticker tag isn't the only cost you'll need to account for when owning a vehicle. There is the cost of insurance, gas, maintenance and unfortunately repairs. Despite Subaru being a brand that has proven to be reliable, there inevitably will be a time when you have to take your Subie to the repair shop.
RepairPal has noted that the average total annual cost for repairs and maintenance for the Subaru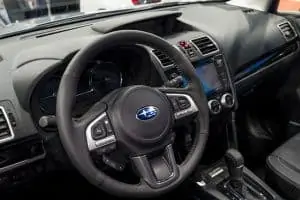 Forester is $632, compared to an average of $521 for other compact SUVs and $652 for other vehicle types. In terms of frequency and severity of those repairs, the firm estimates that Subaru Forester owners have to bring their vehicles into a repair shop about .4 times a year, compared to .3 times for its classmates. The probability of those repairs being a severe or major issue is 13% for the Forester, compared to an average of 11% for other compact SUVs.
While repair costs and severity are indicators of reliability, they are not the sole factors and that is important to keep in mind. Reliability also takes into account safety and total cost of ownership over time. Just because the Subaru Forester's cost to repair may be higher than its classmates, does not mean that it is less reliable than other compact SUVs. It just means that parts and labor may be more expensive because either they are specialized parts or most likely because it is a vehicle that is not fully produced in the U.S.
According to Kelly Blue Book, the 2020 Subaru Forester has the lowest 5-year Cost to Own numbers in its class, and it awarded the Forester with its Best Resale Value Award for 2020. ALG awarded the Forester with the ALG 2020 Residual Value Award because according to the firm's evaluations, it has the highest residual value in its class for six years running. ALG, which is now a part of J.D. Power, awarded Subaru as the Residual Value Award brand winner in its mainstream brand category.
Buying a Subaru Forester – New vs Pre-Owned Pricing
Whether you're looking at a new Forester or a pre-owned one, there are many options to choose from. There are currently five trim levels offered for the 2021 model year: Forester, Forester Premium, Forester Sport, Forester Limited and Forester Touring. The base model Forester starts at $24,795 and the most expensive of the bunch is the Forester Touring, with a base price of $34,895.
The Subaru Forester is a smart, practical compact SUV that can handle itself well both on and off the road. For the price, you get alot of standard features, including all wheel drive capabilities and loads of tech and safety features thanks to its EyeSight advanced driver safety system, which includes a rearview camera, lane keep assist, sway warning, adaptive cruise control, lane departure warning, pre-collision braking and throttle management to prevent a front collision. The compact SUV is not compact on the inside. It offers plenty of head and legroom, and leads its class with generous cargo space. It also includes an easy to use infotainment system, which includes standard features like Apple CarPlay and Android Auto.
If you're looking for a used one, note that the Forester was redesigned in2009, 2014 and 2019, so if body style and standard features are important to you, you'll want to take note of these redesign years and look more closely into the differences.
According to CarEdge, a research firm that analyzes vehicle depreciation, the Subaru Forester will depreciate about 47% after 5 years and have a 5-year resale value of $15,465, which is slightly above average when it comes to overall depreciation. If you were to purchase a pre-owned Forester that is 2 years old, you could save on average $6,400 as compared to buying new and still have plenty of useful life remaining. So purchasing used could be a wise investment.
According to the firm, the 2016 Subaru Forester is the best model year value. You'd pay on average 60% of the price as new and still have 67% of the vehicle's useful life remaining. The firm rates in terms of "best," "better" and "good." Other years to consider are the 2018 and 2015 models. Both are rated as "better" values by the firm. Below are model years stats you may find helpful for the used model years noted above. https://caredge.com/subaru/forester/depreciation
Year Depreciation Value Reliability Owner Satisfaction Average Price
2018 Better value 5 4 $17,000 – $23,900
2016 Best value 4 4 $13,625 – $17,875
2015 Better value 3 3 $12,000 – $15,525
If you do purchase a pre-owned model year, besides researching the specific year, we'd also recommend considering an extended warranty. An extended warranty could help protect your investment, especially if the model year you are looking at is no longer covered by the factory's original manufacturer's warranty. You can research and buy an extended warranty for your vehicle online with a trusted partner like olive®. Olive® specializes in vehicle extended warranties for consumers. Extended warranties for older and used Subaru vehicles are available at olive.com®.
Subaru Forester Problems
As you can imagine, all vehicle types will have problems that arise from time to time. We've checked into what those areas of concern are for the Subaru Forester. We know…consumers love the Forester. It's a dependable, safe and reliable compact SUV, so the below list is not meant to keep you from purchasing one, but rather give you insight into what other owners have reported and experienced to help give you the leg up when it comes to research. Here are the most commonly reported problems associated with the Subaru Forester as reported to RepairPal.
Faulty Front O2 Sensor – This issue is the most reported problem and unfortunately affected other Subie models, like the Outback. The front oxygen sensor has been noted to crack which results in the Check Engine Light illuminating. Subaru has recalled certain models to replace sensors that may fail. The Subaru program number is WXW-80. While a faulty O2 sensor is relatively not too expensive to fix, not addressing it can cause other issues and poor performance. A failed O2 sensor can result in inefficient fuel economy, an engine that idles roughly, and of course the Check Engine Light to go off, which is a sign that the engine is not operating efficiently. An O2 sensor checks the ratio of air and gas in your Forester's engine and as a result, the vehicle's computer adjusts appropriately. If the sensor is not working properly, then the computer does not know how to adjust, which will result in the above-mentioned symptoms. The cost to replace a faulty O2 sensor can run anywhere from $150 to $475. There were 15 model years affected beginning in 1998 at an average mileage of 134,373. Here are the specific model years: 1998, 2000 to 2014.
Failed catalytic converter – The Check Engine Light may illuminate because of low catalytic converter efficiency. The catalytic converter is located in the line of the exhaust between the engine and the muffler. Its purpose is to reduce emissions from the exhaust with an efficiency level required by each state to control pollution. If your converter is not working efficiently, it means that the unit can't sufficiently reduce the carbon emissions from the exhaust. As a result, the Check Engine Light comes on and even worse, if not addressed, it could cause you to fail your state's smog test if one is required. This issue has affected 15 model years at an average mileage of 116,389. Model years affected: 1999 to 2012 and 2014. The cost to replace the catalytic converter can be expensive and range anywhere from $800 to close to $2,000, however most have reported about $1,000 to $1,200 to fix.
Head gasket failure due to cooling system problems – The head gaskets fail at a high rate due to cooling system problems. If the cooling system is not properly working, it won't properly regulate the amount of heat in the engine. Head gasket failures are usually caused by repeated overheating or continuing to drive after the vehicle has overheated, so the best way to prevent a head gasket failure is to ensure your cooling system is in good condition. Subaru is aware of these issues and has extended the warranty period to 8 years/100,000 miles on many of its vehicles. The cost to replace the head gasket can be expensive, costing anywhere from $1,500 to $2,000. This issue, unfortunately, is not specific to the Forester, it also affected other models, including the popular Outback. There were 13 Forester model years affected as early as with the 1998 model year at an average mileage of 110,075 miles. Specific model years are: 1998 to 2005 and 2006 to 2011.
Engine misfiring due to oil in spark plug tubes – Oil leaks have been noted to develop from the spark plug tubes. Excess oil in the spark plug tubes can result in engine misfires and cause the Check Engine Light to come on. According to RepairPal technicians, removing the valve cover and replacing the tube seals and cover gasket is necessary to correct the issue. Oil-damaged spark plugs, ignition wires and ignition coils will also require replacement. The cost to replace these tubes can range anywhere from $150 to $500. There were 14 model years affected at an average mileage of 112,110. The affected model years are: 1999 to 2011, 2013.
Faulty spark plug wires – Owners reported that the Check Engine Light was illuminating due to bad spark plug wires. These spark plug wires are not as common as they once were, but older vehicles made in the last two decades will still have them. If they go bad, the engine will not perform as it should and can lead to engine misfires, which results in the Check Engine Light coming on. A faulty spark plug wire can cause several issues if not rectified. For one, the Check Engine Light will illuminate and your engine will run poorly because the wire is preventing the actual plug from firing properly, causing incomplete combustion. You may also experience increased emissions and poor fuel economy. Subaru released an improved spark plug wire set to solve the problem. The ignition coil should also be inspected for carbon tracks or short circuits between the contacts. The cost to replace could be anywhere from $180 to $250. There were 14 model years affected at an average mileage of 95,786. Model years affected: 1998 to 2010, 2012, 2014.
Get Peace of Mind
Protect your Subaru Forester with an extended warranty and get peace of mind that your ride will be protected.
Olive® is an insurance solution provider, specializing in vehicle extended warranties for consumers throughout the U.S., and in California specializing in Mechanical Breakdown Insurance (MBI). With lots of players in the extended warranty industry, olive® is a name you can trust. Olive® is shaking up the way drivers look at extended warranties. Get peace of mind with olive's Mechanical Breakdown Insurance.
Why olive®?
No annual mileage restrictions and coverage across the U.S. and Canada
No contracts – you can cancel anytime
Low monthly payments to meet your budget
No waiting period – buy today, and you're covered tomorrow
Backed by global insurer, QBE, with a consistent "A" rating from A.M. Best
A+ rating with the Better Business Bureau