Subaru CVT Transmission Problems – Are all Subaru Models Affected?
Subaru is a very popular auto brand in the U.S. and around the world. When it comes to buying a vehicle, reliability and safety are top priorities for many consumers. Subaru has consistently been recognized as a reliable brand, receiving numerous awards and consistently earning top scores for its predicted reliability. And with the introduction of its driver assisted safety technology, EyeSight, in 2013, consumers are even more inclined to buy another Subaru, or if they have never owned a Subaru, at least give it a look.
But as with all vehicle makes and models, there are inevitably some not-so-bright spots, and for Subaru, one of them is their CVT transmission, which it calls the Subaru Lineartronic Continuously Variable Transmission. Subaru seems to be very committed to continuing the use of the CVT transmission, and it has raised some eyebrows from many consumers as to why. Why would they continue to use such a "bad" transmission, one that has caused so many issues for so many consumers? Well truth be told, the CVT offers lots of benefits, and while yes, Subaru consumers have dealt with issues related to the CVT transmissions, the problems affected only certain models during a specific timeframe.
We'll look at how reliable the Subaru CVT transmission is and checkout Subaru's CVT reliability scores from Consumer Reports. We'll also dig into the Subaru CVT problems that have been encountered and see if there is still a problem with Subaru CVT transmissions so that you are able to form your own opinion about whether purchasing a Subaru is right for you. If a CVT is not for you, that is fine, but you should know that as of 2014, Subaru's entire lineup of all wheel drive vehicles are now outfitted with a CVT. There are some exceptions, like some of its sports cars, but for the most part Subaru is now exclusively using its CVT in its all-wheel drive offerings.
If you are considering buying a used car that has under 140,000 miles and is a 2012 model or newer, get a free quote for one of our "extended car warranty solutions".
100% Online, 9 Coverage Options and No Robocalls!
The CVT Transmission
In the auto industry, Japanese brands tend to use CVTs more than European and U.S. brands.
Subaru was an early adopter of the CVT transmission when it introduced it in the Subaru Justy in 1989. Since then, Subaru has continued to use this style of transmission.
What is a CVT?
CVT stands for continuous variable transmission. It uses a heavy-duty steel belt or pulley system which allows gears to move in a continuous, smooth motion. The Subaru continuously variable
transmission uses a steel chain connecting pulleys that vary in width, with no fixed gears. Inside the vehicle, the controls are the same. There are two pedals (no clutch) and a P-R-N-D-L-style shift pattern, but instead of gears, there are two pulleys that can vary in width, and a steel belt that connects them. By getting narrower or wider, these pulleys change the relationship of engine speed to car speed. And because these pulleys can vary their width infinitely, they are "continuously variable."
Why Does Subaru Stick with the CVT?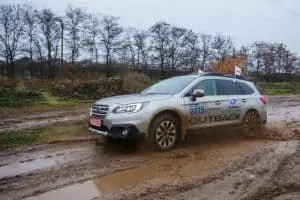 If you're wondering why Subaru continues to use the CVT transmission despite all the problems it has had with them, it's because the benefits outweigh the issues. And with Subaru's continued commitment to continuous improvement, it makes sense to stick with the CVT as it offers tremendous benefits.
Because it does not use gears, like traditional manual or automatic transmissions, a smoother ride is a touted benefit. It doesn't have to contend with switching gears, which not only provides a smoother ride, but also a quieter ride. And because of how the pulley system is designed, it allows for a CVT-powered vehicle to accelerate with power. To many, a CVT transmission means a smooth and powerful drive. But the biggest advantage of the CVT is more fuel efficiency. This type of transmission allows the engine to operate longer at lower speeds than a traditional automatic transmission, which equates to better fuel economy.
The CVT is great for city driving because it offers fantastic fuel efficiency. And with the powerful CVT, Subaru is able to maximize the best of two worlds – fuel economy and a quicker, more responsive acceleration. This is made possible because the CVT's gearbox is lighter in weight, so it can deliver better power and fuel economy than a standard automatic transmission would. Since the CVT is lighter, it works great with vehicles that are lighter as well, making it a great transmission choice for Subaru's smaller all wheel drive models like the Forester, Outback and Crosstrek. These models are perfect candidates for a CVT transmission.
Subaru CVT Reliability
Many Subaru consumers have experienced issues with their CVT transmission and would not give it a thumbs up for reliability, but the issues associated with Subaru's CVT seem to be isolated to a span of about five years. Now we understand that over five years, that is a lot of Subarus that were sold, but we wanted to provide some perspective.
When it comes to reliability, Subaru has a great track record. Overall Subaru earns an above average reliability rating from both RepairPal and Consumer Reports. And as part of Consumer Reports' road test, it looks at the transmission specifically. When we looked at the brand's most popular models – the Outback, Forester, Crosstrek, Legacy and Impreza – Subaru's CVT transmission scored very well. Across the models and throughout the past decade, none of those models received a score of less than a 4 out of 5 for its transmission predicted reliability.
And to provide more confidence, newer Subarus have updated CVT technology and software, so they have been noted as very reliable. Will a newer Subaru experience transmission issues? While we cannot definitively say that they will not, the propensity is less likely.
CVT Problems and Model Years Affected
Select Subarus experienced issues with the CVT and were prone to problems. To account for these issues, Subaru extended its powertrain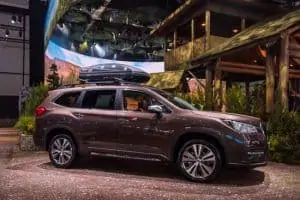 warranty (5 years/60,000) in 2017 and nearly doubled it to cover problems with its CVT transmissions. The extension now covers CVT transmission issues for 10 years or 100,000 miles, whichever comes first. The extended warranty was offered to Subarus that were produced between 2012 and 2017, impacting more than 1.5 millions vehicles. The models that are part of this extended warranty are the Subaru Legacy, Outback, Forester, Impreza, Crosstrek and WRX.
Many consumers feel that the issues were so severe that Subaru should have done a recall, rather than extending its warranty. Subaru opted for the latter and while that may not be the best outcome for all consumers who experienced CVT issues, it does say that in some part Subaru did acknowledge the issue and was ready to address the fix (if the issue occurred before 100,000 miles or 10 years).
The models and years that were affected mainly by transmission issues are:
Crosstrek, 2013 – 2015
Crosstrek Hybrid, 2014 – 2015
Forester (2.0 and 2.5 liter engines), 2014 – 2015
Impreza, 2012 – 2015
Legacy, 2010 – 2015
Legacy 3.6L V6, 2015
Outback, 2010 – 2015
Outback 3.6L V6, 2015
WRX 2.0, 2015
CVT Problems Experienced
Regardless of the model or year, below are the most commonly reported issues with respect to the Subaru CVT transmission.
Stalling – Owners complained that the vehicle would stall out and come to a sudden stop. Others experienced stalling while driving without the ability to turn the vehicle back on.
Shuddering, Shaking and Bumps – If a CVT belt or pulley is not working properly, it can cause the car to shake or shudder, which was experienced by consumers throughout the years and models.
Knocking and Jerking – Another common problem were loud noises, such as knocks and jerking. Some owners reported loud thud noises coming from the transmission area too.
Hesitation – The car not wanting to get going was consistently noted. Owners complained that their Subaru would not "go" when the gas pedal was pressed or would hesitate or pause for a moment after the gas pedal was engaged.
Fluid Seepage – A very common issue seen was related to fluid leaking or seeping out of the CVT transmission. Two Technical Service Bulletins were released by NHTSA in relation to this issue as it related to its CVT clamps and CVT seals. According to research, the seepage is caused by the actual sealant used on the CVT's oil pump chain cover and the input shaft oil seal.
https://static.nhtsa.gov/odi/tsbs/2019/MC-10166902-0001.pdf

Cost to Fix a CVT Subaru Transmission
The cost to repair a transmission, whether CVT or not, can be quite expensive. The transmission is a complex component and the price to address a specific issue will depend on the issue itself. Repair costs can vary widely depending on the make, model and the extent of the damage. If you suspect you are experiencing transmission problems, we recommend getting your Subaru checked out immediately by a mechanic who is certified to work on Subarus.
If your Subaru is less than 10 years old, then it may be covered under the Subaru Extended warranty if the model and year are noted as part of the extension. Affected vehicle owners were notified by Subaru of the warranty extension in July 2017. If you are not sure if your Subaru is included, we recommend calling the dealership so that they can lookup your Subaru's VIN.
If you are not covered by the Subaru extended warranty or an extended warranty of your own, then you can expect to pay anywhere from $1,000 to $2,500 for "minor" transmission repairs. If you are having to replace your CVT, then you could be looking at thousands of dollars, somewhere in the range of $7,000 to $8,000.
Get Peace of Mind with olive®
Transmission issues can be quite expensive and really put a dent in your wallet. If you own an older Subaru that is no longer covered by the factory warranties, we'd recommend getting peace of mind by investing in an extended warranty solution – either mechanical breakdown insurance or a vehicle service contract.
Extended warranties on pre-owned vehicles have become more critical because they provide coverage in case a repair is needed. In general, below is an example of items covered under extended warranties.
Steering System
Electrical Components
Engine Assembly
Drivetrain
Transmission
Exhaust Systems
Alternators, Manifolds, Pumps
Heating and Cooling Assembly
Introducing olive®
olive® is shaking up the way drivers look at extended warranties. For nearly 20 years our company and its affiliates have been providing coverage for vehicles in a consumer-friendly way. Get peace of mind with olive's Mechanical Breakdown Insurance or a Vehicle Service Contract.
Why Choose olive®?
No waiting period
Start coverage up to 140,000 miles
No yearly mileage limits
Coverage across the U.S.
Manageable monthly payment options
Cancel anytime
You can get a quote today and be covered tomorrow. Best of all, our products, customer service and reputation for excellence have earned us an A+ rating with the Better Business Bureau, and we have partnered with some of the insurance industry's largest companies to back us. We're in the business of helping you live life covered!