Ideas for Your Route 66 Road Trip Adventure
Beginning in downtown Chicago and going through cities like Albuquerque, Tulsa, Oklahoma City, St. Louis, Santa Fe, Flagstaff and Los Angeles, it ends at the Santa Monica Pier in California. The adventures that Route 66 has to offer have been sung about, written about and dreamed about.
The perfect "road trip" for many, Route 66, established in November 1926, is also known as Will Rogers Highway. It was "declassified" as a U.S. Highway in June of 1985, but over 85% of the original highway have been well preserved and are still drivable today .
The "Route 66 Centennial Commission Act" was signed by our President in December of 2020. This legislation created a commission with members – one each for the eight states along what was originally U.S. Highway 66. The commission works to secure funds to support the continued preservation of Route 66 and will guide the way to honor "the Mother Road" for her 100th anniversary in 2026.
Old timers often referred to this road as "Bloody 66" or the "Trail of Tears" because of the once ill-engineered, narrow and twisty road caused multiple and horrific auto accidents. A Joplin Globe newspaper story recounted: "In one bloody nine-month period in 1941, the area in central Missouri saw 454 accidents on that highway. 54 people died, including 19 U.S. soldiers, between January and September of that year."
That awful memory has luckily faded for most of the public and been replaced with the fun and adventurous brand of "get your kicks on Route 66!" thanks to the Nat King Cole's hit from 1946 composed by jazz musician Bobby Troup. (Although, a infamous section called Dead Man's Curve still survives for travelers to see today.)
Known as America's Mother Route and The Main Street of America, Route 66 is not our country's longest road, as most people believe. That is Route 20, known as "the Big Daddy" . It stretches from Boston Massachusetts, to Newport, Oregon. This epic road trip will take you through 12 states and across 3,365 miles of road.
The attractions "worth a stop" along the 2448 mile Route 66 include: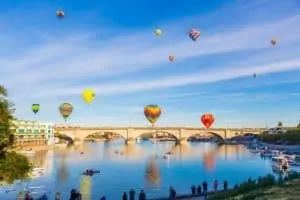 London Bridge in Lake Havasu City Arizona
Built in the 1830s, this London Bridge nearly did fall down. While in the area, enjoy golfing, jet boat tours, flyboarding/water jetpacking and watercraft rentals. Visit Ru Gallery and Bill Williams River National Wildlife Refuge.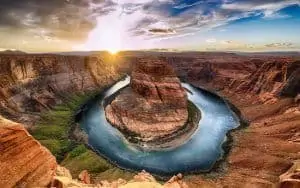 Grand Canyon
One mile deep and 18 miles wide, layered bands of colorful rock reveal millions of years of geologic history. The vistas from the canyon's rim are breathtaking!
The Petrified Forest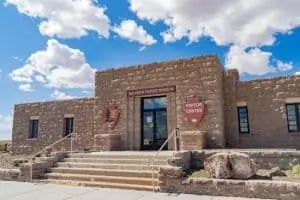 Like no forest you've ever seen, this is home to the Rainbow Forest Museum with paleontology exhibits and trail access. In the park's center are petroglyphs and ruins of the Puerco Pueblo village. The Petrified Forest is named for the rainbow-hued trees that have completely turned to stone during the last 225 million years.
Cadillac Ranch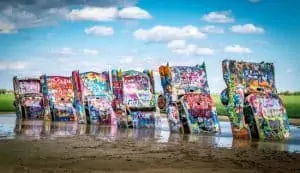 Located in Amarillo, Texas, this public art installation of 10 half buried Cadillacs, nose-first in the ground and covered with colorful, interesting graffiti.
Los Angeles, California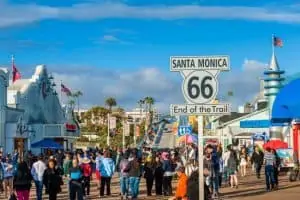 Known for its Mediterranean climate, and the Hollywood entertainment industry. It lies in a basin adjacent to the Pacific Ocean, with mountains as high as 10,000 feet and deserts. This huge metropolitan area offers tourists the Los Angeles Zoo and also a botanical garden with a renowned collection of native plant species. Los Angeles is also home to the largest historic theatre district.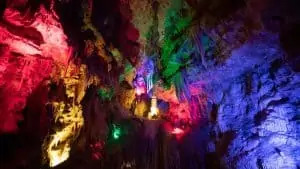 Meramec Caverns
Located in the Ozarks of Missouri these beautiful limestone caves were home to pre-Columbian Native American tribes. The "greatest show on earth" and "The Mirror Room" shouldn't be missed!
The Gateway Arch in St. Louis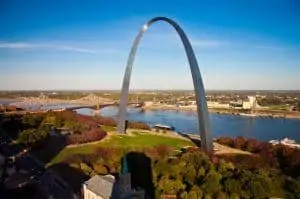 Near the starting point of the Lewis and Clark Expedition, the arch stands in honor of Thomas Jefferson's role in opening the west to pioneers. You can take a tram ride up to the 630 feet top.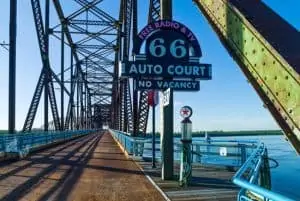 Chain of Rocks Bridge
Featuring a hard-to-forget 30 degree bend in the middle of the bridge. Walk it or ride a bike.
Wigwam Village in Holbrook Arizona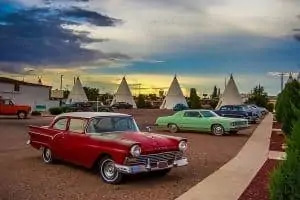 Built in the 30s and 40s, this hotel is built in the form of teepees. You've never stayed anywhere like it!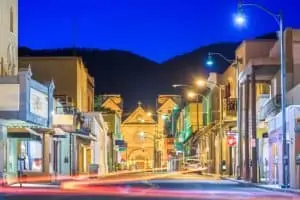 Santa Fe, New Mexico
Renowned for Pueblo-style architecture and as a artist hotbed. Santa Fe was originally founded as a Spanish colony in 1610. The historic district's crooked streets wind past adobe landmarks including the Palace of the Governors, now home to the New
Plus, remember – these are just a few of the attractions you might be interested in. Route 66 goes through NUMEROUS towns, cities and hamlets. Click here to plan your road trip of a lifetime. (https://www.theroute-66.com)
This legendary route travels across eight states and through three time zones and there truly is something for everybody.
So as the song says,
"If you ever plan to motor west,
Travel my way.
Take the highway
that's the best.
Get your kicks on Route 66!"