Nissan Pathfinder Reliability, Common Problems, Best Deals and Best Years
Nissan Pathfinder is a strong contender when you're shopping for a midsize, three-row SUV. It comes loaded with many state-of-the-industry technology and safety features and offers generous space for both cargo and up to 8 passengers. Additionally, owners found the Nissan Pathfinder enjoyable, easy to drive and also commented that its infotainment system was user-friendly. The Nissan Pathfinder's rivals include – but is not limited to – vehicles like the Ford Explorer, Dodge Durango, Hyundai Palisade, Mazda CX-9, Honda Pilot, Chevrolet Traverse, Toyota Highlander, Kia Telluride, GMC Acadia and the VW Atlas (see all 24 midsize SUVs rated for 2021 at https://cars.usnews.com/cars-trucks/rankings/midsize-suvs)
Although it's MSRP is a bit higher than the others, overall it looks and feels a bit more "chichi" than its price tag suggests.
The Nissan Motor Corporation skipped manufacturing the Pathfinder for model year 2021 and has the Nissan Pathfinder fully redesigned for 2022, featuring an upscale interior, exceptional driving dynamics, a rugged, modern exterior plus many of the most wanted high-end safety and tech features. Caranddriver.com reports," While the 2022 Pathfinder retains the 284-hp 3.5-liter V-6 from the previous generation model, it drops the continuously-variable automatic transmission (CVT) in favor of a new nine-speed automatic. Front-wheel drive is standard but all trims can be equipped with all-wheel drive."
Looking at the past model year produced, the 2020 Nissan Pathfinder racked up the highest score available in safety ratings for both NHTSA (National Highway Traffic Safety Administration) and IIHS (Insurance Institute for Highway Safety). It received a perfect 5 star rating in the following tested areas: combined side barrier and pole (rear seating), side barrier driver protection, sider barrier rear passenger safety, and overall side pole rating. There were only three areas that held the Pathfinder back from obtaining a perfect safety score: rollover rating, overall front and front driver side ratings. The Nissan Pathfinder scored only 4 out of 5 stars in these three categories. Even those lower scores were still "above average"; so one can clearly assume that the modern-day Nissan Pathfinder is a safe vehicle.
If you are considering buying a used car that has under 140,000 miles and is a 2012 model or newer, get a free quote for one of our "extended car warranty solutions".
100% Online, 9 Coverage Options and No Robocalls!
Nissan Pathfinder Reliability – How Reliable Is It?
When people ask, "Are Nissan Pathfinders reliable?" we must first look at which model year Pathfinder they are asking about specifically, as each model's score can vary.
To illustrate reliability in each of the late-model years, the following list shows the US News and World Report ratings and rankings based on evaluation from multiple data elements from various sources including the critic's rating, performance, interior, total cost of ownership, safety and, listed separately for your review, reliability.
How Reliable is a Nissan Pathfinder?
2020 Nissan Pathfinder rating:6.9 out of 10
Reliability: 2.5 out of 5
Rankings: #20 in affordable midsize SUVs / #55 in affordable crossover SUVs / #24 in SUVs with 3 rows
2019 Nissan Pathfinder Ratings: 7.4 out of 10
Reliability: 3 out of 5
Rankings: #18 in affordable midsize SUVs / #36 with affordable crossover SUVs / #18 in affordable SUVs with 3 rows
2018 Nissan Pathfinder rating – 7.7 out of 10
Reliability: 3 out of 5
Rankings: #14 in affordable midsize SUVs / #36 affordable crossover SUVs / #17 in affordable SUVs with 3 rows
2017 Nissan Pathfinder rating – 7.5 out of 10
Reliability: 2.5 out of 5
Rankings: #16 in affordable midsize SUVs / #28 affordable crossover SUVs / #18 affordable SUVs with 3 rows
2016 Nissan Pathfinder rating – 7.3 out of 10
Reliability: 2 out of 5
Rankings: #16 affordable midsize SUVs / #36 in affordable crossover SUVs / #19 in affordable SUVs with 3 rows
2015 Nissan Pathfinder rating– 7.3 out of 10
Reliabilty: 2 out of 5
Rankings: #15 in affordable midsize SUVs / #31 in affordable crossover SUVs / #17 in affordable SUVs with 3 rows
For additional information regarding these scores and how they were obtained, visit https://cars.usnews.com/cars-trucks/nissan/pathfinder.
Below you will find a list of a few of the problem areas that were taken into consideration when ratings were handed out. Reported by Pathfinder owners, here are a few items that you might want to pay attention to, if you're considering buying a used Pathfinder Nissan.

What Are Common Nissan Pathfinder Problems?
2011 Nissan Pathfinder Problems
Noise was reported originating from the front of the engine. It was also noted by owners that they experienced engine stalls or engine not starting. The check engine light illuminated but it was found to be a minor issue and was simply due to faulty fuel level sensor.
2012 Nissan Pathfinder Problems
Owners complained that the engine didn't turn over. It was discovered that this was due to starter relay failure. Additional complaints involved transmission problems, erratic idling, and the "noise from the front of the engine" issue continued to plague Nissan Pathfinder owners.
2013 Nissan Pathfinder Problems
Engine cranking issues continue as does noise from the front of the engine. Check engine light came on due to failed EVAP canister vent valves. Stalls and / or misfires due to failed mass air flow sensor were reported. Owners commented that the timing chain rattled and that they experienced a tapping noise. Erratic or high idle after cleaning throttle body was another complaint owners reported. Comments like "unrefined transmission" and "meager passing power" contributed to the low reliability rating.
2014 Nissan Pathfinder Problems
A large number of Nissan Pathfinder owners reported that the check engine light came on due to a faulty fuel level sensors – again, a minor problem and easily fixed. There remained reports of noise coming from the front of the engine and a rattle and tapping noise from the timing chain. Erratic or high idling was reported in this model year, as well. "Sluggish acceleration" was cited.
2015 Nissan Pathfinder Problems
The majority of the reported issues were consistent with previous reports, although there were less problems reported overall. Negative comments included items like "noisy engine under hard acceleration" and complaints not related to engine reliability such as "fewer safety features than rivals".
2016 Nissan Pathfinder Problems
Repairpal.com says there were only 3 issues that owners logged complaints on: Check engine light due to faulty fuel level sensor, timing chain noise and erratic idling. Cons included "noisy CVT when accelerating hard".
2017 Nissan Pathfinder Problems
Transmission problems showed up as delays in shifting, grinding when accelerating, noises and burning smells were reported coming from under the hood. Even with these reported problems, this is the model year that copilotsearch.com states as the Pathfinder's best. There were negative reports of "rough ride quality" and "dull driving dynamics", but those were simply opinions.
2018 Nissan Pathfinder Problems
The 2018 Nissan Pathfinder model year reported problems with the powertrain. The NHTSA reported complaints that were summed up as "When driving at differing speeds, the transmission reduces, then stops applying power to the wheels, acting as though it's in Neutral." It was also reported that this model year had a "jittery ride on pavement".
2019 Nissan Pathfinder Problems
The most common problems were seemingly minor issues: continued complaints/reporting show check engine light appearing due to senor failure, on-going front engine noise and no-start and stalling problems made up the majority of the complaints registered. However, the 2019 Pathfinder finished near the bottom of the midsize pack NOT due to reliability, but because of reports of "stiff ride", "uncomfortable rear seats", and "small cargo hold".
Nissan Pathfinder Transmission Problems
Although the Nissan Motor Corporation reports that their midsized crossover SUV is "packed with power", the Pathfinder has seen its share of issues, including problems with the transmission system.
About the Nissan Pathfinder Transmission
According to CarComplaints.com, a major issue with the Nissan Pathfinder is the failure of the transmission to engage. For those of you who are new to this online automotive resource, founded in 2000, CarComplaints.com uses graphs to point out a vehicle's defect patterns, based on data obtained from actual CUSTOMER COMPLAINTS and submitted by visitors to their site.
How to fix Nissan Pathfinder's Transmission Problem
The Nissan Pathfinder's transmission issues are considered a major or severe repair because it usually required the replacement of the entire transmission system with an average cost of between $4000-$4600 to fix the problem. This "really awful" issue (customer's words, not ours) was reported to occur between the 90,000 – 102,000 mile mark. There was a recall regarding this issue in 2010, but the Nissan Motor Corporation didn't cover the repair costs, in most cases.
When researching information about the Nissan Pathfinder transmission problems, it will again be helpful to review the actual model year of interest, and not just the Pathfinder in general or only the current year's reports.
Does the Nissan Pathfinder have a CVT Transmission?
The simple answer is "not anymore". Past models of the Nissan Pathfinder utilized continual various value timing (CVT) on all valves; both intake and exhaust, but that engine was discontinued.
Nissan Pathfinder CVT Problems
Nissan Motor Corporation put CVT transmissions in several of their models between the years 2012 to 2018. Defective Nissan CVT transmissions were reported in more than just the Pathfinder; these engines could be found in the Nissan Sentra, Quest, Versa, Versa Note, Altima, Rogue, Juke, Maxima and also the Nissan Murano.
CVT transmissions were designed to last for the same amount of time that standard automatic transmissions were designed for; 100,000 miles being the life expectancy of each. The Nissan CVT transmission issues were apparently caused by an inadequate cooling system that caused it to overheat. The excessive heat sent the vehicle into "safe mode," limiting the engine power and reducing RPMs to try and prevent engine damage. Replacement on faulty equipment could run anywhere from $4000 – $7000. Again, customers went to their dealers and even the Nissan Motor Corporation seeking help with the issue, but to no avail. This problem was so extensive, there was a class action lawsuit filed.
As a side note: It has been suggested that if the CVT fluids are changed every 40,000-50,000 miles the life expectancy of a CVT can be extended. But, you should know that the fluid used in a CVT transmission is expensive.
Nissan Pathfinder Engine
Into its fifth generation, the 2022 Nissan Pathfinder engine specs are, as previously noted: 3.5 liter V6 gasoline engine with a 9-speed ZF 9HP automatic transmission. This new transmission replaces the previous CVT transmission.
Nissan Pathfinder Diesel Engine Problems
Initially, Nissan Motor Corporation offered its Pathfinder model with a choice of a gasoline or a 2.5 liter, 174 HP diesel engine. The Pathfinder's mid-life facelift in 2010 introduced a more powerful version capable of delivering 190 HP. That was again upgraded to 230 HP. But atlas, although favored in Europe for the fuel cost savings and once considered a good engine, the TD27 was notorious for a spectacular lack of power. The option of a turbocharger came in November 1988. This "new and improved" feature was plagued with problems such as engine overheating and continuing lack of power. There was concern that the engine would not pump oil (even when the oil pump had been replaced). And, the turbo TD27 had many complaints about leaks occurring within the turbo seals, as apparent when hearing a high pitched whistling noise coming from the engine upon acceleration.
Nissan no longer offers a diesel engine in their U.S. Pathfinder models.

How Much is a Nissan Pathfinder?
The new 2022 Pathfinder has a starting price tag of $33,210. This is just slightly higher than the average cost for other vehicles in this same midsized SUV category. If you are considering purchasing the Pathfinder's midrange SV and SL trims, the price will increase to $36,200 and $39,590, respectively. The Nissan Pathfinder's top-of-the-line platinum trim package starts at $46, 190.
In comparison, the 2020 MSRP (remember, there was no 2021 model year for the Pathfinder) started at $31,980.
But there is more to cost than just the sticker price. One must also consider the annual cost for maintenance.
The average cost to maintain a Nissan Pathfinder is estimated at $542. This compares to $651 annually for other makes and models within the same category, so speaking straight from the hip (where your wallet lives!) the Nissan Pathfinder is substantially cheaper to maintain.
Even with this low annual maintenance amount in mind, Forbes.com lists the Nissan Pathfinder in the top 25 cars that you want to avoid at all costs. In what is now the most competitive car segment in the market, they claim that the Pathfinder has no exceptional abilities. Other negatives included poor acceleration. But the biggest negative they discuss is that the resale value of a Nissan Pathfinder. They claim that it holds only 44% of the original purchase price value after 3 years, and just 28% after five years.
Other Nissan Pathfinder Costs to Consider
Additionally, things to consider when you are researching the costs involved in owning a Nissan Pathfinder include: gas mileage, insurance, what are the standard safety features and what driver-assisting technologies, infotainment system , etc. are included in the price. Another "must know" that you might also want to look at is the severity and frequency of needed repairs.
Repairpal.com confirms that the probability of a repair being a major issue is 15%. when talking about the Nissan Pathfinder. 13% is the average for other midsize SUVs. The severity rating is 12% for all other vehicle categories.
Also to be considered: Nissan Pathfinder owners only had to take their vehicles in for unscheduled repairs an average of .4 times per year. That's scores a "not often" for this category. For comparison purposes: you should also know that other midsize SUVs, as well as all other vehicles, also averaged a .04 time annually in the frequency of needed repairs category. But again, the cost for these repairs in the Nissan Pathfinder were less than both comparable midsize SUV vehicles, as-well-as all other vehicles on the market.

What is The Best Year for Nissan Pathfinder?
The 2017 model year is considered to be the best year for the Nissan Pathfinder based upon value vs. performance. Other features were undoubtedly considered: price, comfort/luxury, technology offered, etc. The Nissan Pathfinder started out as a SUV Off-Road vehicle but became more of a midsized crossover SUV, once it incorporated a smoother suspension and more interior amenities.
As the "middle child" to the smaller Nissan Armada and the big brother Nissan Rouge, this family-friendly crossover finds itself with a lot of competition from other popular automobiles. So if you're a shopper you have a lot of research to do and many other makes to consider!
Summary for the Nissan Pathfinder
The Nissan Pathfinder is a star player when you are talking about a safe and robust vehicle. Since its beginning in 1985, it has undergone major upgrades in both styling and the actual vehicle classification. What started out as a compact SUV, matured in 2012 into a midsize crossover SUV… and it has never looked back.
There are always two sides to every story though. Fans of the Pathfinder offer pros like a cushy cabin experience and its 6,000 pound towing capacity. These are offset by negative comments like "boat-like" handling and small third row seating. Some say that the Nissan Pathfinder was once a well respected off-road vehicle but is now just a ho-hum crossover. When Nissan originally designed the Pathfinder specifically with off-road and towing capabilities, they sacrificed its on-the-asphalt handling. Knowing this, it makes sense that some might feel that the Pathfinder handles poorly.
As you leave the asphalt behind and head off-road, the story has a much happier ending. The Nissan Pathfinder can pull (almost) anything, and is tough enough to get you out of almost any situation safely.
Regardless, as we have all been told, it's not all about looks and you can't have it all. Although it's what's inside that matters, and when you're talking about the Nissan Pathfinder, prior to the 2022 model, it's what's inside, under the hood and the other special features that count the most. After the new exterior redesign, the Nissan Pathfinder is an attractive vehicle, both inside and out.
Want
the right tool to
navigate your extended warranty options for your 4runner
?
Check, Check – Rugged and Reliable
Reliability is a very important consideration when purchasing a new or pre-owned vehicle, so let's answer the question, specifically for the 4Runner. Is the Toyota 4Runner reliable? Yes! The 4Runner has consistently received awesome reliability ratings year over year, and you can count on it to last a very long time, like into 6-digit mileage figures.
We consulted RepairPal to get a look at some of the 4Runner's stats. The 4Runner's Reliability Rating is above average, scoring a 4 out of 5, ranking it 9th out of 26 other midsize SUVs. It scores better than other midsize SUVs, which average a 3.5 Reliability Rating.
And according to a study conducted by automotive research firm iSeeCars.com to see which vehicles are most likely to last longer than 200,000 miles, the Toyota 4Runner ranked in the Top 15 (#8) for all vehicle types, and number 3 when compared to all other SUVs. According to the data from the firm, 3.9% of 4Runners last longer than 200,000 miles and are well above the average of 0.9%. Kudos to Toyota – on the Top 15 list, Toyota had seven models rank well, including the Toyota Land Cruiser, Sequoia, Highlander, 4Runner, Tundra, Avalon and Tacoma. https://www.iseecars.com/longest-lasting-cars-study#v=2020
Maintenance Costs
While the 4Runner is a reliable SUV, it will inevitably need to visit a repair shop from time to time. According to RepairPal, the average total annual cost for repairs and maintenance on a Toyota 4Runner is also lower than its classmates, $514, compared to an average of $573 for midsize SUVs and $652 for all vehicle models.
When looking at the frequency and severity of repairs, the 4Runner does well there too, with frequency being noted as "not often" and severity being listed as "not urgent." Toyota 4Runner owners have to bring their vehicles into a repair shop for unscheduled repairs an average of 0.4 times per year, which is the same when compared to other midsize SUVs, as well as for all vehicle models. The probability of a repair being a severe or major issue is 13% for the Toyota 4Runner, compared to an average of 13% for midsize SUVs and 12% for all vehicle models.
What is the Best Toyota 4Runner Model Year?
When shopping for a used 4Runner there are plenty of great options. Usually, we're able to determine the "best" model year by looking at the data –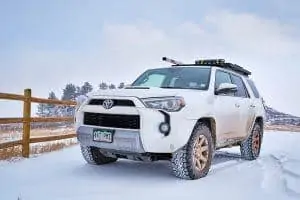 sifting through reliability scores, performance factors and digging into the complaints, but when it comes to the 4Runner, there isn't just one best (or even two or three) because if truth be told, Toyota really outdid themselves with the 4Runner. Over the past 10 years, and even 20 years, reliability scores have been consistently exceptional and the same can be said for customer satisfaction scores – consistently receiving above-average approval from owners. In terms of complaints, the numbers are low. In fact, so low that you may think that there is an error, but nope there isn't. It's a testament to how well-built the 4Runner is, and as a result its legendary reliability is showing up in terms of few complaints and praises from its drivers. Really, determining the "best" 4Runner model year is going to come down to your personal preferences and budget. Because 4Runners continue to sell so well, they can be more expensive than other SUVs that are the same age, so with this in mind, we've identified a few model years that have stood out over the past 15 years.
5th Gen: 2017 – 2019 | 2010 – 2013
If you want to get into a "newer" 4Runner then model years 2019, 2018 and 2017 are good choices. Yes, the price tag is still more than $25,000, but there isn't too much difference between these years and latest 2020 and 2021 models, so you can save some money, while taking advantage of the latest body style, tech and safety features. By purchasing a used 4Runner that is about two years old, you can save about $8,200 compared to buying it new and still have a relatively new model with plenty of useful life remaining.
According to CarEdge, an automotive firm that studies vehicle depreciation, the 2019 Toyota 4Runner is its top pick for the best model year value for the 4Runner because you only pay, on average, 83% of the price as new, with 92% of the vehicle's useful life remaining.
https://caredge.com/toyota/4runner/depreciation
Model years 2010 – 2013 are still a part of the 5th generation, but because they are older, they are less expensive. You can buy a 2010 or 2011 for less than $15,000. And since the 4Runner is rated as one of the best SUVs to take you well beyond 200,000, they still have plenty of life left. These model years received a lot of upgrades from the previous models, so you're likely to find off-roading features like crawl control, as well as several terrain modes. Beginning in 2010, many more trim options were offered too.
4th Gen: 2007 and 2008
The 2007 and 2008 are being called out because not only did they receive perfect reliability scores, but they also have relatively low complaints for being nearly 15 years old. It's also easier to find one for less than $10,000, possibly even less than $9,000, depending on what you're after. The other standout for this generation is that it is the only generation that offered a V8 engine, so if you're looking for a more powerful ride, then the fourth-genners are right up your alley.
As with any used vehicle, you're going to want to have the vehicle inspected by a mechanic, preferably one that is certified to work on Toyota 4Runners, before you sign on the dotted line. And because we can't predict the future, we'd also recommend purchasing an extended warranty too. We know that the 4Runners are reliable and long-lasting, but in the event that an unexpected repair is needed, it's good to be protected so that you're not shelling out cash out of pocket. Shop extended warranties with a trusted partner like olive® at https://olive.com/.
Toyota 4Runner Years to Avoid (Or what to look out for)
5th Gen: 2015
As we've mentioned previously, there are lots of great older 4Runner options, but the 2015 should be avoided, or at the very least, seriously inspected before considering it to buy. While the 2015 had the most complaints than other five-genners, they are still relatively low and nowhere near the amount associated with the 2003 through 2005 models, which we'll discuss later. We mention the 2015 model year because out of all the models ever made, it is the only year where owners reported issues with the airbags. The airbags did not deploy consistently, making this complaint the 4Runner's overall second worst issue and a major safety concern. The average cost to repair is $9,000 at an average mileage of 15,000 miles. So we'd recommend avoiding this year or at the very least putting it through a very rigorous inspection if you're considering purchasing the 2015.
4th Gen – 2003 – 2005
Bar far, these model years – 2003, 2004 and 2005 – had the most complaints and should be avoided if you have the choice. Carcomplaints.com labeled the 2003 year as the "worst model year ever," but to clarify, none of the 4Runners are really that bad. In fact, carcomplaints.com awarded all three years their seal of "Awesome," which is confusing we know. Let us explain: these model years should be avoided because they are just not as good as other model years. They are not bad at all, just others are better. Carcomplaints.com noted on their website that "although the 2003 model year is the "worst" model year for the 4Runner, it's not really bad at all – mainly it's just that other 4Runners model years are even better."
Regardless, since they do have the most complaints, it's worth investigating. The worst problems associated with these years have to do with body and paint issues, specifically rusting. Lots of owners reported severe rust and corrosion causing the body frame to fall apart in some of the worst cases. One owner said his rust and corrosion issues were so extreme that one of his transmission mounts fell right through a hole. Another reported that the entire frame was affected and received a quote to replace at $12,000 to $15,000.
Out of all the complaints associated with all the 4Runner model years, two of the top three are in relation to rust: excessive rusting (#1) or undercarriage rusting (#3). The average cost to repair is anywhere from $1,400 to $2,000. Toyota is aware of the rust issue, however it has not formally done a recall for the 4Runner. It did however do a recall for rust for the Tacoma and Tundra pickup trucks.
Before you purchase a 4Runner of any year, we recommend being diligent about checking the frame for any rust or corrosion, especially model years that are part of the fourth gen (2003 – 2009).
Protecting Your Toyota 4Runner
Unfortunately, no amount of research can protect us from unexpected repairs, so we recommend purchasing a Toyota extended warranty solution for your 4Runner. Our mechanical breakdown insurance and vehicle service contracts that extend coverage on pre-owned vehicles can be a great way to avoid expensive repair costs if something goes wrong.
Introducing olive®
For nearly 20 years olive® and its affiliates have been providing coverage for vehicles in a consumer-friendly way. Get peace of mind with olive's Mechanical Breakdown Insurance.
Why Choose olive®?
No waiting period
Start coverage up to 140,000 miles, and be covered all the way up to 185,000
No yearly mileage limits
Coverage across the U.S.
Manageable monthly payment options
Cancel anytime
You can get an online quote today and be covered tomorrow-and you will get no robocalls from olive®. Best of all, our products, customer service and reputation for excellence have earned us an A+ rating with the Better Business Bureau, and we have partnered with some of the insurance industry's largest companies to back us. We're in the business of helping you live life covered!
Learn more abiout Toyota 4Runner coverage or get an instant online quote.