Is the Hyundai Santa Fe a Reliable SUV?
The Hyundai Santa Fe is the automaker's midsize sports utility vehicle and marketed as a family-first SUV, meaning its larger capacity, and loads of safety and tech features are perfect for families on the go.
The Santa Fe is a popular model and great selling SUV for Hyundai, and not just for families. The Santa Fe appeals to a range of consumers and with its stylish exterior and cool techy interior, it's perfect for anyone needing more room than the Hyundai Tucson can offer.
While Hyundai has long been known for its sedans like the Elantra and Sonata, the brand's SUVs are demanding attention too, causing the mix of sedans and SUVs sales to shift for Hyundai. Last year, Hyundai SUVs accounted for more than 50% of all Hyundai sales, thanks in part to the Santa Fe, selling more than 127,000 units in the U.S. alone.
Let's talk Santa Fe, the SUV, not the city in New Mexico for which it was named after.
Studying up on the Hyundai Santa Fe – Is it a Good SUV?
The Hyundai Santa is an important model for Hyundai. Not only is it one of Hyundai's best sellers, it was the company's first entry into the SUV market – a big milestone. The Santa Fe was released in 2000 for the 2001 model year and almost immediately it was a success with American consumers. The midsize SUV was so popular that Hyundai at times had trouble keeping up with the demand. Its popularity contributed to Hyundai's success in the United States.
There are currently four generations of the Santa Fe. As Hyundai offered three SUV models, early on it fell truly in the middle – between the smaller Hyundai Tucson and bigger Veracruz, which would later be discontinued in 2018. Today, Hyundai offers six SUV models, making it now the automaker's second largest SUV. It slides in between the Hyundai Tucson and the Palisade.
The Hyundai Santa Fe is overall a good SUV. Consumers will get a lot for their money and with lots of tech and safety features, which Hyundai has come to be known for, we can see why it is a great family-friendly SUV. For less than $30,000 you'll get a smooth ride with comfortable seats and a quiet cabin. The midsize SUV can seat five passengers comfortably with solid cabin and cargo space.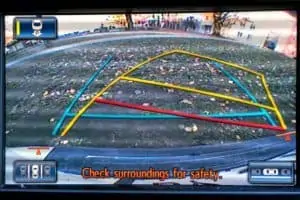 There are lots of standard features in the safety and tech categories that are easy to navigate, like Lane Keep Assist, Forward Collision-Avoidance Assist with Pedestrian Detection, and Driver Attention Warning. As far as tech goes, it comes standard with a 7-inch screen, four USB ports, Android Auto, Apple CarPlay, as well as Bluetooth capabilities.
.
It's also good on gas. It comes standard with a 2.4 GDI engine that delivers 185 hp and will get you 22 mpg in the city and up to 29 mpg on the highway. Furthermore, the Santa Fe is rated high when it comes to predicted reliability and overall quality. The 2020 Hyundai Santa Fe earned a score of 4.5 out 5 for predicted reliability from J.D. Power, making it an excellent choice when it comes to reliability. Its safety features and accident-avoidance technologies have distinguished the Santa Fe among its competitors, receiving positive reviews from automotive press agencies and a few awards too. U.S. News & World Reports Best Cars Rankings awarded the 2020 Santa Fe the Best New SUV for Teens because of its safety features. The agency also recognized the 2020 Santa Fe as the Best 2-Row SUV for the Money and made it one of the finalists for the 2020 Best 2-Row SUV for Families.
So if you're looking for the ultimate adventure vehicle for your family (or just you!), then the Hyundai Santa Fe is a great choice. It really is a good combination of quality and value for its class.
Is the Hyundai Santa Fe Reliable?
Reliability and dependability are top factors when considering a vehicle purchase. Hyundai makes very reliable cars, so whether you're looking for a sedan or an SUV, Hyundai will offer good reliable choices for consumers.
The Santa Fe Reliability Rating on RepairPal is 4 out of 5, ranking 2nd out of 26 midsize SUVs. It has lower than average ownership costs, and the frequency of repairs is less than other vehicles, making it a very reliable SUV.
According to RepairPal, the average total annual cost for repairs on the Hyundai Santa Fe is $515 compared to an average of $573 for other midsize SUVs and $652 for all other SUVs. Santa Fe owners also visit the repair shop much less frequently, an average of only 0.2 times per year as opposed to 0.4 times per year from other SUVs in its class. The probability of those repairs being severe or urgent is also less – 10% for the Hyundai Santa Fe, compared to an average of 13% for its classmates.
The Hyundai Santa Fe is built well and to a higher degree of quality to enhance not only performance, but safety and reliability too. And with the scores to show for it, it's a reliability winner in our book.
The Santa Fe is Good in the Snow
Snow doesn't scare the Santa Fe, in fact, bring it on! Consumers who will be driving their Hyundai Santa Fe in colder climates can rest assured knowing that the Santa Fe will handle itself just fine. And outfitted with a good set of snow tires, the Santa Fe will offer more assurance when driving in the snow, getting you from point A to point B safely.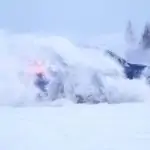 If you're looking for even more confidence, we recommend you consider the HTRAC All Wheel Drive option, making driving in snow and other slippery surfaces an even safer driving experience. The HTRAC AWD distributes power to all four wheels for superior grip and stability while offering multi-selectable drive models. Not only does it offer the security of the AWD drive option, but it also has a towing capacity of up to 2,000 pounds on most of its model trims.
What is the Cost of a Hyundai Santa Fe?
A brand new 2020 Santa Fe will range in price between $26,275 for it's base SE model to upwards of $37,000 for the Limited 2.0 turbo model. Considering it is an SUV loaded with lots of standard safety and tech features and can seat up to five passengers, the price is a value and competitive.
The 2021 Hyundai Santa Fe is expected to be released this fall and start around $28,000 for the base model and increase in price to $45,000 for its highest trim level.
Obviously, older models will cost you less and can offer a great value for the dollar. You can score a 2015 for as little as $13,000. Models that are less than five years old will range in price from $13,000 to $30,000 fully loaded. We don't recommend buying a model that is more than 10 years old, albeit they still have proven to be reliable vehicles regardless of the model year. If your heart is set on an older model Santa Fe, you can score one for under $10,000. Just make sure to do your research, and regardless of the year, if you're purchasing a used vehicle from anywhere else other than a certified Hyundai dealer, make sure to have it inspected by a certified Hyundai mechanic.
As with any vehicle purchase, if the Santa Fe you're looking to purchase is older and out of warranty (which it most likely will be) then be sure to protect it by purchasing an extended warranty. Shop extended warranties with a trusted partner like olive at https://olive.com/.
The "Best" Santa Fe Model Years
As you've read, the Hyundai Santa Fe is a good, reliable SUV. It has proven to be dependable throughout the years, which is why it is one of Hyundai's best selling models. You can't go wrong with the Santa Fe, whether you're buying new or used.
However, we know that vehicles can depreciate up to 10% the minute they are driven off the car lot, so purchasing a not-so-new model is always a wise investment in our opinion.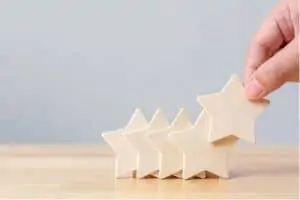 The third generation Hyundai Santa Fe model years 2016, 2017 and 2018 are standout years for a variety of reasons. First you're not dealing with new car depreciation and all are less than five years old, meaning you may be able to take advantage of some of the manufacturer's warranties. And when it comes to reliability, the third generation scored consistently high in reliability across multiple agencies with 2016 and 2018 scoring a perfect 5 out 5 for predicted reliability from Consumer Reports. The 2017 scored a 4 out of 5.
It's also important to note that the older models came loaded with lots of standard features that are no longer standard beginning with the 2020 model year. Such features include blind spot monitoring, rear cross traffic alert and the Safe Exit Assist, which uses radar to detect whether it is safe to exit your car by monitoring traffic. So if you're okay with an older model, these previously-standard features are included in these older models, and for less than $25,000 you can get a great older model Santa Fe that is a great value in terms of price and features. If you opt for the 2016, you can score one for possibly under $15,000.
Worthy of consideration is also the 2019 Santa Fe. For all the reasons mentioned above, the 2019 model year benefits from a newly redesigned exterior, on top of the loads of standard safety features. The 2019 year was a redesign year. So if you want to save some money and still get the look of the current Santa Fe, then 2019 may be just the right fit for you.
The Santa Fe Protects Your Family – olive Protects Your Santa Fe
We know the Santa Fe is a reliable SUV. There are plenty of data points to prove it, and we have no doubt it will be a reliable SUV for many years to come, but in the event that it isn't, you'll want the peace of mind knowing that your extended warranty has your back.
olive is an insurance solution provider, specializing in vehicle extended warranties for consumers throughout the U.S., and in California specializing in Mechanical Breakdown Insurance (MBI). olive is shaking up the way drivers look at extended warranties. It's a name you can trust. Get peace of mind with olive's Mechanical Breakdown Insurance. Protect your Santa Fe with olive at https://olive.com/.
Why olive?
No annual mileage restrictions and coverage across the U.S. and Canada
Start coverage up to 140,000 miles
No contracts – you can cancel anytime
Low monthly payments to meet your budget
No waiting period – buy today, and you're covered tomorrow
Backed by global insurer, QBE, with a consistent "A" rating from A.M. Best
A rating with the Better Business Bureau