How to Prepare Your Car for Fall: 10 Tips
There is something nice about the changing seasons from summer to fall. Sure, sure our days are shorter and it's colder outside, but fall also means that we can look forward to a bounty of fall produce, fantastic autumnal fall colors, pumpkin-everything and football! Plus, Halloween, Thanksgiving and the holidays are right around the corner. So, as we say goodbye to summer (We'll see you next year!), let's welcome fall. Whether you are changing out your wardrobe, decorations or doing a fall cleaning, don't forget to incorporate your vehicle into the fall preparations too.
When the temperatures start to get cooler outside, it's a great opportunity to do some basic maintenance on your vehicle before it gets even colder! Even if you live in a climate that doesn't experience harsh climates, it's still a good time to check in with your vehicle.
Fall can also be a great time to get out for a drive to enjoy the fall colors, so make sure your car is ready and prepared for fall. Below are 10 tips to help you get your vehicle ready for fall.
1. Wash and Wax your Car – It's a good idea to get off all the grime from summer with a good wash and wax, and protect your vehicle's paint before the cold weather hits and roads are treated with salt and sand. On the inside, vacuum and take out any of your summer gear you won't be using consistently. And while you're taking the "summer" stuff out, you may want to consider putting in some rubber floor mats. Rubber floor mats are a good idea because they help keep your car clean and make it easier to wash out the debris you'll be tracking in colder conditions, like snow, salt and sand. Inevitability the snow that falls off your shoes will melt away, so let the rubber mats capture it for you.
2. Test your Heater and Defroster – Don't get stuck in a cold car when the temps outside are cold too! If your heater is not working properly, you'll want to make sure you get it fixed before the chilly temps set in. Test your heater and defroster to make sure that you are getting a good flow of air and that the air from the heater is adequately warm. As temps dip lower, a common problem is foggy windows and windshields, so the defroster will help to defog them and provide you with a clearer view.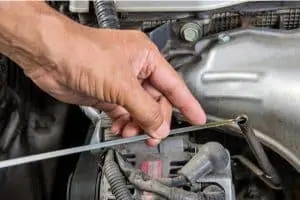 3. Check your Oil – Since the temps will be turning colder, make sure to check your oil and talk to your mechanic about which oil they would recommend for colder temps. In general, colder weather can cause conventional oil to solidify more than synthetic motor oil because of the waxes it contains. This severely impacts the oil's ability to crank your vehicle's engine. In the worst cases, oil can thicken so much when the temps drop that it can prevent the crankshaft from spinning fast enough to start your engine. So, in short , synthetic motor oil is better for cold weather driving but talk to your mechanic to make sure what is best for your specific vehicle.
4. Top Your Fluids – Be prepared and replenish your antifreeze, windshield washer fluid and any other fluids that may need a top off. If you're in a climate that experiences snow and ice, you may want to consider a windshield wiper fluid that also has a deicer to help with light frost or ice. And if your oil isn't due for a change, at least check it out to see if it needs to be topped off.
5. Check your Tires and Alignment – Cooling temps can change road conditions and how your tires handle the road. Check your tires by testing the tire pressure and measure the tire tread as well. You don't want to be in a situation where the roads become slick with rain, snow or ice, and your tires are not equipped to handle them appropriately.
First check the pressure. Tire pressure affects how well your car handles the road and ensures there is enough traction to keep you safe. When the temps cool down, so do the roads, causing tire pressure to contract. So, make sure your tires are properly inflated. Check your vehicle's manual to get the right PSI. And don't forget to check your spare tire too!
Next, do the quarter test and measure your tread. If your tire tread is less than 3/32 inches (or you can see above Washington's head), you'll need to replace them as soon as possible.
Finally, it's a good idea to make sure your car is properly aligned because a properly aligned car will help your tires last longer and provide a safer driving experience, especially when the roads can become slick from rain or snow.
6. Inspect the Brakes – Good brakes are important year-round; however, good brakes are vitally important during colder temps when the potential for rain, snow and ice are more likely. For ease of mind and to ensure your safety, take your vehicle into the shop to have the brake pads and rotors checked out. We can get used to how our cars drive and "feel" and may not even realize that the brakes may need attention.
7. Battery Check – There is nothing worse than getting in your vehicle to only find out that you can't go anywhere because it won't start up – dead battery! You don't want to be stranded with a dead battery when the temps are cold outside (or anytime really), so as a precaution and in preparation for fall and winter, have your battery tested. Summertime temperatures can zap a battery of lots of its energy and when the colder weather sets in, the weakness of the battery can be exposed. A quick test at your local repair shop or auto store can help to ease your mind.
8. Lights, Lights, Lights! – As we approach fall, not only are we getting ready for colder temps, but we're also adjusting to shorter days, which means it's getting darker earlier. You'll want to ensure your exterior lights are working properly and are as bright as possible. Check the taillights/brake lights and headlights, both high and low beams. Test your turn signals and hazards, and don't overlook any other lights your vehicle may have like fog lights or any light bars.
When testing the lights, also take a look at the light coverings, especially the headlights. Sometimes the plastic covers can become hazy, so it's a good idea to have them cleaned and polished allowing for more light to come through.
Shorter days mean more than likely you'll be driving in the dark more, so having your lights checked will ensure you can see the road better and that other vehicles can see you better too.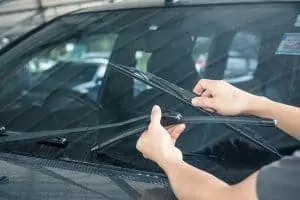 9. Change your Wipers – It's recommended that windshield wipers be changed every six months. Spring and fall are the two seasons that get the most use of the wipers because typically they are the seasons that see the most precipitation, so you'll want to make sure they are ready to handle the season. Check to see if your wipers are streaking or smearing. Also look to see if they are cracking or splitting. If your wipers display any of these signs, it's time to change them out, even if it has been less than six months. New wipers will provide a clearer view while you are driving, making it a safer driving experience.
10. Ride with an Emergency Kit (specifically for colder temps) – Weather can be tricky so it's best to be prepared in case of an emergency. In some states, it can be cold and sunny and the next thing you know – it's snowing! Don't sweat it, just be prepared with the proper emergency materials in the event you need them (hopefully you won't!). Here's a list of things you should consider keeping in your ride, for those just-in-case moments this fall.
Ice scraper
Extra windshield wiper fluid
First aid kit
Flares
Jumper cables
Small shovel
Basic tool kit
Spare tire and tire changing equipment
Flashlight and extra batteries
Water
Candles and a lighter (or matches)
Blanket, gloves, extra warm clothes and winter boots
Fall into Fall with Ease (and olive®)
Now that you've prepped your vehicle for fall, get out and enjoy a nice autumn drive to see the fall foliage. And make sure your vehicle document cards and information are up-to-date and in your glove box, like registration card, roadside assistance docs and of course your olive® extended warranty information.
In the unfortunate event of a breakdown, you'll want olive® by your side. olive® is shaking up the way drivers look at extended warranties. Get peace of mind with olive's Mechanical Breakdown Insurance.
Why choose
olive®
?
No waiting period
Start coverage up to 140,000 miles
No yearly mileage limits
Coverage across the U.S.
Manageable monthly payment options
Cancel anytime
You can get a quote today and be covered tomorrow. Best of all, our products, customer service and reputation for excellence have earned us an A+ rating with the Better Business Bureau, and we have partnered with some of the insurance industry's largest companies to back us. We're in the business of helping you live life covered!
Buckle up and enjoy the (fall) ride, olive® has you covered. Take your insurance coverage to the next level at olive.com®.