Shopping Subaru: How Much is a Subaru Outback?
The Deets on Subaru Outback Costs and What to Budget for
Are you shopping for your next ride and you've narrowed it down to a couple of models? Or maybe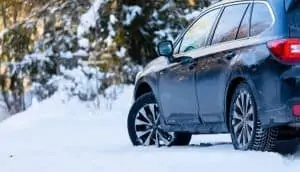 you've made up your mind and your next vehicle is going to be the Subaru Outback? Congratulations! The Outback is a great choice and very popular among consumers both in the U.S. and abroad.
Since it made its debut in 1994, the Subaru Outback has been a top seller for Subaru. And now that crossover vehicles seem to dominate the market and the roadways, this station wagon has managed to stay relevant and compete for consumers' hearts and wallets. Technically it's a station wagon, but with crossover vehicles crossing over into literally all parts of the auto industry, the Subaru Outback is a perfect blend of car, wagon and SUV. If you're grappling with whether to put your hard-earned cash toward a car or an SUV, then the Subaru Outback has you covered on both fronts. The Outback drives like a car, but can perform and take you off-road like an SUV. They are more fuel efficient than an SUV and offer more cargo space than a sedan.
Not only is it a great seller for Subaru, it's a great seller overall. Last year's SUVs sales showed that the Subaru Outback came in as the fifth best-selling SUV overall, competing with some heavyweights like Ford, Jeep and Toyota. And yes, you read that correctly, #5 SUV. While the Outback is a station wagon, it often gets categorized as a compact SUV because there isn't a consistent station wagon category. You'll notice throughout this blog that we'll refer to it as an SUV and that's only because that is the category it often "competes" in.
So if you're doing your research and just need to get straight on Subaru Outback costs and its price tag, then we have you covered. You're not alone, it is common to wonder: How much does a Subaru Outback cost? Or, how much should I pay for a Subaru Outback if I'm buying used? Or, what if you don't want brand, brand new, but maybe okay with the 2020: How much is a 2020 Subaru Outback? Keep reading.
We'll review how much you should budget for a Subaru Outback, the costs of new versus used, and even delve into the model's reliability because knowing how dependable a vehicle is can help you budget appropriately and reliability helps you better understand the full scope of the Subaru Outback costs.
If you are considering buying a used car that has under 140,000 miles and is a 2012 model or newer, get a free quote for one of our "extended car warranty solutions".
100% Online, 9 Coverage Options and No Robocalls!
How Much is the Outback Subaru?
As you know, the same model vehicle can vary in price depending on model trim, year, mileage and more, so the cost of a Subaru Outback 2015 will be much lower than the cost of a new Subaru Outback. We'll start with the new price tag and work our way down so that you'll have an idea of what you can expect to pay new versus used.
A brand new Subaru Outback starts off at $26,795 for the base model Outback, but you can spend upwards of $40,000 for the Outback Touring XT, which is the highest trim level available. Subaru offers seven Outback models which can vary in trim and price, to meet your tastes and preferences.
Below is a high-level overview of the starting MSRP for each of the several models.
Outback – $26,795
Outback Premium – $29,045
Outback Limited – $33,595
Outback Touring – $37,495
Outback Onyx Edition XT – $35,145
Outback Limited XT – $37,995
Outback Touring XT – $39,945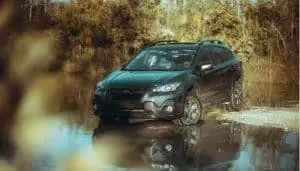 Regardless of the model, there are lots of standard features you can look forward to, including all-wheel-drive, great fuel economy delivering 33 mpg overall, impressive 9-inch ground clearance, and a lot of standard safety features as part of Subaru's EyeSight active safety technology. The safety suite of tech includes automatic emergency braking and adaptive cruise control with lane centering. Plus all models include a generously sized vertically-displayed touchscreen with Apple CarPlay and Android Auto, plus two usb ports.
Used Outback Costs by Model Year
Subaru in general is a very reliable auto brand, and the Subaru Outback helps cement that reputation. So if you're considering an older Subaru, you'll likely be able to find plenty of good options with lots of driving life left in them. A used Outback anywhere from 5 to 10 years old will range in price anywhere from about $7,000 to just shy of $20,000, depending on year, condition, mileage and other factors. Here's a snapshot of average retail price tags for used Subaru Outbacks for the past 10 years, along with their reliability rating (which we'll delve into more next). This data is from Consumer Reports, which updates their information consistently and is known for their unbiased product and car testing.
2020 $26,075 – $34,000 reliability = 3
2019 $21,700 – $30,725 reliability = 5 (perfect score!)
2018 $19,075 – $26,900 reliability = 4
2017 $17,425 – $24,650 reliability = 4
2016 $14,850 – $19,150 reliability = 4
2015 $12,500 – $16,275 reliability = 3
2014 $10,725 – $14,200 reliability = 4
2013 $9,475 – $13,000 reliability = 3
2012 $8,300 – $12,375 reliability = 3
2011 $7,650 – $10,600 reliability = 3
If you're looking for a used Subaru Outback, you'll most likely find lots of great choices. As used cars go, because the brand has proven to be reliable, a used Subaru Outback is still very valuable as a pre-owned purchase. According to the data, not only are they reliable, but they'll last a long time if properly taken care of and well maintained. And as noted on Subaru's website, 97% of the Subaru Outbacks sold in the last 10 years are still cruising American roadways.
As with any purchase, big or small, we recommend doing your own research and asking questions about the vehicle's history to make sure it has a "clean" history with no accidents that you should further inquire about. And while reliability may be great for a particular model year, you'll still want to inquire about repairs and maintenance, and if the vehicle was maintained regularly and according to Subaru's standards.
Buying used can be a great option. Generally, some of the pros of buying used include less depreciation, lower insurance rates and less expensive registration fees. The one big downfall is that most used vehicles are past their warranty. But not having a warranty should not stop you from buying a used Subaru Outback. There are several companies that provide extended warranty options at low prices, but make sure to do your research to ensure you're dealing with a reputable company, like olive®.
Outback Reliability
Knowing a car's reliability rating is very important because it directly correlates with the total cost of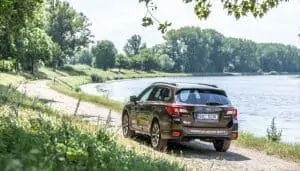 the vehicle. In the automotive industry reliability is sometimes noted as dependability and how reliable a vehicle is, is based on cost, frequency and severity of repairs and maintenance.
The Subaru Outback has proven itself a reliable wagon. On the J.D. Power Top 10 list for 2021, the Subaru Outback ranked #8 in the SUV category, making it the only wagon to place in the top 10. When looking at just station wagons, the Outback ranked #3 on U.S. News & World Report's wagon ranking.
Consumer Reports gave the 2021 Outback a 3 out of 5 for predicted reliability. When we looked at Consumer Reports' data for the Outback for the past five years, the Subaru Outback received an above-average score of 4 out of 5 for its reliability.
According to RepairPal, the Subaru Outback earned a reliability rating of 3.5 out of 5, making it above average for its reliability. When compared to its classmates, it ranked 10th out of 26 in the midsize SUV category, boasting average ownership costs.
Repairs & Maintenance Costs
Although the Outback may have above average reliability, its maintenance costs are slightly higher than its peers. In a nutshell, the Outback's repairs tend to be slightly more expensive than its competitors, but the likelihood of those repairs being severe is less likely than other SUVs in its class. So all in all, it does pretty well. Here is the breakdown of the numbers according to RepairPal.
The average annual cost for repairs and maintenance on the Subaru Outback is $607, compared to $573 for other midsize SUVs and $652 for all vehicles. On average, Subaru owners have to bring their Outbacks into a repair shop an average of .4 times a year, which is the same for its classmates. And in terms of the severity of those repairs, the good news is that they tend not to be too severe. The probability of a repair being a major issue is 12% compared to 13% for its midsize SUV classmates.
In looking at the data year by year, you'll notice that the older the vehicle, the more expensive the maintenance and repairs, but nothing too outlandish and pretty typical. Take a look at the annual maintenance and repair costs by model year. It's important to note that costs will vary by mileage, location and even the repair shop you choose to give your business to.
2019 = $479/year 2018 = $463/year 2017 = $520/year
2016 = $541/year 2015 = $577/year 2014 = $586/year
2013 = $634/year 2012 = $664/year 2011 = $646/year
Part of owning a vehicle is keeping up with its maintenance, below are some typical maintenance and repairs costs you can expect.
Oil Change $60 – $90
Transmission Fluid Change $199 – $215
Headlamp Alignment Adjust $44 – $56
Engine Leak Inspection $88 – $111
Suspension System Inspection $70 – $89
AC Diagnosis $53 – $67
Tire Pressure Monitor Lamp Diagnosis $70 – $89
Inspections, Diagnoses and Tests $44 – $56
(Drive Axle Assemble/Power Steering System Leaks, Coolant Leak Diagnosis, Fuel Pressure Test)
Top 4 Most Common Repair Costs
Unfortunately, eventually all vehicles regardless of the make or model will need to visit the repair shop. It's no fun and definitely can take a bite out of your wallet if not covered by an extended warranty. If you have an older vehicle, we recommend having it protected by an extended warranty. You can shop extended warranty plans at olive.com®.
Since we've been discussing Subaru Outback costs, it's good to get the good and the not-so-good, so that you have the full picture. Below are the four most commonly reported problems as noted by Subaru owners, and the costs associated with each. If you want to know more about these, checkout olive's blog: Shopping Subaru: Is the Outback Reliable?
#1 Vibration or shuddering on acceleration
The cost to repair a failing torque converter, which is most likely the issue, could be anywhere from $600 to $1,000, and sometimes as much as $1,500 depending on the repair shop you visit. The actual torque converter parts can be anywhere from $150 to $350, but the labor to fix is what will drive the cost up, since the transmission must be removed in order to get to the converter.
#2 Head gasket failure due to cooling system problems
The cost to replace the head gasket can be expensive, costing anywhere from $1,500 to $2,000.
#3 Failed front O2 sensor
The cost to replace a faulty O2 sensor can run anywhere from $150 to $475.
#4 Engine oil leaks from camshaft/crankshaft front seals
The average cost to replace the seals is less than $500, but if multiple seals need to be replaced, the timing belt will need to be inspected and possibly replaced. To replace the timing belt, it can be quite expensive and range anywhere from $600 to $1,000.
Total Cost of Ownership 300
When you purchase a vehicle, whether it's new or used, the price tag is just the start of the cost you can anticipate to pay. So when we try to answer the question: How much does a Subaru Outback cost? The answer goes beyond the purchase price. We did a little digging to find out the average cost of owning a Subaru Outback.
According to CarEdge.com, an independent firm that helps consumers with the vehicle buying process, the average cost of owning a Subaru Outback for 5 years is about $33,500. The firm takes into account depreciation, insurance premiums, maintenance and repair, loan interests and fuel costs to help consumers see the full picture of total cost of ownership. On average, here is what you can expect to pay over five years when owning a Subie Outback that is typically-equipped with a price tag of around $35,000.
Depreciation – $13,978. Now, you won't necessarily "pay" this amount because this is the amount the Subaru Outback is expected to depreciate after 5 years. Unfortunately, depreciation affects all vehicle makes and models and is difficult to avoid, but the good news is that over time, a car will depreciate less and less. Subarus are known for retaining their value well, so while you can't get around it, its depreciation rate is less than other vehicles.
Insurance – $6,880. The annual cost of auto insurance for the Subaru Outback is about $1,376. This amount may vary depending on various factors, like age, type of coverage, driving record, etc. The $6,800 over 5 years may seem like a lot, but it's less than the national average for other popular SUV models, which hovers around $411 more per year!
Fuel – $6,490. On average you can expect to pay nearly $1,300 per year on fuel, or $6,490 over five years. On average the Subaru Outback will get 28 miles per gallon, assuming 12,000 per year and taking into account a mix of both city and highway driving.
Interest – $4,093. This amount assumes a 72-month loan with an APR of 4.75% and a 20% down payment. This is one cost you can control by shortening your loan term or putting more than 20% down. Credit score is also a big factor when determining interest rates, so the better your credit score, the lower your APR is likely to be.
Maintenance – $2,137. Maintenance (and repairs) are part of owning a vehicle. Regardless of how reliable a car is, maintenance will be needed. This cost includes scheduled maintenance, normal wear and tear, and some expected repairs.
Pro Tip – Don't let unexpected repairs take you by surprise. Consider purchasing an extended warranty to protect your investment. Check out olive® at olive.com® to see what plan is right for you.
Cover olive® it…
The Subaru Outback is a great choice for anyone looking for a reliable vehicle that can take to both the city and the great outdoors. But all cars will eventually need to go to the repair shop for something or other, so consider an extended warranty from olive® to help off-set some of those costs.
For nearly 20 years olive® and its affiliates have been providing coverage for vehicles in a consumer-friendly way. Get peace of mind with olive's Mechanical Breakdown Insurance.
Why Choose olive®?
No waiting period
Start coverage up to 140,000 miles
No yearly mileage limits
Coverage across the U.S.
Manageable monthly payment options
Cancel anytime
You can get a quote today and be covered tomorrow. Best of all, our products, customer service and reputation for excellence have earned us an A+ rating with the Better Business Bureau, and we have partnered with some of the insurance industry's largest companies to back us. We're in the business of helping you live life covered!
Check out our extended car warranty solutions today!