Subaru Impreza Topics Covered in This Article
How Much is a Subaru Impreza?
Subaru Impreza Reliability
Subaru Impreza Repairs and Maintenance Costs
Subaru Impreza Maintenance and Total Cost of Ownership
How Much is a Subaru Impreza?
Subaru Impreza costs broken down
The Subaru Impreza has been in production since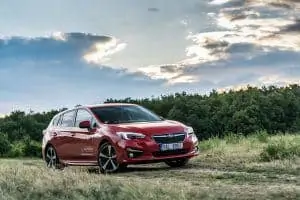 1992. Currently in its fifth generation, it remains a popular choice for many consumers. It's considered a compact sedan, but what differentiates it from its competitors is its all-wheel drive capabilities. On top of that, the model is offered as a 2-door coupe, 4-door sedan and a 5-door hatchback. Plus it's offered with a manual transmission. It's roomier than most of its competitors and the price tag is quite affordable. It's a very versatile Subaru, so if you're looking to make the Subaru Impreza your next car, then you came to the right place.
We'll review Subaru Impreza costs and answer the question:
How much is a Subaru Impreza?
If you are considering buying a used car that has under 140,000 miles and is a 2012 model or newer, get a free quote for one of our "extended car warranty solutions".
100% Online, 9 Coverage Options and No Robocalls!
That New Car Smell: How Much is a New Subaru Impreza?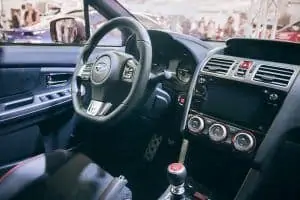 The Impreza is Subaru's compact sedan, and as already mentioned, it is also offered in a 5-door hatchback option. Both options come in four trim levels: Base, Premium, Sport and Limited. The Impreza hatchback adds a roof spoiler and costs $500 more than the sedan in every trim except the Sport, where the hatchback is $600 less than the sedan.
Although small and compact, its features are not. As you would expect with a Subaru, all-wheel drive is standard throughout the trim levels, which some would say is a must if you live in a cold-weather state. Safety continues to be a top priority, so you can expect Subaru's EyeSight® Driver Assist Technology in all of its trim levels, which is now standard on every 2021 model. Subaru's StarLink infotainment system is also included, offering a 6.5 touch screen that is compatible with Apple CarPlay and Android Auto. Overall the system is very straightforward and easy to manage. You get a lot of standard features for the price tag.
If looking for a new ride, we'll tell you how much a brand new Subaru Impreza costs. Check out the starting MSRP for each trim level, both sedan and hatchback.
Impreza Sedan – Base $18,795
Impreza 5-door – Base $19,295
The base option comes with a manual transmission, but for about $1,300 you can upgrade to an automatic transmission.
Impreza Premium Sedan $22,195
Impreza Premium 5-door $22,695
While the Premium is already equipped with the EyeSight® safety features, for approximately $2,000 more you can add more, like lane alert change, blind spot monitoring and rear cross traffic alerting. The extra investment will also get you keyless entry, a power adjustable driver's seat and a moonroof.
Impreza Sport Sedan $23,595
Impreza Sport 5-door $22,995
As you would expect, the interior is sporty in style, featuring red stitching and a leather wrapped steering wheel, pedal covers, a bigger touch screen and more. For about $2,500 you can amp your interior acoustics with an eight-speaker Harman Kardon sound system.
Impreza Limited Sedan $25,895
Impreza Limited 5-door $26,395
This top of the line trim level includes lots of other standard features that are not included in the less expensive trims. But if you really want to deck your Limited out even more, for about $2,300 you can add a moonroof and the upgraded stereo system.
Get Some Deals Buying a Pre-Owned Subaru Impreza
Buying a used Subie can be a great investment. They are reliable and will keep you on the road for a long time if properly maintained. So if you're shopping around for a reliable compact sedan, the Impreza may be just what you're looking for.
For a model that is about five years old, don't be surprised to see a price tag that comes in below $15,000. The newer the car, the more expensive it will be, but generally, you can budget anywhere from $14,500 to $25,000 for model years less than five years old. For older models, there are quite a few model years that will get you under the $10,000 mark.
How much is a Subaru Impreza, used? How much does the Subaru Impreza 2019 cost? Let's see. According to Consumer Reports, here is what you can expect to pay for a pre-owned Impreza.
2020 $21,050 – $26,700
2019 $17,925 – $23,575
2018 $16,725 – $21,350
2017 $15,950 – $19,625
2016 $14,325 – $18,475
2015 $12,200 – $15,525
2014 $10,550 – $23,975
2013 $9,350 – $21,600
2012 $8,450 – $20,100
2011 $7,400 – $17,725
2017 was a redesign year. This model year gains more available safety equipment and a more spacious cabin. Both sedan and 5-door options are still available, as well as the standard all-wheel drive capabilities.
2012 was a redesign year too, and this redesign received a boost in Consumer Reports' ranking. This "new" model showed more room on the inside, better handling, improved fuel efficiency and a comfortable ride, that according to Consumer Reports, rivals some luxury sedans.
Last year, Consumer Reports and the Insurance Institute for Highway Safety (IIHS) partnered to identify the best vehicles under $20,000, and you guessed it, the Subaru Impreza made the firms' Best Used Choice list. The 2019 model year Subaru Impreza, both the sedan and 5-door, were named by the firms as one of the best used car values.
How much does the Subaru Impreza 2019 cost? On average you can find a 2019 at or less than $20,000, depending on trim level, mileage and other factors. And with a reliability score of 4 out of 5, coupled with its all-wheel drive capabilities and safety features, we're not surprised it made the list.
According to CarEdge.com, the 2020 Subaru Impreza is the firm's top pick for the best model year value. Thanks to depreciation, you'll pay 14% less for a pre-owned 2020 Subaru Impreza and still have about 92% useful life remaining. But again, the 2019 model year made the list. Other model years that are rated well by the firm in terms of value are the 2018 and 2019 model years. These model years offer relatively good value, earning the firm's "better" value designation.
If considering an older model Subaru Impreza, we think you'll have lots of options to choose from. As you shop around for the best Impreza model for you, we'd also recommend considering an extended warranty plan to further protect your purchase, especially if the Impreza you're considering is no longer covered by Subaru's warranties, which are typically 3 year/36,000 miles for the limited liability and 5 year/60,000 miles for the powertrain.
Checkout extended warranty solutions at https://olive.com/. Olive® is a trusted partner you can count on.
Subaru Impreza Reliability
How reliable a vehicle is predicted to be is an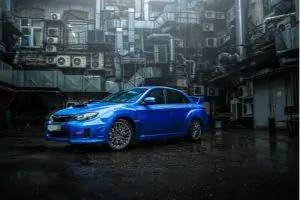 important consideration, whether you're shopping new or pre-owned. When it comes to reliability, the Subaru Impreza scores above average in the compact car category. According to RepairPal, the Impreza earns a reliability rating of 3.5 out of 5, which ranks it 33rd out of 36 for compact cars, making it above average.
Consumer Reports also measures reliability and over the past recent years, it also performed above average, earning a 6-year average reliability score of 3 out of 5, for model years 2016 through 2021. Below are Consumer Reports' predicted reliability scores by model year. Consumer Reports uses a 5 point scale too.
Year Reliability
2021 3
2020 2
2019 4
2018 3
2017 3
2016 3
Repairs and Maintenance Costs
On average, you can expect to spend about $653 for repairs and maintenance for the Impreza. This cost is in line with all vehicle makes and models ($652 per year), but more expensive than its classmates, which is on average $526.
The frequency of repairs for the Impreza and how often you may visit the shop is inline with its classmates. Subaru Impreza owners bring their vehicles into a repair shop for unscheduled repairs an average of 0.3 times a year. Other cars in its class are also predicted to visit the shop 0.3 times, and all other vehicles will visit about 0.4 times a year.
When it comes to the severity of an issue being major, the probability for the Subaru Impreza is 17% compared to 11% for compact cars and 12% for all other vehicle types.
We recognize the Subaru Impreza appears to have higher repairs and maintenance costs, but consider that while it is categorized as a compact car, it offers many features that other compact cars do not, and the Subaru Impreza, as Consumer Reports mentioned, handles itself well, just as well as some luxury cars.
So yes, the costs may seem high, but consider that all Subarus come with standard all-wheel drive and are loaded with lots of safety features. When considering Subaru Impreza costs, don't let one category of costs sway you too much, consider the whole picture. We'll tackle the total cost of ownership for the Subaru Impreza later in this blog. Here are some estimated repair costs as compiled by RepairPal to give you an idea of Subaru Impreza costs for repairs.
Repair Estimated Costs
Clutch Hydraulic System Bleed $76 – $96
Transmission Fluid Change $218 – $231
Air Conditioning Refrigerant Recover $35 – $44
Anti-Lock Brake System (ABS) Diagnosis $79 – $100
Diagnosis & Testing $88 – $111

Noise detection
Check Engine Light,

Inspections, Diagnosis, Testing & Adjustments $44 – $56

Headlamp Alignment Adjustment
Drive Axle Assembly Leak Inspection
Emission Control System Inspection
Powertrain Control System Diagnosis & Testing
Subaru Impreza Repair Costs
Having to take your Subie to the repair shop is no fun, but unfortunately, it's part of car ownership. Since we're talking Subaru Impreza costs, we've rounded up the four most commonly reported problems and the costs associated with each. These problems were reported to RepairPal.
Front O2 Sensor Recall – This by far is the most reported issue. The front oxygen (air fuel ratio) sensor has been known to crack, causing the Check Engine Light to illuminate. In addition to the lit Check Engine Light, if you have a failing sensor, you may experience rough riding, fuel inefficiency and bad smelling exhaust. This is bad news, but the good news is that discovering a faulty oxygen sensor isn't really that expensive to replace. Typically the sensor will cost anywhere from $20 – $55. The labor associated with the replacement will vary by location. Subaru is aware of the issue and recalled certain models to replace the sensors that may fail. The cost to diagnose the issue will run anywhere from $88 to $111 to get the code associated with the illuminated Check Engine Light. The recall program number is WXW-80, and it is not a mandated recall.
Engine Misfiring due to Spark Plug Wires – Sometimes the Check Engine Light illuminates because the computer detects misfires. Subaru released an improved spark plug wire set to solve the problem. The ignition coil should also be inspected for carbon tracks or short circuits between the contacts. The cost to diagnose the Check Engine Light is $88 to $111. The estimated cost to replace spark plug wires can range anywhere from $160 to about $190. If you have to replace the ignition coil, that will cost between $247 and $260.
Check Engine Light Due to Failed Knock Sensor – This issue has been reported to RepairPal just a handful of times. The vehicle's knock sensor is a small part that detects engine knocking or pinging, which can result from abnormal combustion in the engine cylinders. Where there is a knock present, the sensor will signal the vehicle's computer, causing the Check Engine Light to illuminate. If left unchecked, the abnormal combustion could ruin parts of the engine and lead to a big repair bill. To diagnose the Check Engine Light, you can expect to pay about $88 to $111. To have the knock sensor replaced, expect to pay on average $320 to $370.
Head Gasket Failure – Head gaskets in Subarus have been known to fail. Subaru is aware of the issue and extended the warranty to 8 years/100k miles on many of their vehicles. A blown head gasket is quite expensive because the labor required is intensive, requiring the engine and cylinder blocks to be pulled apart to get to the gasket. The average cost to replace a head gasket is about $1,000, but can range anywhere from $1,200 to $1,400.
Total Cost of Ownership
In order to get an inclusive view of Subaru Impreza costs, it's wise to take a look at its total cost of ownership. So far, we've discussed the cost of a new Impreza and how much you can expect to pay for a used one. We've highlighted repair and maintenance costs too, but there are more costs to account for, such as fuel and financing costs. And you can't forget about insurance! Knowing what you can expect to pay will help you see more clearly the total costs of owning a Subaru Impreza.
The average cost of owning a Subaru Impreza for 5 years is about $26,000 ($26,241 to be exact) according to CarEdge.com. This cost takes into account the dreaded depreciation, insurance premiums, maintenance and repairs, loan interest, and fuel costs. We break it down for you below.
Depreciation – $8,467.
Depreciation is unavoidable and part of car ownership. According to the firm, a Subaru Impreza will depreciate 36% after 5 years and have a 5-year residual value of $15,184. These figures are assuming about 12,000 miles per year and a new Impreza price tag around $23,600. As the Subaru brand continues to grow in popularity, resale value for Subarus will continue to be good, which in turn lowers depreciation.
Insurance Premiums – $7,090.
Over a span of five years, you can expect to pay about $1,418 in insurance. On average, insurance premiums can be as much as $369 more annually for other models. This figure could vary based on a number of factors, such as driving record, age and how much you drive.
Fuel – $6,355.
Assuming 28 mpg, we estimate about $6,300 for fuel after five years. This breaks down to about $1,271 per year. CarEdge.com determines this amount by collecting the national average fuel prices and assuming 12,000 miles driven per year with a mix of 55% city and 45% highway driving.
Financing Interest – $2,770.
Unless you pay for your Impreza with cash, more than likely you'll be financing the vehicle and paying interest monthly. This amount assumes a 20% down payment, good credit and an APR of 4.75%.
Maintenance – $1,559.
You'll spend approximately $1,500 for maintenance and repairs after 5 years. Expenses associated with this amount include scheduled maintenance, normal wear and tear, and other expected repairs. While it is expected to pay more for maintenance and repairs as time goes by, proper maintenance will keep your Impreza in tip top shape and keep you on the road for a long time. Over 10 years, the projections tell us you can expect to pay $5,900, which is better than the national average by more than $900. See the breakdown by year below.
Year 1 $201 Year 6 $566
Year 2 $236 Year 7 $799
Year 3 $291 Year 8 $892
Year 4 $379 Year 9 $978
Year 5 $452 Year 10 $1,106
We hope you found this blog helpful and helped to answer the question: How much is a Subaru Impreza? Knowing what your vehicle will cost both now and in the future is important and can be helpful data as you make your final decisions regarding your next vehicle.
Budget for Peace of Mind with olive®
When budgeting for your Subaru Impreza's costs, please consider an extended warranty as part of your budget. The peace of mind you will get from an extended warranty from olive® is priceless. And with olive® you have the ability to customize your plan by choosing your deductible and monthly payment.
Why choose olive®? It's simple, there are is no waiting period, you can start coverage up to 140,000 miles, there are no annual mileage limits, you're covered across the United States, monthly payments are manageable, and you can cancel anytime
Below is an example of items covered under mechanical breakdown insurance and/or vehicle service contracts (often refered to as extended car warranties)
Steering System
Electrical Components
Engine Assembly
Drivetrain
Transmission
Exhaust Systems
Alternators, Manifolds, Pumps
Heating and Cooling Assembly
Plus, our products, customer service and reputation for excellence have earned us an A+ rating with the Better Business Bureau, and we have partnered with some of the insurance industry's largest companies to back us.
Get the peace of mind you deserve with olive's Mechanical Breakdown Insurance and Vehicle Service Contracts. Getting a quote is simple. Just go to shop.olive.com to get an instant quote today and be covered tomorrow.