Best Roadside Assistance
Roadworthy Roadside Assistance Information in Case You're Ever Stranded on the Side of the Road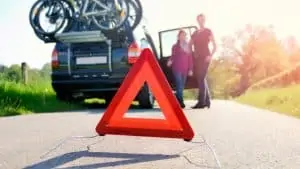 Imagine you're driving along and all is well in the world. You've got the tunes blasting, and you're on holiday. The scenery is great and the company is even better…THEN…you hear a loud pop! And this is where we cue the record scratch sound effect.
You realize you've got a busted tire and now you're stranded on the side of the road. What do you do? You've got a few options. You can try DIY, you can phone a friend, or you could call your roadside assistance service provider.
No one ever wants to be in this situation, but unfortunately it's a fact of life – cars break down. This is where roadside assistance can really help. Roadside assistance is a service that can help drivers get back on the road safely and quickly in the event of a roadside event. Roadside assistance covers you and your vehicle when it breaks down, offering immediate help when you're stranded.
According to consumer research, drivers experience a roadside event on average every two years. This can be a flat tire, getting locked out of your car or your car not starting up due to a dead battery. These roadside challenges are never planned for – you never plan to lock yourself out of your car – so having a roadside assistance plan is a wise consideration that can save you money, keep you safe and rather conveniently get you back on your holiday road trip, or wherever you were headed.
In this article:
What is Roadside Assistance?
Roadside assistance is another type of coverage for your vehicle. Roadside assistance helps drivers get back on the road after being stranded due to a vehicle breakdown. Roadside assistance will help drivers not only get back on the road by providing physical help, but it will also assist financially because most services are included at no cost as part of a roadside assistance plan.
The best roadside assistance will provide immediate help when you're stranded. Drivers with a roadside assistance plan can receive emergency roadside help for things such as a flat tire or getting pulled out of a snowbank, just to name a couple.
Roadside assistance is usually offered through auto insurance providers, but you can also get roadside assistance through third-party providers too. Some credit card companies and membership programs will also offer roadside assistance benefits. The cost of a roadside assistance plan will vary based on the service provider and plan you choose, but typically roadside assistance is offered as an annual fee and almost always at an additional cost.
If you are considering buying a used car that has under 140,000 miles and is a 2012 model or newer, get a free quote for one of our "extended car warranty solutions".
100% Online, 9 Coverage Options and No Robocalls!
What's Covered With Roadside Assistance?
While services will vary depending on the provider, the most common and best roadside assistance plans will handle the following situations:
Fix or change a flat tire – The roadside professional will change out your flat tire with your spare tire. Make sure you have an inflated spare in your vehicle.
Assess and jump start a dead battery – This includes testing and jump-starting the battery to get you going. If the battery is not able to be restarted, they may provide you with a new battery depending on your plan, and most likely at an additional cost.
Towing – If your vehicle is not fixable on the spot, providers will take your car to the nearest repair show. Most plans have some sort of towing mileage limit, so make sure you know what those limits are, otherwise you may be charged an extra fee.
Unlock your vehicle when your keys are locked inside – If you accidentally lock yourself out of your car, not to fret, roadside assistance is there to help. Usually they will try to unlock your vehicle using a long-reach tool or a pump wedge, which is a tool that is used to safely expand openings to unlock vehicles. In most cases, these options are successful, but in some cases, a locksmith may be necessary.
Bring you gas or other items needed, like oil – Sputter, sputter…and you're out of gas. Roadside assistance will bring you enough fuel to get you safely to the next gas station. Some plans will bring you a certain amount of gas, while others may bring you a certain dollar amount, but in most cases, it's enough to get you to the next filling station. Depending on the plan, the fuel may be free, but it's not uncommon for only the delivery to be free and the gas itself to be charged at market value.
Winching to pull a stuck vehicle out – Getting your vehicle is unstuck is a service that is often provided and highly valuable. Roadside assistance will extract your car and get you going. If the extraction service is complex, other winching professionals may be called to dislodge your vehicle and may result in an extra fee.

When Can I Use Roadside Assistance?
As the name suggests, roadside assistance will provide services for a vehicle breakdown if you're stranded on the side of the road, but most plans will also provide service anywhere your car breaks down. This includes parking lots, garages and even your home. There is a misperception that roadside assistance is only for road emergencies that happen while out on the road, but that is not the case. If you find a flat tire waiting for you as you're headed out for work, roadside assistance can help and will come to your home location. Let's say you're out running errands and find that your car won't start due to a dead battery, roadside assistance will also come to rescue and come to the parking lot or garage where you've been stranded.
The most common calls for roadside assistance are for flat tires, dead batteries and locked cars. And while these roadside events do indeed happen mostly roadside, a large number of calls are for service needed at home, in parking lots and garages.

What Are the Benefits of Roadside Assistance?
The obvious benefit of having a roadside assistance plan is that it will allow you to call for emergency help when you're stranded, but as mentioned above, it can also help protect your wallet. Roadside assistance plan holders typically pay a fee or a premium to the service provider. In the event you encounter a roadside challenge, most often the driver will not have to pay out of pocket for the emergency services, as long as the service is included in the plan and within the allowable limits of the plan. Consider this: In many cases the cost of a roadside assistance plan is considerably less than the cost of a towing service. The average cost of a towing service is anywhere between $75 and $125 and depending on the company, you may even be charged a dollar amount per mile if the towing service is not within their standard service area.
There are also added benefits, such as convenience and safety. The best roadside assistance support will be immediately available. We understand that "immediate" may not be fast enough, especially when you're in a hurry, but for the most part they are quite efficient. Roadside assistance providers understand callers are most likely in need of help quickly. Some of you may be comfortable under the hood or very capable of fixing a flat tire, but for those who are not, the convenience of being able to ring up help is worth the wait, usually 60 minutes or less depending on your location.
Also, safety is a big benefit. If you're stranded on the side of the road or worse, on a highway, roadside assistance will safely get you back on the road. They will set up the necessary safety precautions needed to ensure that everyone is safe while your vehicle is being assessed and addressed…this includes setting up safety cones and even flares if needed.

Are Roadside Assistance Plans Worth it?
We believe that all drivers should consider a roadside assistance plan. Many are offered as a free added benefit through some programs and memberships and other plans are offered as additional coverage add-ons for relatively low cost.
If you've ever needed towing service or been locked out of your car, you may consider a plan. Have you ever had a flat tire, dead battery, run out of gas or gotten stuck in mud or a snowbank? If the answer is yes, then roadside assistance coverage may be valuable. If you're fortunate enough to not have experienced any of the above-mentioned situations, that's great! But having a roadside assistance plan may give you peace of mind in the event you do find yourself needing roadside help. Roadside assistance may be especially helpful for elderly people, new drivers and parents with small children or babies. The convenience of having roadside support may prove worth it.
If you're driving an older vehicle, commuting long distances each day or traveling in remote areas frequently, you may consider a roadside assistance plan as well.

Where Can I Get Roadside Assistance Plans?
There are lots of roadside assistance plans. You can get outfitted with a plan through your auto insurance provider, auto manufacturer or a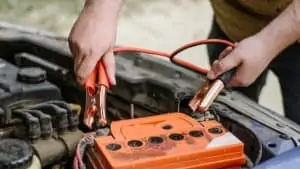 third-party company, as well through some credit cards and cellphone providers. All will offer advantages and disadvantages. For instance, if you're after convenience, you may consider adding a roadside assistance plan to your current auto insurance policy. But if you're looking for more perks, you may want to evaluate third-party offers.
Car insurance with roadside assistance. If you opt for a plan through your insurance provider, you will be covered with the typical items, such as flat tire fixes, dead battery jump-starts, lockout service, towing and fuel delivery to name just a few. Roadside assistance will be offered 24/7 and usually very easy to access via a toll-free number. Roadside assistance plans through an insurance provider will also cost less than other providers, typically ranging anywhere from $25 to $75 a year or a few dollars a month. As with typical insurance providers, factors such as the age of your car and your driving history may impact the cost of your roadside assistance plan. A couple of disadvantages include that you have a policy through the insurance company and some may even require you to have comprehensive or collision insurance before their roadside assistance plan is available as an add-on. On the flipside, if you do already have comprehensive and collision insurance as part of your policy, you may already be covered as a perk. It's best to inquire with your insurance provider before paying for roadside assistance. And ask specific questions regarding insurance minimums and requirements for roadside assistance if you're shopping for both an insurance/roadside assistance bundle.
Third party providers, like AAA, AARP, National General Motor Club or Better World Club, offer roadside assistance and provide more than just roadside benefits. Many of them typically will offer various discounts such as retail and hotel discounts, restaurant savings, travel benefits and discounted event offers. Generally, roadside assistance plans through a third party are more expensive than insurance providers' plans. If you're a frequent traveler or value member discounts then the added cost may be worth it, especially if you value or anticipate taking advantage of some of the member perks. For instance, AAA offers car-buying assistance, prescription savings, free currency exchange and free identity theft protection.
Whichever roadside assistance you opt for, we encourage you to research the multiple offerings to make sure you understand the benefits, limits and restrictions. Also, research the providers' reviews and be specific. For instance google Good Sam roadside assistance reviews if you're interested in RV coverage or Progressive or State Farm roadside assistance reviews for insurance partners. These are just examples of course, but you get the point. And most importantly, in our opinion, look for a provider that is rated well by the Better Business Bureau to ensure you're getting coverage you can trust. Reviews and ratings matter, so ask questions and do your research.

How Much Does Roadside Assistance Cost?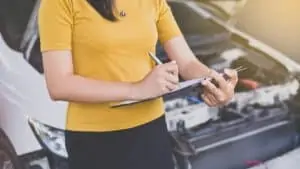 Roadside assistance plans will vary in price depending on the provider. Insurance providers tend to be less expensive than third party providers. Some credit cards may also offer roadside assistance coverage free of charge, but again this will vary based on the credit card.
Generally speaking, roadside assistance plans will cost anywhere from less than $25 a year to hundreds of dollars annually. For plans that are bundled with your auto insurance, expect to pay around $5 per month or up to $60 annually. For third parties, such as auto clubs or membership programs, budget anywhere from $50 to $350 per year. Cellphone providers have started to offer roadside assistance to its customers too. You can expect to pay monthly between $3 to $5 based on the provider and you can most likely expect to pay an amount per service for some services like towing. Credit card companies may offer roadside assistance and most times it is at no cost to the cardholder, however they are typically limited in coverage and may require an extra fee for some services, which some credit card companies charge approximately $60 to $70 per service call.
How much you should budget for roadside assistance varies because so much depends on the provider and the plan. AAA for instance will offer its members three choices, a basic, plus and premier plan, ranging from $80 to $170 per year. Better World Club, the only green option, starts with plans costing $60 a year and caps out at $98 annually. Some third-party companies, like AARP, will offer roadside assistance by partnering with Allstate for about $65 a year. Other insurance providers, like Geico, USAA and Progressive, will offer roadside assistance plans for less than $20 a year. As you can see, costing out a roadside assistance plan is not cut and dry and will vary from a few bucks a month to as much as $50 a month. You also have the choice of paying monthly or annually. And some will only charge you per service, like some of the credit card options.

Cheap Roadside Assistance and Best-Rated Roadside Assistance
When determining the best-rated roadside assistance plan, consumers should look at customer reviews and check out their BBB rating. Some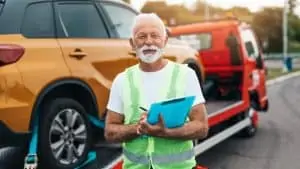 companies offer specialized offerings to cover recreational vehicles or bikes. Consumers who are eco conscious should take a look at Better World Club and see what their customers have to say about their service. Those who travel with an RV should check out Good Sam and Good Sam roadside assistance reviews. Big name insurance providers like Progressive, State Farm, Geico and Allstate offer roadside and should be vetted with the BBB. At current publication, Progressive, Geico and Allstate have earned an A BBB rating. State Farm is not currently rated, but that doesn't mean it's not worthy of your business. Consider checking out what its customers are saying: State Farm roadside assistance reviews.

When it comes to best-rated roadside assistance providers, there are a few that stand out depending on what you're looking for.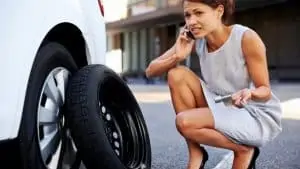 Cheap Roadside Assistance (a.k.a.) Great Value – If you're looking for a good value, then consider USAA or Geico. We'd like to note that cheap is not the same as a great value. Both USAA and Geico are highly rated by the BBB and offer great value for the coverage provided. Both provide roadside assistance coverage for less than $20 a year and include the basic coverage to include towing, battery jump-start services, flat-tire changes, lockout service and fuel delivery. In our opinion, USAA is slightly a better deal. While both USAA and Geico start coverage at $14 and offer almost identical coverage, the win is in the details. USAA will tow your vehicle up to 50 miles, whereas Geico's coverage is only 20 miles. And for those who are international travelers, USAA's plans will cover you in Puerto Rico, the U.S. Virgin Islands, Canada, Germany, Italy and England.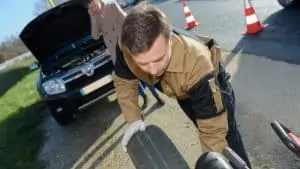 Most Comprehensive – AAA is the crown jewel when it comes to roadside assistance. It has a well recognized name and a good reputation. The BBB gives it an A and it offers three different choices for consumers to choose from. The middle tier plan, AAA Plus, includes fat tire help, towing, battery jump-start, lockout services, winching and free fuel delivery. While AAA is more expensive than its competitors, its services are reliable and worth it for those who travel a lot in their vehicles and make use of the benefits. Plus AAA offers its members a plethora of discounts that range from travel and dining to retail and prescription discounts. They also offer free identity theft protection.
A Green Choice – If you're looking for an eco-friendly alternative, then consider Better World Club roadside assistance. Its offerings are less expensive than AAA, but still inclusive, offering towing, battery jump-start services, electric vehicle charging, flat tire changes, lockout service, and winching. Better World Club offers two plans – a basic at $60 and a premium at $98. Both plans are more economical than AAA, but you'll be charged a one-time $15 sign-up fee. So while they are more economical, AAA is still more inclusive offering more towing range at the basic level and more winching services with the higher-end plans.

What Credit Cards Offer Roadside Assistance?
As noted earlier, some credit cards will offer roadside assistance as part of their credit card offerings. While this is not always the case, it is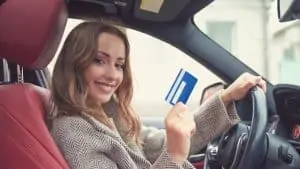 good to double check with your current credit card companies to see if roadside benefits are included as part of your card perks.
Credit card companies that offer roadside assistance are mostly premium cards and will offer limited 24/7 support and many times are provided to cardholders at no cost for the service.
According to the Points Guy, there are a handful of credit cards with roadworthy roadside assistance offerings. Here are credit cards with roadside assistance that are worth your time looking into further.
The United Explorer and Chase Sapphire Reserve credit cards are among the best offering roadside assistance. Both include roadside benefits for free as part of their annual fees. Coverage includes battery jump-starts, flat tire service if you have a spare tire, fuel delivery up to two gallons, towing and locksmith services. For roadside services you're allowed up to four service events per year and will be covered for up to $50 per event. While both have an annual fee, the United Explorer has a less expensive annual fee of $95 per year versus $550 per year for the Chase Sapphire Reserve. These cards offer more than roadside assistance benefits, so weighing the other benefits will be an important determining factor.
Other credit cards that offer roadside assistance benefits are the Chase Freedom Unlimited, Capital One Venture Rewards and Bank of America Premium Rewards credit cards. All provide roadside assistance for select services at a flat rate of about $70 per service call. Both the Capital One and Bank of America credit cards have an annual fee of $95, whereas the Chase Freedom Unlimited has no annual fee.
If we're assessing roadside assistance benefits for credit cards solely on the fees and benefits, the United Explorer credit card would be our choice if the $95 annual fee is acceptable. This card offers traditional coverage and will allow up to $50 per service event up to four annually. If a zero-dollar annual fee is attractive, the Chase Freedom is the winner, as it allows you to take advantage of roadside benefits at a flat fee on an as-needed basis.

Should I Get Roadside Assistance Through My Car Insurancee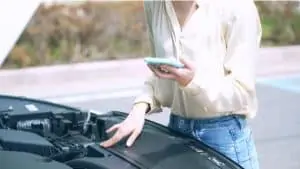 Nearly every auto insurance provider will offer roadside assistance as a policy add-on. As noted previously, car insurance with roadside assistance is typical and the most common. It is usually the least expensive way to add on roadside assistance coverage and the most convenient too. Most car insurance companies will partner with an existing network of businesses to provide roadside benefits.
As with any coverage, it is important to understand your roadside assistance coverage – what is included and what limitations there are, as most certainly there will be some. It is also important to understand that while your roadside assistance may be provided by your auto insurance, it is not the same. Car insurance will typically cover only the cost of repairing damage due to an accident and emergency response is not included. Roadside assistance on the other hand is a very specific type of auto coverage that helps drivers cover the costs of emergency road services.
Most insurance companies will not automatically include roadside assistance into your auto policy. The roadside assistance plan is considered add-on coverage that can be purchased for an added cost.
Roadside Info That's Good to Remember
Below is some additional information you may find helpful as you delve further into your roadside assistance research.
Most roadside assistance plans cover the individual, not just the vehicle. This means that regardless of what vehicle you are in, if you encounter a roadside event, you'll be covered.
Roadside assistance coverage may be purchased from multiple providers, like insurance providers and third party providers like AAA and AARP. You may also find benefits available through membership programs like Costco or Sam's Club, as well as via credit cards and even cellphone providers.
Roadside assistance covers more than just events literally on the side of the road. This is a common misperception – roadside assistance will cover roadside events that occur at home, in a parking lot or garage, as well as on the side of the road or highway.
The average cost of roadside services without coverage is approximately $120 per service. It is quite typical to get roadside assistance for just a few dollars a month. Roadside services paid out of pocket can be more than the actual cost of a roadside assistance plan.
Unfortunately, cars will break down, so having access to roadside benefits can be a huge comfort, especially if you're stranded on the side of the road or traveling with children. As with all purchases, we recommend doing research and picking the plan that best fits your driving habits and budget.
Safe driving!