Topics Covered in this Article:
Are VW Beetles Reliable?
Are Volkswagen Beetles Good Cars?
What Are The VW Beetle Years to Avoid?
What Are The Typical Maintenance Costs for a VW beetle?
What Are Common VW Beetle TDI Problems?
What is The Best VW Beetle Model to Buy?
All Good Things Must End…
The VW Beetle then and now
Over the last eight decades, Volkswagen has sold three different generations of their iconic VW Beetle, totaling over 23 million in auto sales.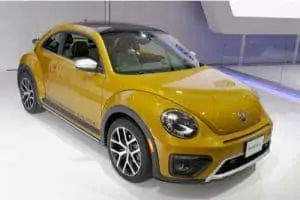 The original Beetle was produced in 1938 until 1996; the "new" Beetle from 1997 – 2010 and the "super" Beetle from 2011-2019.
Sadly for many, the Volkswagen production facilities in Germany, Belgium, Venezuela, South Africa, and about a dozen other countries, recently closed the book on manufacturing the VW Beetle model, with the last car rolling off the assembly line in Puebla, Mexico, in 2019. The Volkswagen company decided to cease production of the VW Beetle in favor of the electric vehicles, crossovers and sports utility vehicles now more popular with consumers.
Among passenger cars, and contrary to popular belief, Beetle was NOT VW's bestseller; the VW Golf takes that title. But the "Bug," as it was affectionately nicknamed in the 60's, won the hearts and imaginations of many with its sporty attitude and sassy styling. The final edition of this beloved model was offered as either a coupe or a convertible, in the same hues that the VW Beetles were first produced, blue and beige…or more specifically, Stonewashed Blue and Safari Uni.
Originally marketed as the Volkswagen Type 1, the VW Beetle's history is a story worthy of being told. The need for "a people's car" (that's what the word "volkswagen" translates to in German: VOLKS meaning "people" and WAGEN meaning "car") was a concept formulated in the early 1930s by – believe it or not – the leader of the Nazi party, Adolph Hitler. Long story short, the Spanish Civil War broke out and lead engineer, Ferdinand Porsche, was not able to finalize the Type 1 design until 1938. And, yes, you've heard that name before as well, Ferdinand Porsche was an Austrian-German automotive engineer best known for creating the first gasoline-electric hybrid vehicle, and the Volkswagen Beetle. He also designed for Mercedes-Benz and was the founder of Porsche auto company.
If you are considering buying a used car that has under 140,000 miles and is a 2012 model or newer, get a free quote for one of our "extended car warranty solutions".
100% Online, 9 Coverage Options and No Robocalls!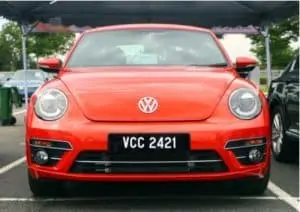 Because of another pesky breakout of war, World War II, civilian units were not produced until after the mid-1940s, although some cars were built for military officers. In fact, Hitler was the proud owner of the first convertible VW Beetle.
To make a point about the initial popularity of this vehicle, following the end of WWII in 1946, 10,000 cars were made. Within ten years, over one million VW Beetles had been sold. And 1972 was the best selling year for the VW Bug with 423,000 cars sold in the U.S.!
Jump to 1959. The "think small" ad campaign further propelled "the people's car" into the auto manufacturing history books. And, the 1968 Disney movie featuring Herbie the Love Bug secured the Volkswagen Beetle as a "must have" car for scores of American teens and young adults.
In 1971, the VW Beetle was given more trunk space in a unlikely location: under the hood of the car. They coined this new concept in storage the "frunk", combining the words "front" and "trunk".
Early in 1972, Beetle took the title away from the Ford Model T as the best selling car in the world.
In 1998 VW started producing the "new" Beetle. This was meant to pay respect to the Type 1 model from yester-year but was, in reality, just another VW Golf model with a different name…but it did come complete with a standard dashboard-mounted vase to honor its "flower-power" days of the '60s.
In 2000, the VW Bug starred in another movie: Austin Powers: The Spy Who Shagged Me. After this box office debut, the Volkswagen Type 1 – AKA the VW Beetle – AKA the Bug, was now also known as "The Shag Mobile."
Sales began to decline as early as 2013 and the beginning of the end became apparent.
Production was completely halted in 2019. When asked if VW will ever bring back the Volkswagen Beetle, Hinrich J. Woebcken, president and CEO of the Volkswagen Group of America said,"Never say never."
What was the most reliable VW Beetle year?
The answer to that question, "Are VW Beetles reliable?" depends on which generation of VW Bug you're talking about. When you are asking such a generalize question about a vehicle that was in production for over 80 years, there are a lot of different things – and models – to consider.
If you ask specifically, "Are OLD VW Bugs reliable?" you need to realize that there's a lot of differences between cars that were produced in the 50s and 60s when comparing them to vehicles manufactured today. While VW Beetles are – or were – reliable, the older models are not as reliable when compared to present day vehicle standards, of course.
If we're talking "modern" Beetles, the 2005 model year had significant improvements in the power train and suspension. Specifically, many believe that the 2012 VW Bug was by far the most stable and reliable of the entire Beetle group. (Remember this fact, because later you'll question it.)
The VW Beetle years to avoid include 2000, 2004 and 2008. We call out these years specifically because of the number of complaints received by auto owners. These are also years where the reliability ratings dropped. Take, for example, the 2004 model. RepairPal.com reports widespread problems associated with this model year including:
Power window failures
Premature head light burnout
Check engine light failure
Turn Signal flasher relay failure
Mass air flow senor failures
Engine overheating
Reverse gear failures
Noise in manual transmission models
Oil leaks
Injection pump failures
Odor from HVAC vents
Coolant leaks from oil filter housing
Loss of power
'04 VW Beetle convertible top problems were also a common complaint
…and the list goes on and on, from top to bottom, back to front.
How Reliable are VW Bugs?
VW Beetle Reliability was always pretty good, when comparing it year-over-year to other models in the same class. Currently Volkswagen Beetles are ranked as "above average," scoring a 4 out of possible 5 in reliability in the compact car category.
Other rating groups scored the VW Beetle above average, as well. US News gave the VW Beetle a score of 7.5 out of 10, combining the scores in areas like: the performance 7.0, the interior 6.54, the total cost of ownership 8.9. And you should specifically know that the safety ranking was a well-above average: a high score of 8.7 out of a possible 10. Checking with still another popular ratings group, The JD Power reliability scorecard gave the 2019 VW Beetle a 3.5 out of 5 stars.
The average annual cost for unscheduled repairs and maintenance on a VW Bug is estimated at $612. But you need to know that this: higher average cost alone does not necessarily mean that a vehicle is not reliable. For example, parts and labor for your vehicle may be expensive, especially if it is a luxury car, but if severe issues and annual average visits to the shop are low, that can be a good indicator of overall reliability as well.
That annual repair cost gives a VW Beetle a score of "average" when comparing it to other compact cars like the Honda Civic, Toyota Corolla, Ford focus, Nissan Sentra, Hyundai Elantra, Chevrolet Cruze and the Mazda 3. The average annual cost for other cars in the same class is estimated to be $526. Comparing the Beetle to all other vehicle models, the VW Beetle came in with a lower annual repair cost. The average repair cost across all other models for unscheduled repairs and service was estimated at $652 annually.
Additionally, it is reported that Volkswagen Beetle owners have to bring their vehicles into a repair shop for unscheduled repairs an average of only 0.4 times per year. This compares to an average of 0.3 times for other compact cars and 0.4 times for all vehicle models. BUT the good news is that the probability of a repair being a major issue is a mere 10% for the VW Beetle. If you compare that to other compact cars with an 11% probability of the repair being a major repair and all other car models scoring a 12% in probability of a major, or severe repair being needed, when asked, "is the VW Beetle reliable?" The answer would be, "Yes."
And since the VW Bug has scored average or better in everything we've examined so far, when you ask the question, "Are Volkswagen Beetles good cars?," based on safety, reliability, service cost and severity of the services needed, the answer would remain the same, "YES!"
Here is a list of average costs for Volkswagen Beetle repairs. Remember, your location, where you get service, the price of parts, the cost of skilled labor, etc. can affect these costs:
Fuel Pump Replacement: $908 – $945
Powertrain Control Module Replacement: $1,400 – $1,425
Windshield Washer Fluid Reservoir Replacement: $222 – $254
Tire Rotation: $40 – $51
Emergency Brake Cable Replacement: $217 – $254
Stabilizer Bar Link Kit Replacement: $112 – $124
Sunroof Motor Replacement: $622 – $654
Timing Belt Idler Pulley Replacement: $293 – $361
Axle Shaft Seal Replacement:$170 – $210
MAP Sensor Replacement: $163 – $172
VW Beetle common problems are tough to pin down when you've talking about 80 years and millions of vehicles, models and options produced since the beginning. Likewise, as the VW Beetle evolved, new items would be added and those new options then would need repairs in the future and had to be considered. Take for example, if you look at a sales brochure from the 1967 Volkswagen Beetle, there was no claim that air conditioning was a standard offering. In fact, all air conditioning at that time was dealer – not factory – installed. So when an owner reported that they had VW Beetle air conditioning problems in their 1967 Bug, that was not an issue caused by Volkswagen engineering. Another case in point, when owners reported VW "new" convertible top problems – were they reporting overall on the "new" generation of Bugs or a "new", meaning current model year?
In years 2012-2015 there were various reports of VW Beetle window problems. 2012 VW Beetle power window problems were often specifically called out.
Reporting showed the 2012 VW Beetle experienced AC problems.
2012 VW Beetle transmission problems also showed up on reports often.
The 2012 VW Beetle also had turbo problems.
We called these to your attention specifically because as you'll remember, the 2012 VW Beetle is also "the people's choice" of "the people's car" as the most reliable year!
Other Common VW Issues:
VW Bug convertible top problems – with specifics pointing to 2013
It appears the 2013 VW Beetle also had door lock problems
VW Beetle alternator problems were reported – but we could not pin down a specific year where this was a reoccurring problem.
VW Beetle sunroof problems were reported, but again, no specifics were given about model years where this issue was excessive.
There were numerous reports of VW stalling problems, VW Beetle ignition switch problems, VW Beetle fuel pump problems and VW Beetle air compressor problems, VW Bug shifting problems…but to find out what specific model or year these occurred in, and how the issues were resolved, one would probably be best served to go on-line to a VW Beetle problems forum. These forums are both by – and for – VW Beetle owners to share information on mechanical problems and fixes. They can provide you with a wealth of information on both general problems and issues specific to a model or year.
Is a VW Beetle a good first car?
Again, the answer is another resounding, "YES!" Not only is it a safe car to drive, since it is a small vehicles, VW Bugs generally get decent fuel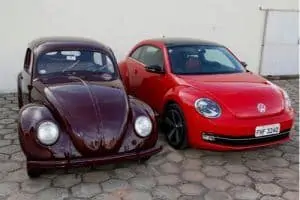 economy, making them perfect for not only young drivers but commuters, as well. Older model VW Beetles are generally inexpensive to buy and repair, also great selling points for when asked "Is the VW Beetle a good first car?"
And since we spoke of safety previously, let's get this in writing: the 2014 VW Beetle received a 5 star rating from the NHTSA (National Highway and Transportation Safety Association) and the IIHS. The 2015 got another 5 out of a possible 5 starts. 2016 and 2017 VW Beetles? 5 stars. But in 2018, the coupe model received a four-star rating in both the front crash and rollover tests. Still good…but not as stellar, literally! The VW Beetle 2019? Check out https://www.iihs.org/ratings/vehicle/volkswagen/beetle-2-door-hatchback/2019 to read everything you could ever want to know about the 2019 2-door VW Hatchback safety testing results and standards.
For being such a small, compact car, the Volkswagen Beetle is not only safe, but also surprisingly spacious. Newer year's models have back seats that are actually comfortable enough to be practical. They even have enough room in the trunk — or, as we said before, in older generations, the "frunk" — to get groceries, hold your sporting equipment and your children.
Need even more convincing on why people LOVED VW Beetles? They are also VERY easy to park!
So, since the sun has set on any new VW Beetle models being produced – at least for now – you should know that there are all types of years and models of the Volkswagen Beetle to pick from if you're in the used car market.
If you like the idea of an antique or collectors car but don't want to pay the high price, a VW Beetle might be a good choice for you. Remember, new VW Beetles lost an average 41% in depreciation in the first three years. Bad for new car buyers. GREAT for used car shoppers! Simply put – Volkswagen is said to be the most affordable European brand you can get in America. And the VW Beetle is no exception.
What can you expect to pay for a late model VW Beetle?
To find out an estimate on what a used VW is worth, you'll need to know some facts about the VW Beetle that you're interested in, such as the mileage, overall condition, option packages and trim level. As a general guide, Edmunds.com says that the trade-in value of a 2019 Volkswagen Beetle with no options and driven approximately 12,000 miles per year would be worth about $18,065 for one in good, or as they say in the business, "clean" condition. This is the price a dealer or auto wholesaler would get.
If you are selling to – or buying from – a private party, expect to pay around $19,500. You can research "Blue Book Values" and much more when you go to www.edmunds.com. Edmunds is a free, online resource for automotive information. Another piece of auto information you might want to know: Edmunds was recently purchased by Carfax .
When you purchase a late model, used VW Beetle, it might be wise to look at third party warranty programs that protect your used vehicle from unexpected breakdown costs. These extended warranty providers fill the gap in protection when the manufacturer's warranty has expired. This new concept for coverage is more like auto assurance VS auto insurance, providing owners looking to purchase used and late model vehicles a level of security against the unexpected. You can get a fast and easy quote online at olive.com®
In conclusion, the 81 year road trip has finally come to and end for the VW Beetle. The manufacturing of any new Volkswagen Bugs has been, as they say, squashed…