5 Tips for Your Next Weekend Road Trip
To many, summer is not complete without a road trip or two…some big and some weekend getaways. As summer comes to an end and the kids get ready to go back to school, many families are planning that one last road trip to end summer with a bang.
Whether you're a road trip newbie or have driven across the country many times, being prepared with tips and essentials will make your road-tripping adventure stress free and fun. Because let's be real, getting there is half the fun! So, don't stress, and use these tips to ensure your next weekend road trip doesn't go south (pun intended!) before it even starts.
Tip #1: Have a Plan
The key to a successful road trip is making sure that you know not only where you're going, but also how you're going to get there. Having a plan, even if it's a loose one, will make you feel more organized and the trip more efficient.
Use maps (both old-school hardcopy ones and those nifty apps) to get you going and to help you explore. Maps and navigation apps will make sure you're headed in the right direction. Here are some apps for you to consider for your next trip: Google Maps, Apple Maps, Roadtrippers and Waze.
These navigation apps make it easy to explore the backroads too. While the highway may be the fastest way to get from point A to point B, sometimes the journey is what makes some road trips the most memorable. Wander down those less driven roads and enjoy the changing landscapes. And don't forget to snap pics along the way to capture your journey.
If you'll be relying on navigation apps, don't forget to download them because sometimes you may not be able to rely on your cellphone service.
Plan your pitstops – Whether you're gassing up, fueling your belly or answering the call of mother nature, make sure you plan when and how often you'll need to stop, especially if your road trip is more than three hours, and kids and pets are traveling with you.
Pro Tips: Fill up your gas tank the night before, and after you've hit the road, get gas whenever you can, especially if you're approaching the quarter tank mark. You never know when you'll hit the next gas station, so we recommend not risking the low fuel light illuminating. Use the GasBuddy app to help you locate the nearest and most affordable gas stations.
Tip #2: Get Your Ride Road-Ready
Before hitting the road, we recommend giving your vehicle some TLC. Here are some car (or SUV) essentials to ensure your ride is ready for the road.
Car essentials – Make sure your vehicle is properly serviced. This means making sure the oil has been checked and changed if necessary, the tire pressure is good, brakes have been looked at, and all your fluids are topped off. Be sure you have jumper cables, extra windshield wiper fluid on hand and that your spare tire is inflated.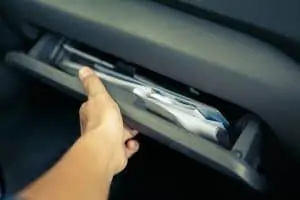 Are your vehicle's documents up to date? Make sure your registration, insurance cards, roadside assistance information, car manuals and any other documents, like your olive® coverage plan docs are current. Put them in your vehicle's glove box so they are safe and easily accessible. Don't forget about your other non-car-specific documents too, like state park passes, fishing licenses, reservation confirmations, addresses you'll need to access, and any travel books or guides you'll want to reference. Although we live in a digital world, you can never be too prepared so have those apps downloaded and printed documents, such as directions/instructions and confirmation numbers, ready to go.
Tip #3: Keep the Kids Engaged
From the mountains, to the prairies, to the oceans white with foam…lessen the common (and dreaded) questions from the kids: "Are we there yet?" or "How much longer?" or "When will we be there?" These questions are inevitable, but ensuring you have a fool-proof, kid-approved, sanity-saving action plan will make your road trip a smooth ride, and everyone happy. Here are some creative ways to keep kids engaged and entertained while on the road:
Turn your back seat into a movie theatre by downloading some movies. Pack some popcorn to complete the experience.
Play games and have some activities on standby.

Some favorites are I Spy, The License Plate Game or The Alphabet Game, just to name a few. Coloring books are classic, but word searches and brain buster activity books can keep little minds challenged. And don't forget the all-time favorite, Mad Libs – there's even a Mad Libs on the Road edition!

Bring a "Treasure Chest" full of goodies. Your kids will love the surprises inside. Fill it with stickers, activity sheets, magnetic travel games, puzzles, stress/squishy toys, glow sticks and fun sweet treats.
Challenge them to take pics of the landscape. If your kids have access to a camera, encourage them to take pics of all the cool sights they see. Have them watch for wildlife and national monuments – that is bound to keep them busy for a little while.
Screen time, screen time, we all scream for screen time! Okay, we all know that too much screen time is not a good thing, but let's be honest, kids LOVE their devices and will do almost anything for them, so put those devices to work (for you). While we remind our kids that "back in the day we didn't have the internet…," today, we're living in a digital world, and so rather than ban screens all together, use them to your advantage by downloading educational apps. Some devices, like the Amazon Fire tablets, have parental controls that will unlock certain apps only after a certain amount of educational content has been completed, so you can make reading time a part of the trip.
Pro Tips: Make sure devices are fully charged and remember to download any content before you get on the road. And keep the kiddos' "bag of goodies" and charging cables nearby for easy access.
Tip #4: Fuel Your Belly – Snackage
Okay, now onto the good stuff – snack time! Snacks are really important when on a road trip, and not just for the kids. So, when you venture out, don't forget to accommodate for your tummies too. Our recommendation is to avoid the convenience store options and instead pre pack a cooler with drinks (don't forget the water) and stock up on your favorite snacks. It seems that our stomachs seem to get hungrier while on a road trip!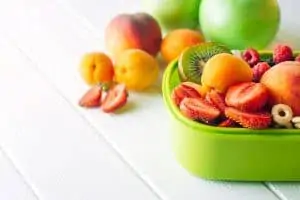 It's probably best to avoid ooey, gooey, sticky, messy snacks. Instead, we suggest fruit snacks, trail mix, hard-boiled eggs, popcorn, yogurt covered raisins, almonds, dried cereal, fresh fruit like grapes or apples, pretzels and cheese crackers like those cute and so addicting Goldfish, and of course protein-packed snacks like jerky, beef sticks, string cheese or peanut butter packs. The list is endless, and now that we've made you hungry, go pack that cooler and keep it nearby!
Tip #5: Lock in the Entertainment
A road trip just isn't a road trip without the tunes (or podcasts)! Whether you jam out to classic rock or be-bop to Top 40, catch up on the day's latest news or become engrossed in a true-crime podcast, make sure your device is hooked up – literally. While the radio is always an option, the local offerings may be sparse and not at the best frequency, so this means you'll want to make sure your own music collection is ready to go or music streaming apps, like Spotify or Pandora, are downloaded and on standby. Also consider satellite radio, like SiriusXM. If you don't have time to curate your own road trip playlist, there are plenty of fellow road trippers who have lots of selections for you to consider – just search the internet for road trip playlists. Queue up the tunes…let's go!
Your Travel Companion…olive®
While you can plan for the perfect road trip and make sure your itinerary checks all the boxes, unfortunately the unexpected can happen. And while you can't predict it, you can be prepared. Let olive® be your travel companion and leave the unexpected to us. From every single lubricated part of your engine and transmission to the electrical components and AC systems, olive® has you covered.
Planning your next road trip? Check out these olive® benefits:
There are no annual mileage restrictions so you can roam free. Don't let your coverage determine your itinerary. Drive where you want across the U.S. and Canada – olive® has you covered.
We cover the first $100 of your towing expense if you're away from home.
We also come to the rescue by providing reimbursement for overnight lodging in the event of a breakdown while you're away from home.
Reliable and trusted, olive® is backed by global insurer, QBE, and has earned an A+ rating with the Better Business Bureau.
You pick your coverage plan and your deductible with low monthly payments that allow you to pay as you go.
Don't have olive®? No problem. Buy today and you're covered tomorrow. With no waiting period or inspection required, get the peace of mind you deserve on your next road trip.
So go ahead, plan that road trip and get on the road! Buckle up, set the cruise control and enjoy the ride. With olive® at your side, an unexpected breakdown doesn't have to hijack your road trip. Venture freely – olive® will be there for you. Happy Trails!